Press Release
Billy Porter, Marisa Tomei in National Nurses United video play that spotlights dangers for nurses during the pandemic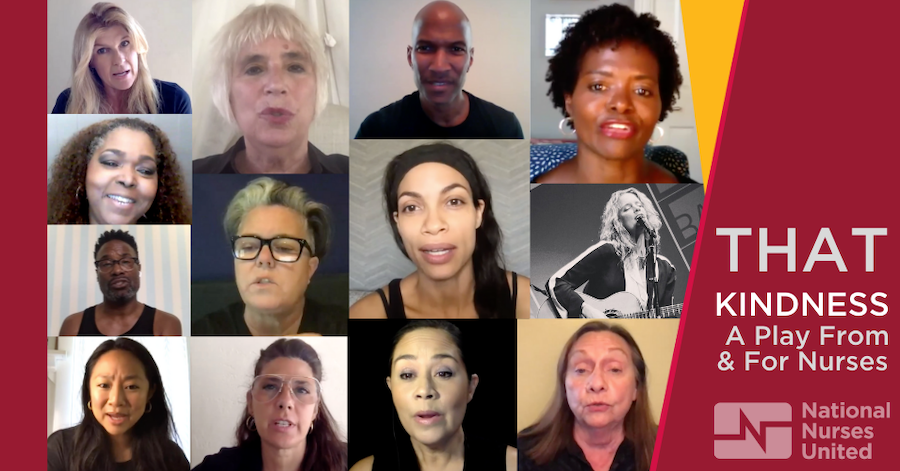 National Nurses United Executive Director Bonnie Castillo, RN, joins Tony Award-winning playwright V (formerly Eve Ensler) tonight at 5 p.m. PT/ 8 p.m. ET to present THAT KINDNESS, a play in nurses' own words, to raise awareness about attacks on staffing ratios and nurses' emotional health during the Covid-19 pandemic. Go to the Facebook link here for more information.
V wrote and directed the play after interviewing nurses and co-produced it with NNU, the largest nurses union in the United States, to illuminate the struggles nurses are facing on Covid-19's front lines. The play is presented in conjunction with NNU's fightback against staffing ratio waivers in California, and its release of a new white paper, Deadly Shame, that details the emotional and psychological toll on nurses during the pandemic.
V is a celebrated performer and playwright, and author of The Vagina Monologues. The culture-shifting play premiered in 1996, and soon became an international sensation, bringing attention to, among other things, violence against women. Now THAT KINDNESS is bringing attention to what V sees as violence against nurses.
"I don't think it's an accident that nurses, with their unique skills, deep kindness, and profound love, have been abandoned. We, as a culture, have been abandoning the values that nurses embody," says V.
Since the pandemic began, NNU has held almost 2,000 workplace protest actions at hospitals, winning additional protections because of them. But ultimately, the nurses know that change must be systemic.
"An N95 here and there is not a solution, it's not enough," Castillo says. "As long as hospitals' bottom line is profit, they'll keep trying to use the pandemic as an excuse to protect it."
Some examples of prioritizing profits over patients: In California, where nurses won staffing ratios in 1999 after a grueling decades-long fight, hospitals are seeking waivers to eliminate the ratios during the pandemic, putting nurses and patients at even greater risk.
And last week, NNU released its white paper, Deadly Shame, which details nurses' moral distress and emotional suffering when they try to care for patients in conditions that they know are unsafe.
"We educate and we organize," Castillo says. "This play is part of that mission. It's entertainment – the 11 actors V cast are amazing -- but it's also a candid look at the toll Covid-19 and the hospital industry is taking on nurses."
"Employers have forced us into situations that are agonizing for nurses," says Castillo. "These actors do nurses' words justice. They are passionate, frustrated, heartbroken, terrified, and fed up."