Press Release
Nurses at Mission Hospital to hold rally for patient safety and to speak out against chronic short staffing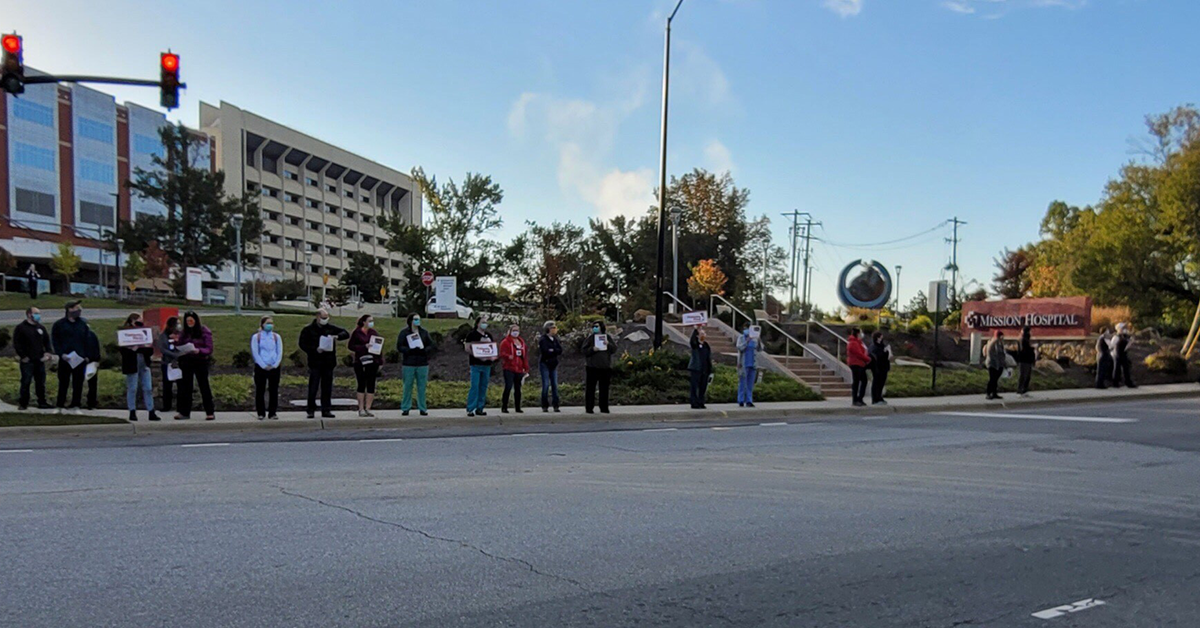 Registered nurses at HCA Healthcare's Mission Hospital in Asheville, N.C., will hold a rally on Thursday, Aug. 25, to protest management's refusal to address chronic short staffing that jeopardizes patient safety, announced National Nurses Organizing Committee/National Nurses United (NNOC/NNU) today. Since June 2021, Mission RNs have been speaking out and holding actions to demand that hospital management take immediate action toward recruiting and retaining staff nurses.
In July 2021, the Mission Hospital had 1,826 nurses. Six months later, in January 2022, the hospital was down to 1,516 nurses. Now, Mission is staffed with just 1,379 RNs, a nearly 25 percent decrease from July 2021. Every six months, the hospital loses another 200 to 300 nurses and fails to replace them. Mission nurses say chronic short staffing is dangerous for patients, resulting in delays in providing medications and delays in care.
RNs in the cardiovascular ICU report that they do not have the staffing to turn patients as often as they should to prevent pressure sores. Nurses in the behavioral health unit reported that, for two night shifts, they were extremely short staffed, with only two nurses to care for 23 patients.
Who:

RNs at HCA's Mission Hospital

What:

RNs rally for safe staffing now

When:

Thursday, Aug. 25, 8 a.m. to 9 a.m.

Where:

Corner of Biltmore Drive and Hospital Drive
Since April 2022, the emergency department has been short 15 nurses despite hiring 11 nurses in that unit. More than a dozen nurses in the ED are brand-new RNs with no experience. Experienced nurses help train new nurses and act as mentors. However, the department is losing nurses twice as fast as they are being hired. RNs say that the ED cannot safely run with only brand-new nurses.
"Mission Hospital has reached a grim milestone — we are short more than 400 nurses hospital-wide," said Hannah Drummond, RN in the ER. "It seems the only retention HCA cares about is shareholder retention. Instead of paying dividends to shareholders, HCA should focus their resources on putting patients first."
"Last week, the union staffing committee members warned management that dangerous staffing levels in the inpatient behavioral health units will lead to increased workplace violence," said Elle Kruta, RN on the staffing committee. "Two days later, four employees were victims of workplace violence. Two staff members had to be medically evaluated."
"Our demand is simple: Stop admitting patients until there is enough staff to safely care for our patients," continued Kruta. "Stop worrying about stock value and start caring about nurse and patient value."
"We want to provide our patients with the best care, but it is impossible when we have lost nearly a quarter of our nurses since last year," said Drummond. "We don't have time to take breaks, and we are constantly working more than 13 hours a day, which is not safe for us or our patients."
Nurses' demands remain the same as their rally on June 2, 2022: Nurses are demanding Mission Hospital stop creating unsafe conditions for patients. When nurses have too many patients to care for, patients do not get optimal care. Mission RNs say management must immediately implement safe RN-to-patient ratios and cease all efforts to undermine RNs' scope of practice.
National Nurses Organizing Committee is an affiliate of National Nurses United, the largest and fastest-growing union and professional association of registered nurses in the United States with more than 175,000 members nationwide.