Press Release
Mission Hospital RNs to Picket June 15 at Two Facilities — Cite Safe Staffing, Recruitment, Retention Concerns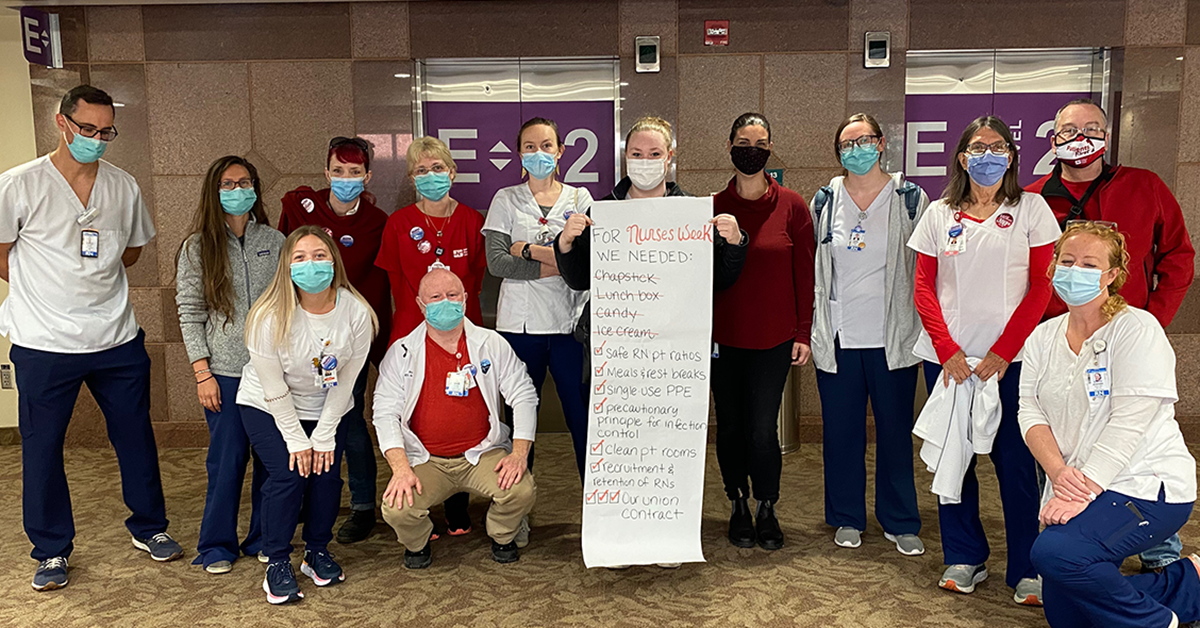 Registered nurses will hold informational pickets on Tuesday, June 15, at two of HCA Mission Hospital facilities in Asheville, North Carolina to express ongoing concerns about safe staffing and improvements they say the hospital needs to make to retain experienced RNs and recruit new nurses, announced National Nurses Organizing Committee-North Carolina.
What

: Informational Pickets by Mission Hospital RNs

When

:  Tuesday, June 15, 8 a.m. to 10:30 a.m.

Where

: Mission Hospital, 509 Biltmore Ave, Asheville, N.C.
             Mission Hospital, St. Joseph Campus, 428 Biltmore Ave., Asheville, N.C.
Mission RNs will gather to alert the public about persistent problems about safe staffing, including what they say are hospital management's consistent failure to adhere to its own staffing standards. 
Last September, Mission RNs voted by a 70 percent landslide to join National Nurses Organizing Committee-North Carolina, an affiliate of National Nurses United (NNU), and are currently engaged in talks with hospital officials on a first collective bargaining contract.
"Since HCA purchased our hospital in 2019, the management has cut corners on safe patient care by cutting support staff and violating their own nurse staffing grids," said Shelby Runkles, a cardiovascular ICU RN at Mission. "The hospital needs to commit to stricter compliance with its own staffing grids. With each additional patient, nurses are more prone to make mistakes and the risk of serious complications increases."
Additionally, the RNs are concerned about staffing support to be able to take meal and rest breaks without leaving their patients without proper care.
"Missing meal breaks during a 12-hour shift means we are not well rested and may be more prone to make mistakes," said Amy Waters, a pediatric ICU RN. "Rest breaks are critical to ensuring safe care for our patients."
Economic security for the nurses is also important to ensure the hospital retains long-term, experienced RNs, and is able to best recruit new RNs."That is essential for the future of quality hospital care for our patients and our community," said Claire Siegel, an adult medical/surgical RN.
"Nurses cared for the patients in this community throughout the worst pandemic in a century," said Kelly Graham, a palliative care RN. "HCA and administrators here called us heroes and said that they cared for us like family, but their treatment of caregivers did not reflect that. These contract negotiations represent an opportunity for the hospital to demonstrate their respect for the sacrifices that we made during the pandemic."
The nurses note that HCA, the largest hospital corporation in the United States, has more than enough resources to address their concerns. Last year alone, HCA reported $3.8 billion in profits. In the first quarter of 2021, HCA has made $1.4 billion in profits.
National Nurses Organizing Committee represent 1,800 nurses at Mission Hospital. Overall, NNU, the largest U.S. union of RNs, represents more than 175,000 nurses across the country.
National Nurses Organizing Committee is a national union and professional organization for registered nurses, advance practice nurses, and RN organizations who want to pursue a more powerful agenda of advocacy, promoting the interests of patients, direct care nurses, and RN professional practice. NNOC was launched by the California Nurses Association, and together with CNA belongs to National Nurses United.