Press Release
Members of Congress to Introduce Safe Staffing Bill to Address Hospital Crisis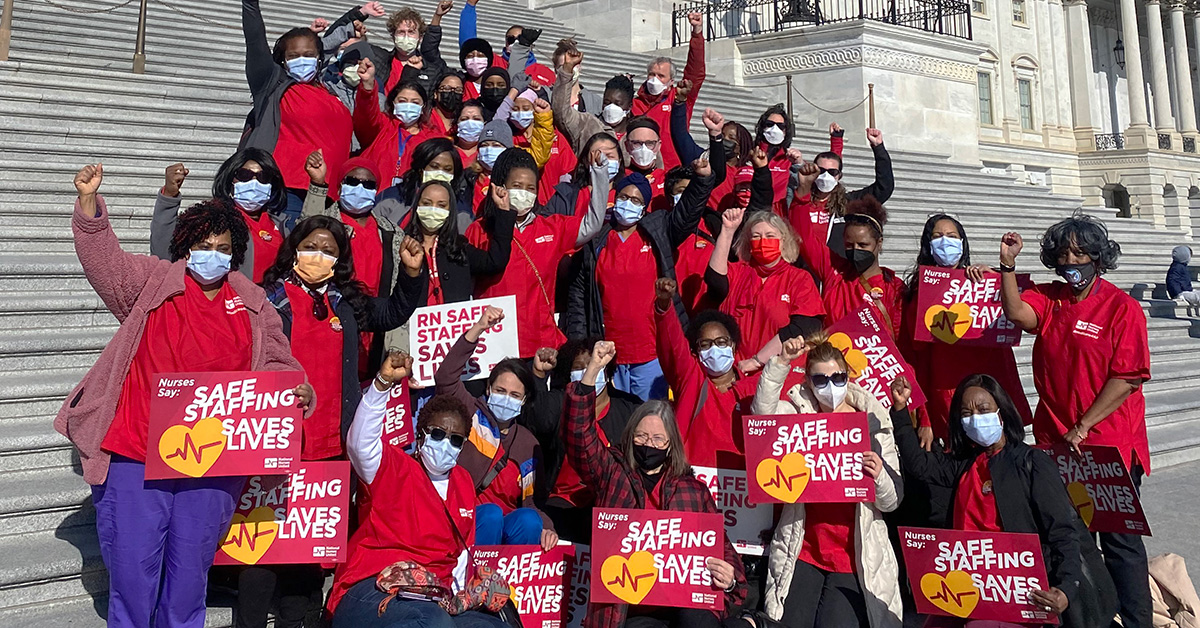 With federal bill introduction, RNs refute 'shortage' claims by hospital industry: 1 million RNs with active licenses are not working as nurses, and unsafe staffing is the top reason
Following a historic wave of nurse strikes, marches and informational pickets and dozens of new successful RN organizing campaigns across the country, registered nurses are bringing their fight to Congress to fix the crisis of unsafe levels of nurse staffing in hospitals nationwide. Federal legislation, which will be introduced at a Thursday, March 30 press conference, would set limits on the numbers of patients each RN can care for in hospitals, a necessary measure for saving patients' lives and stemming the exodus of nurses from the bedside.
Pointing to the 1 million registered nurses with active licenses who are not working as nurses, nurse leaders with National Nurses United – the nation's largest and fastest-growing union of registered nurses – refuted industry claims of a "nurse shortage." They argue that Congressional and industry leaders must create safer, sustainable conditions in hospitals so nurses will return to and stay at the bedside.
"This staffing crisis was manufactured by the hospital industry," said Deborah Burger, RN and an NNU president. "Hospital executives claim there is a nursing 'shortage' but we know that many nurses have left the bedside because they are unwilling to risk their patients' lives by being forced to care for them in an unsafe manner. This bill would bring them back to providing direct care at the bedside and in clinics by ensuring their patients receive proper, safe, optimal, and timely care."
Burger continued, "The bill's introduction is a direct response to the escalating staffing crisis in hospitals across the country. Tens of thousands of nurses have spoken out, marched, and struck for safer patient care conditions over the last year, sounding a clarion call for action. Nurses know the quality of our health care system is on the line and depends on the passage of this bill."
Who:  NNU Presidents Deborah Burger, RN and Jean Ross, RN, and Rep. Jan Schakowsky
What:  Press conference to mark the introduction of the Nurse Staffing Standards for Hospital Patient Safety and Quality Care Act
When: Thursday, March 30, 9:00 a.m. EDT
Where: House Triangle, in front of US Capitol, Washington, DC
The Nurse Staffing Standards for Hospital Patient Safety and Quality Care Act, authored by Sen. Sherrod Brown (D-OH) in the Senate and Rep. Jan Schakowsky (D-IL-09) in the House, would establish minimum RN-to-patient ratios for every hospital unit, effective at all times. The bill also provides whistle-blower protections to ensure that nurses are free to speak out for enforcement of safe staffing standards.
"I am proud to reintroduce the Nurse Staffing Standards for Hospital Patient Safety and Quality Care Act with my friend, Senator Sherrod Brown of Ohio," said Congresswoman Schakowsky. "Numerous studies have shown that safe nurse-to-patient staffing ratios result in higher quality care for patients, lower health care costs, and an overall better workplace for nurses. For years, I've talked to exhausted nurses who have said they go home at night, wondering if they forgot to turn a patient because they were stretched far too thin.
"The need for federal safe staffing standards is about nurses, patients, and everyone's lives," said Schakowsky. "This bill will improve the health of patients by improving nursing care—establishing minimum registered nurse-to-patient ratios in hospitals, providing whistleblower protection for nurses who advocate on behalf of their patients, and investing in training and career development to retain hard-working nurses in the workforce. It is past time that we act on the evidence and give nurses the support they deserve and put patients over profits. Let's get it done!"
 "Workers are the first line of defense keeping Ohioans safe, including in our hospitals," said Sen. Sherrod Brown. "Nurses work long hours doing vital work in our health care system, but too often they're stretched too thin, caring for too many patients with too little support. We can empower nurses to protect Ohio patients by ensuring nurses are adequately staffed and can advocate for their patients without fearing potential retaliation."  
The federal bill is mirrored after a California law, fought for and won in 1999 by the California Nurses Association/NNU. The law, which took effect in 2004, has saved patient lives, improved patient outcomes and the quality of care, attracted nurses back to direct-care nursing, and reduced nurse burnout, keeping experienced RNs at the patient bedside. A 2021 study by leading nurse staffing researcher Dr. Linda Aiken showed that if New York state had the same staffing mandate as California, at least 4,370 lives would have been saved that year alone.
In NNU's most recent survey of more than 2,800 nurses from Sept. 22 through Nov. 28, 2022, 56.8 percent of hospital nurses report that staffing has gotten slightly or much worse recently and nearly half of hospital nurses report that their facility is using excessive overtime to staff units. More than half of nurses (55.5 percent) surveyed reported that they have considered leaving nursing.
Decades of studies have shown that more nurses equate to lives saved and fewer complications. Here are a few highlights:
Studies show that when RNs are forced to care for too many patients at one time, patients are at higher risk of preventable medical errors, avoidable complications, falls and injuries, pressure ulcers, increased length of hospital stay, higher numbers of hospital readmissions, and death.
Numerous studies have documented disparities in care in hospitals that serve communities of color. Studies have also found that registered nurse staffing levels in hospitals that serve communities of color are often lower, contributing to these disparities in care. Setting a single standard of nursing care across hospitals will improve outcomes for patients of color including reduced readmission rates, increased satisfaction, and better obstetrical outcomes.
---
National Nurses United is the largest and fastest-growing union and professional association of registered nurses in the United States with nearly 225,000 members nationwide.