Press Release
MarinHealth nurses strike averted as RNs reach tentative agreement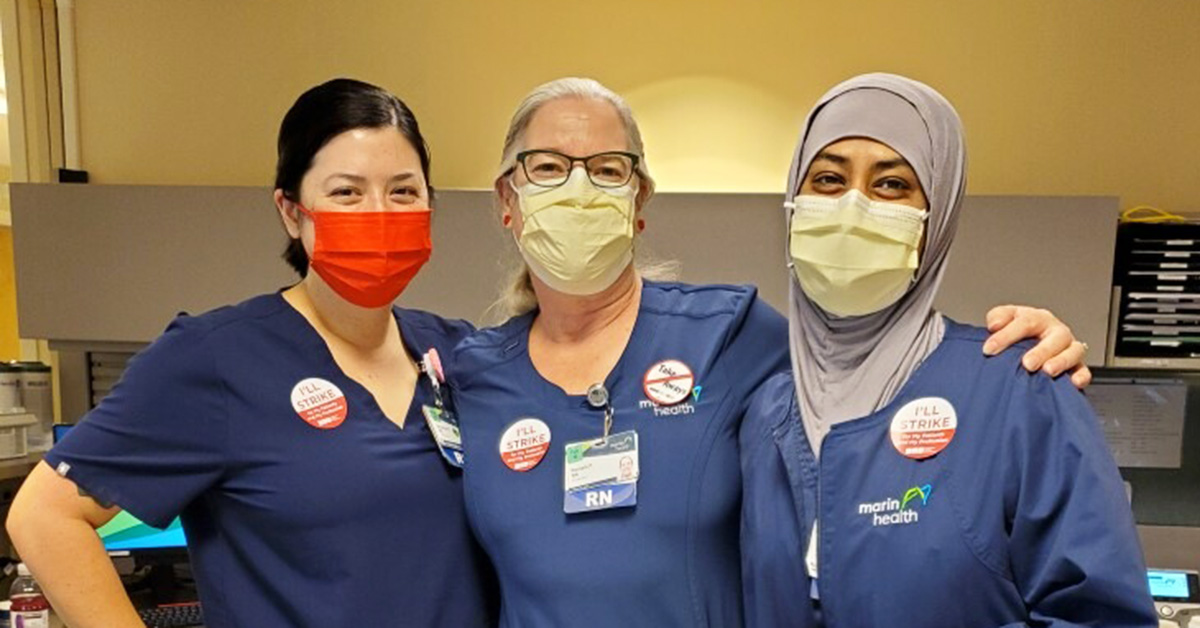 Union nurses at MarinHealth Medical Center were set to strike on March 28
Registered nurses at MarinHealth Medical Center in Greenbrae, Calif., reached a tentative agreement for a three-year contract on March 21, averting a one-day strike that was set to begin on Tuesday, March 28, announced California Nurses Association/National Nurses United (CNA/NNU) today.
The MarinHealth nurses had been in negotiations since June 2022 with no significant movement at the table on issues of deep concern to the RNs, resulting in the nurses issuing a 10-day notice to hold a one-day strike. Then on March 21, a scheduled bargaining date, the RNs and MarinHealth were able to reach a tentative agreement. Nurses will vote to ratify the new contract on Monday, March 27.
"We are pleased with this tentative agreement, which will help us recruit and retain nurses," said Lynn Warner, RN in the progressive metabolic unit and a member of the bargaining team. "This was a long fight, but through our collective power and solidarity, we were able to win an agreement to ensure that we can continue to give our community the care they deserve."
Highlights of the contract include:
Health and safety provisions to ensure nurses get the highest level of personal protective equipment, including when caring for patients suspected of having Covid. Nurse participation in a new Infectious Disease Subcommittee.
Safe staffing provisions, including additional break relief for most units.
Economic gains and health benefit provisions to help retain and recruit experienced nurses, including no takeaways for health benefits. The agreement includes a 16.5 percent wage increase over three years.
California Nurses Association represents nearly 600 nurses at MarinHealth Medical Center.
---
California Nurses Association/National Nurses United is the largest and fastest-growing union and professional association of registered nurses in the nation with 100,000 members in more than 200 facilities throughout California and nearly 225,000 RNs nationwide.