Press Release
MarinHealth nurses give notice they plan to hold a one-day strike for patient safety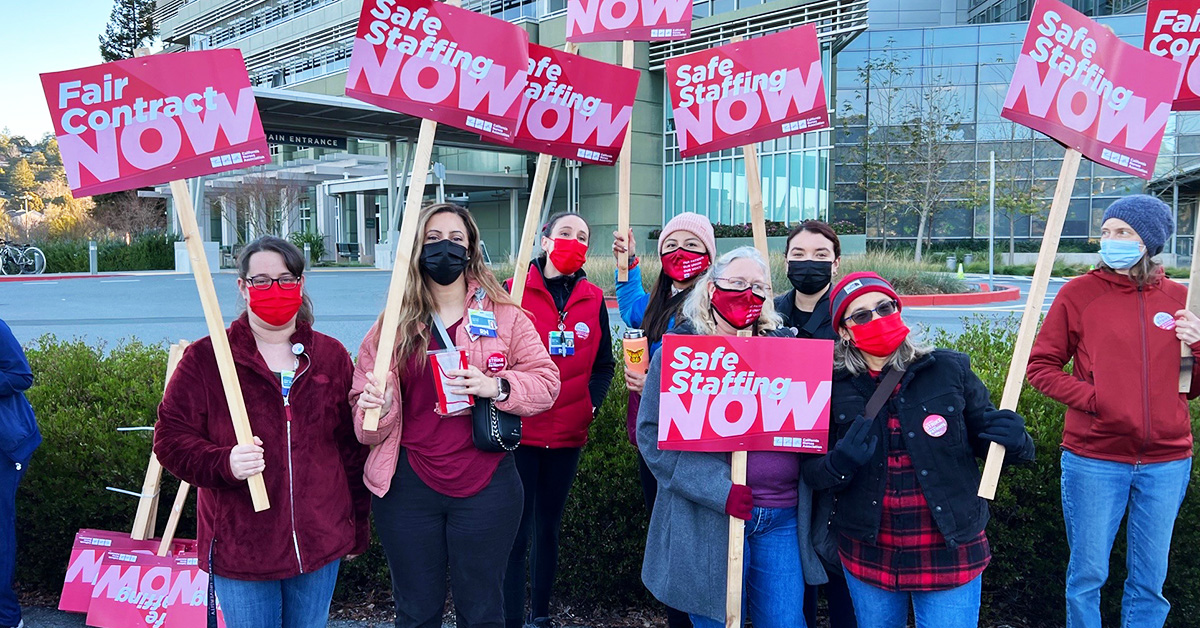 RNs to protest administration's refusal to address their deep concerns about patient care, safe staffing, and retention and recruitment of nurses
Registered nurses at MarinHealth Medical Center in Greenbrae, Calif. gave notice to their employer that they will hold a one-day strike on Tuesday, March 28, to protest the administration's refusal to address RNs' deep concerns about patient care, safe staffing, and retention and recruitment of nurses announced California Nurses Association/National Nurses United (CNA/NNU).
This 10-days' notice of a strike follows the nurses' vote on March 6, 98 percent in favor of authorizing the bargaining committee to call a strike. Nurses always give at least 10 days of advance notice to the hospital to allow for alternative plans to be made for patient care.
MarinHealth nurses have been in negotiations since June 2022 for a new contract with little to no movement on key issues. The RNs urge management to invest in nursing staff and agree to a contract that:
Provides safe staffing
Addresses recruitment and retention of nurses
"The MarinHealth nurses voted for this strike," said Lynn Warner, RN in the metabolic care unit at MarinHealth who has been a nurse for 33 years. "We are striking because MarinHealth is refusing to address issues of patient safety and severe understaffing. A fair contract is needed to retain experienced nurses, have sufficient staffing and training, and ensure we have the resources we need to provide safe and effective care for our patients. Nurses are fighting back against MarinHealth's putting profits before patients and health care workers."
Who:

Registered nurses at MarinHealth Memorial Hospital

What

: One-day strike for patient safety and a fair contract

When:

Tuesday, March 28, 7 a.m. to Wednesday, March 29, 6:59 a.m.

Where:

MarinHealth Medical Center, 250 Bon Air, Larkspur
"Nurses overwhelmingly voted to go on strike because we see no other option left for us and our patients," said Kathleen Sickert, RN in the emergency unit at MarinHealth. "We have tried repeatedly to address the chronic and widespread problem of short staffing, which causes delays in care and potentially puts patients at risk, but hospital administrators continue to ignore us. We have a moral and legal obligation to advocate for our patients. We advocate for them at the bedside, at the bargaining table, and, if we have to, on the strike line."
California Nurses Association represents nearly 600 nurses at MarinHealth Medical Center.
---
California Nurses Association/National Nurses United is the largest and fastest-growing union and professional association of registered nurses in the nation with 100,000 members in more than 200 facilities throughout California and nearly 225,000 RNs nationwide.