Press Release
California Nurses Association condemns state decision to lift mask, vaccine requirements in health care settings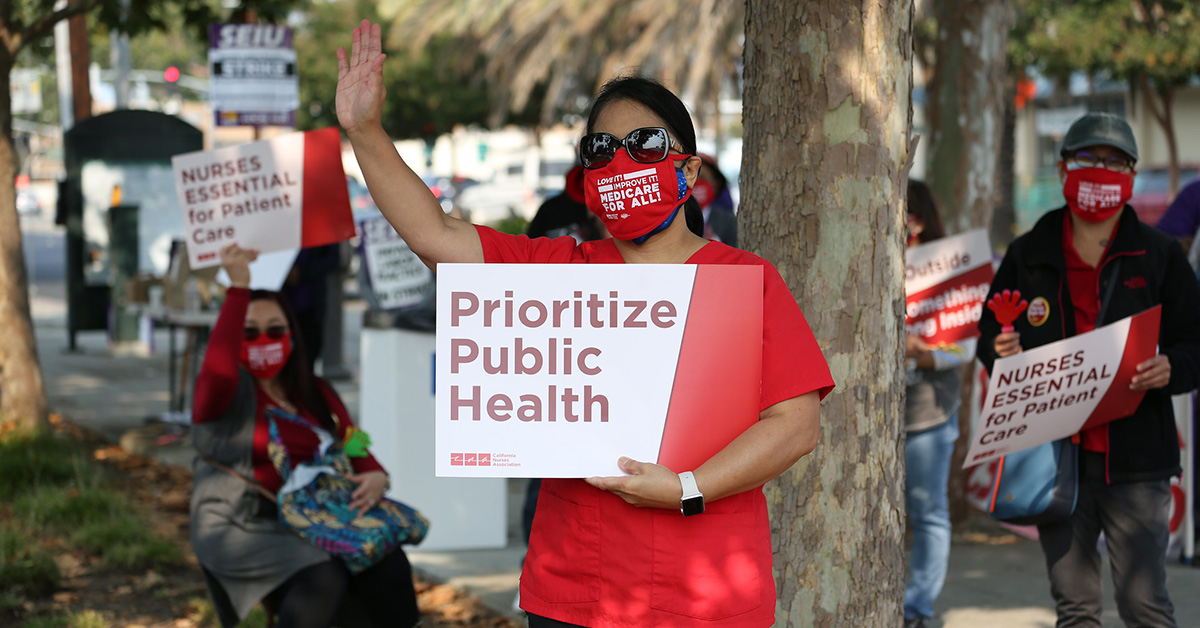 California Nurses Association (CNA) condemned today's announcement by California Department of Public Health (CDPH) that mask and vaccine requirements would be lifted April 3 in the state's health care settings, just eight days after California reached the grim toll of 100,000 Covid-19 deaths.
"In no uncertain terms, this is a failure of public health leadership," said Bonnie Castillo, RN and executive director of California Nurses Association. "Abandoning these standards is a counterproductive and unscientific approach to curbing the spread and evolution of Covid-19. This decision endangers the health and safety of nurses and other health care workers, hurts their ability to access personal protective equipment from employers, and ultimately exacerbates the health care staffing crisis that political leaders have vowed to tackle."
CNA will be alerting California hospitals and clinics that employ their 100,000 members to management's continued responsibilities to protect nurses and health care workers.
"This is an attack on frontline health care workers, who will now face greater risk of Covid-19 infections, reinfections, and long Covid," said Cathy Kennedy, RN and president of California Nurses Association. "The more Covid infections someone has had, the more likely they are to develop long Covid. It's surreal that political leaders would put nurses, patients, and community members at greater risk of developing chronic conditions like heart disease, stroke risk, diabetes, pulmonary embolism, cognitive impairment, and long-term immune dysfunction."
Instead of a statewide masking and vaccine requirement for health care settings, the administration has delegated this authority to individual counties, a strategy that experts say has proven ineffective and runs contrary to the science of public health.
"We need leadership from the state," said Castillo. "They want to pretend Covid is over, but it's not over. Infections are still going up, and we know that's an undercount because people aren't testing. Nurses and patients do not live in a world of make believe."
Facts about Long Covid:
In February 2023, the Los Angeles County Department of Public Health released findings on long Covid that more than half of LA County residents who have tested positive for Covid-19 have developed symptoms of long Covid. Additionally, three in four residents who reported symptoms lasting four weeks or more experience limitations in daily activities.
A separate study found that people who are reinfected with Covid-19 multiple times are twice as likely to die, three times as likely to be hospitalized, and twice as likely to develop long Covid as those only infected once.
Long Covid is associated with developing a higher risk of chronic conditions.
Long Covid is an occupational health crisis for nurses, according to a recent survey of nurses.
Of nurses who developed long Covid, symptoms lasted up to three months for 31.4 percent of nurses, four to six months for 16.2 percent of nurses, seven to 12 months for 15.3 percent of nurses, and more than 12 months for 17.9 percent of nurses.
A majority of nurses (59.9 percent) took time off work to recover from post-Covid or long Covid symptoms.
More than 8 percent (8.35 percent) of nurses took between one to six months off work as a result of their symptoms. More than two percent (2.4 percent) are not yet back at work.
---
California Nurses Association/National Nurses United is the largest and fastest-growing union and professional association of registered nurses in the nation with 100,000 members in more than 200 facilities throughout California and nearly 225,000 RNs nationwide.