National Nurses' Week: #ProtectNurses Online Art Show

An online art exhibit by National Nurses United celebrating Nurses' Week 2020
The art shown here was commissioned by NNU to emphasize the critical role art plays in resistance, especially in times of crisis — and to connect our struggles for justice and protection in the workplace to broader fights for social justice.
Participating artists:
Jesus Barraza
Melanie Cervantes
Erin FitzGerald
Sam Huang
Laura Chow Reeve
Fernando Martí
Innosanto Nagara
We encourage everyone to share a piece that spoke to you and ask your friends and family to join the fight at ProtectNurses.org and #ProtectNurses.
All artwork is available for download! Print at home or share online (see links below each image).
You can also see more Nurses' Week events here.
---
Jesus Barraza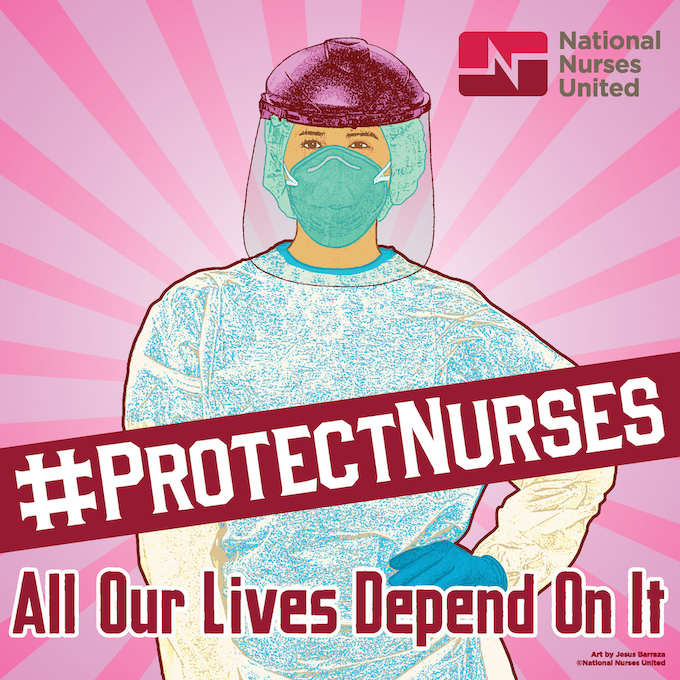 Superheroes, 2020
Artist Statement:
Over the past couple months, we've seen this world transformed as the CoronaVirus has spread from one place to another. The world as we know it will never be the same again. During this time most of our world has been shut down as we're asked to stay home to lower the number of infections and the world has come to rely on certain people that are making sure that we have the essentials to continue living. These essential workers have become the heroes of this pandemic, they are the ones who work at the grocery store, delivering groceries and keeping us alive. As hospitals have been flooded with CoronaVirus patients, nurses have stepped up to meet this challenge, becoming the real superheroes of our world. As glamorous as this sounds the reality is that they are putting their lives on the line, distancing themselves from their families and working in heart-wrenching conditions witnessing people slipping away. Like superheroes in the comic books they are saving lives, taking care of people who are infected and struggling to stay alive. At this moment we have to recognize these heroes and thank them for everything they are doing, and this piece is my way of showing how grateful I am for everything they do.
Artist Links:
Share
---
Melanie Cervantes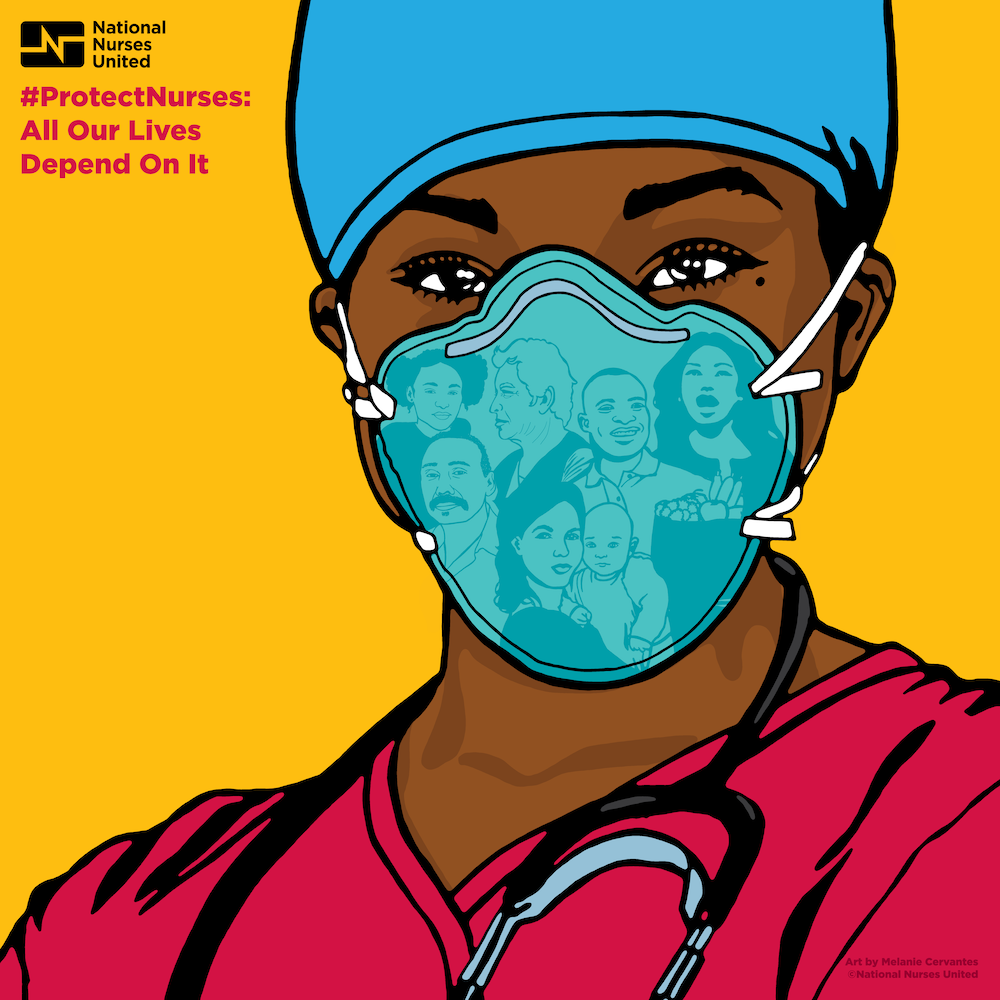 They Hold Us All, 2020
Artist Statement:
For the rest of my life I will be in the vulnerable category. Be it the California wildfires, this global pandemic or any unforeseen future cataclysmic events that can threaten my health and my life because of the lung cancer I have already survived. Over the course of the past three years I have come to appreciate how dependent I am on other people particularly in light of becoming disabled by this disease and vulnerable to environmental threats like the coronavirus.
As the Coronavirus pandemic spread globally I watched with great attention to the people in our community who have worked tirelessly to protect the life of people who have become afflicted by covid-19 and complications that come from the illness. I have spoken with friends and family members who work as nurses working long and stressful shifts often without sufficient personal protective equipment or without access to enough equipment to change it throughout the day.  I started to think about how the protective supplies like the masks protect both the wearer and the people who come into hospitals and medical centers and interact with the medical professionals who see patients all day. It is extraordinary to see how much nurses give of themselves and how the care they give has exponential benefit for not only their patients but the patient's loved ones and their larger community. In this way they hold us all and deserve for us to show our solidarity by supporting their demands for protective gear.
Artist links:
Share
---
Erin FitzGerald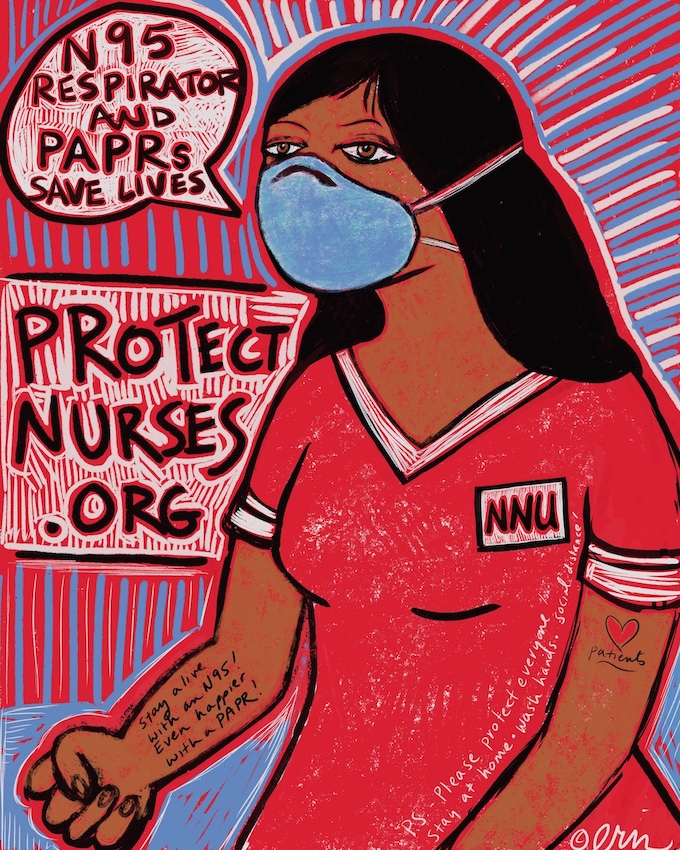 Stay Alive With N95, 2020
Share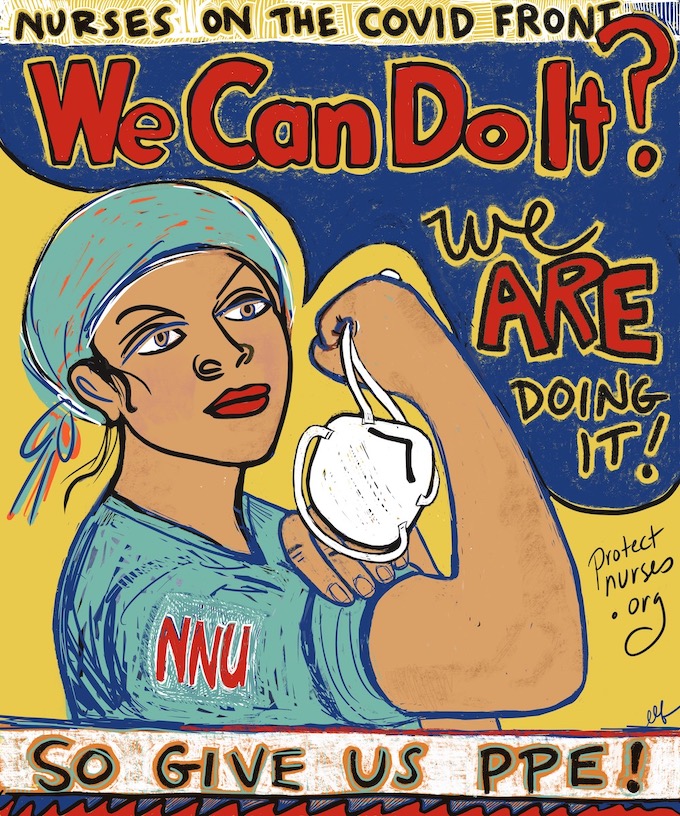 We ARE Doing It, 2020
Artist Statement:
Powerful and colorful women dominate my work. I am fascinated by collective power and collective energy, and it shows. I see all life forms, and even inanimate objects, as bundles of energy waiting to transform, act, or even explode in riotous color.
The medium I use often dictates my style. For many years I was an expressionist painter, focusing on female, androgynous, or queer figures as my subjects. When I create digital drawing on my iPad, a new medium for me, I generally turn to cartooning as a means of expression, though the work is still informed by painting. Sometimes my paintings are ambiguous, but lately I've turned my thoughts to the Covid19 epidemic and am using art to express my anger about lack of personal protective equipment for nurses and other essential workers.
Artist links:
Share
---
Sam Huang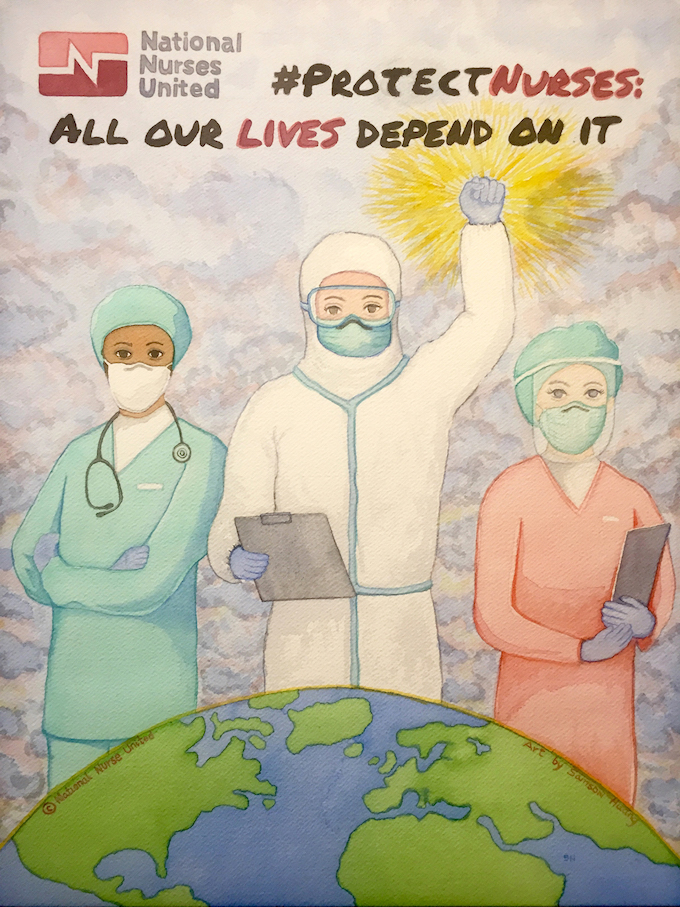 Untitled, 2020
Artist Statement:
I created this piece of art to pay tribute to the brave and hardworking nurses all over the world in the fight against this global pandemic. In order to adequately care for the patients with COVID-19, the health care workers, especially the nurses, require the proper protective equipment as illustrated in the painting. The nurses are working daily on the front line, and in my opinion, they are the heroes in keeping all our lives healthy and safe. We need to protect nurses because all our lives depend on it, globally!!!
Artist links:
Share
---
Laura Chow Reeve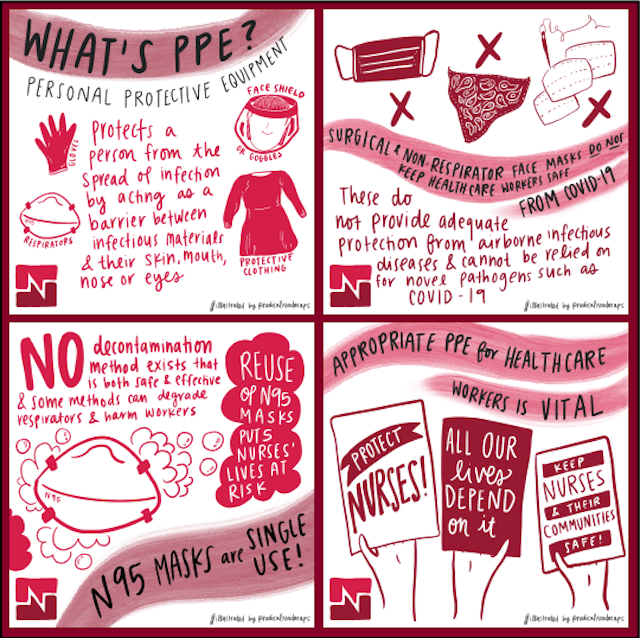 Part of the Radical Roadmaps Series, 2020
Download Poster "Types of Masks" (PDF)
Download Poster "Protect Nurses" (PDF)
Share

Download Poster "All Ages" (PDF)
Download Poster "Climate" (PDF)
Download Poster "False Negatives" (PDF)
Artist Statement:
Radical Roadmaps is a graphic recording and illustration practice aimed to create accessible and visual political education tools and offer live recording for organizations doing movement and liberation work. Primarily working in digital media, Radical Roadmaps collaborates with organizations, organizers, writers and artists to break down complex topics and frameworks in beautiful, meaningful and memorable graphics. More about this practice and examples of work can be found at www.radicalroadmaps.com.
Artist links:
Share
---
Fernando Martí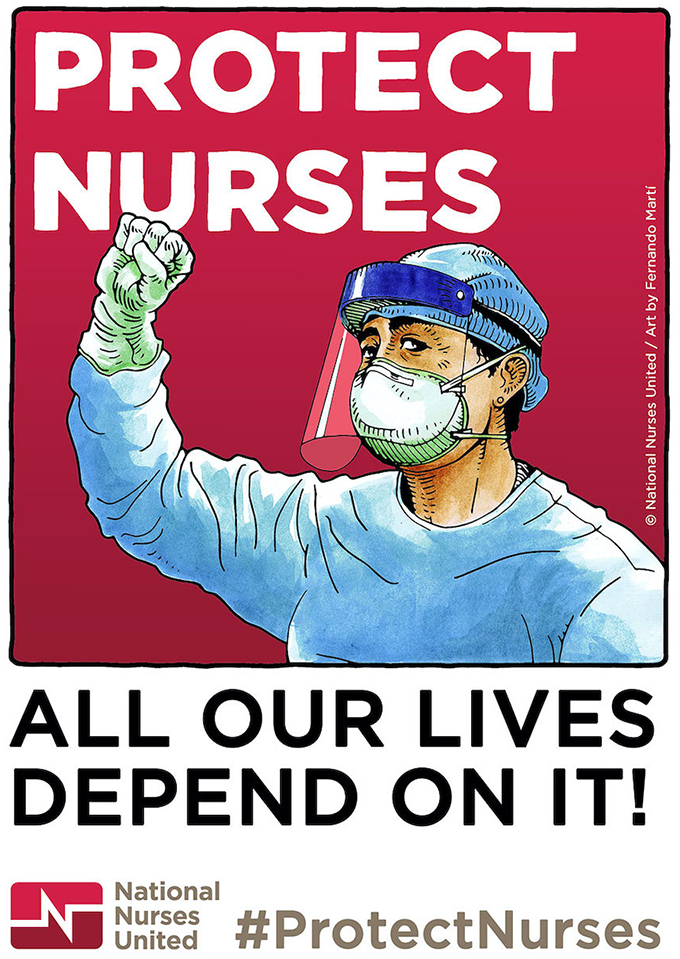 Protect Nurses, 2020
Artist Statement:
Fernando Martí is a housing activist, a community architect, and printmaker with the Justseeds Artists Cooperative. Originally from Ecuador, he has been deeply involved in San Francisco's struggles for affordable housing, ecological justice, and the reclamation of the commons since the mid-90s. His work reflects his formal training in urbanism, his roots in rural Latina America, and his current residence in the heart of Empire. His poetry, prints, and constructions inhabit the space between ancestral traditions of place and transformative liberatory practices.
"Protect Nurses," created for NNU, portrays the demand for adequate protective equipment needed for the health workers who protect us all: N95 masks, face shields, gloves, and full-coverage gowns and caps.
Artist links:
https://justseeds.org/artist/fernandomarti/
https://fernandomarti.carbonmade.com/
Share
---
Innosanto Nagara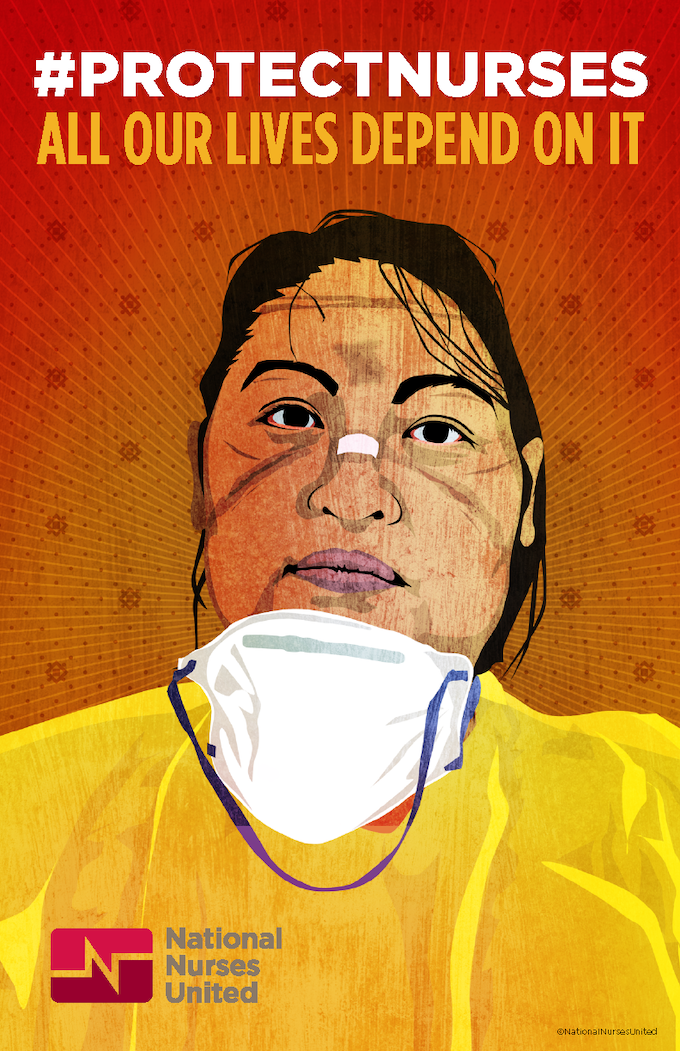 Untitled, 2020
Artist Statement:
Nothing like a global pandemic to highlight the essential role of health care workers in keeping us safe. Almost immediately, war metaphors and language became how we describe those "on the front lines" as "heroes" who risk their lives for ours. This feels like an apt metaphor as we urge our governments (and people) to allocate all available resources to nurses and health care workers as we would our soldiers at war. And yet it's problematic in that public health in a world dominated by microbes is about sound policy, education, investment, and access to health care for all. Those who provide health care services day-in and day-out know this, and the surge of accolades paired with a notable lack of material support and rational policy starts to feel a bit like "thoughts and prayers" offered after each school shooting. When NNU approached me for this work, I wanted to do something that celebrated their members while at the same time challenging the rest of us to do better by them. My hope was to capture the power and determination that we are all inspired by, and that nurses see in themselves, without masking the price they are paying—that we should all be paying. My goal was, to quote Amílcar Cabral, to "claim no easy victories" and "mask no difficulties" and hopefully inspire concrete action on behalf of nurses.
Artist links:
Share