News
Rose Ann DeMoro Wants Hospitals to Scream
By Dune Lawrence
Business Week
July 22, 2010
Labor firebrand Rose Ann DeMoro of California is out to build a powerful new super union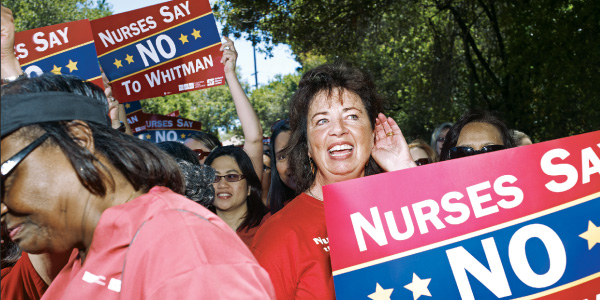 DeMoro, at a nurses' union rally, rarely has trouble being heard Robyn Twomey
This past April, Rose Ann DeMoro—a former supermarket cashier from St. Louis—looked at billionaire California gubernatorial candidate Meg Whitman and had an idea. DeMoro found a Los Angeles drama teacher, dressed her in a crown and faux ermine, and sent her out to tail Whitman across the state. Joined by tuxedoed bodyguards named "Goldman" and "Sachs," "Queen Meg" now spends her days taunting Whitman up close. "The new corporate aristocracy, they're used to unilateral control, no democracy," says DeMoro. "The script just wrote itself."
DeMoro is expert at dishing out political pain with a flourish, a talent that has endeared her to her 86,000 constituents in the California Nurses Assn. Under DeMoro's leadership, the union has recast itself from a special-interest trade group to a consumer and patient advocate that lobbies hard—and volubly—for universal health care and patients' rights. As membership in organized labor has withered nationwide, reaching a record low of 7.2 percent in the private sector last year, CNA's rolls have increased fivefold since DeMoro took over in 1993. It now represents about a quarter of the state's working nurses. "Nurses are the last line of defense for patients," says DeMoro from a seat in her cactus-filled office at the union's Oakland headquarters. "This isn't about just bread-and-butter issues for registered nurses, this is about living in a good and a just society."
Having spent the past six years creatively torturing California Governor Arnold Schwarzenegger, DeMoro, 61, would like to take her cause national. In December, CNA linked with United American Nurses and the Massachusetts Nurses Assn. to form the 155,000-member National Nurses United (NNU). DeMoro was named executive director, and she aims to turn NNU into a superunion of the nation's 2.6 million registered nurses. That will take some doing. Many RNs already belong to other unions. But if NNU recruits across the country at the same rate that it has in California, it would have 650,000 members and the ability to strike hospitals on a national scale.
DeMoro already looms large enough to her California opponents. The Whitman camp retaliated for the "Queen Meg" routine with a website noting that "Boss Rose," who isn't a nurse, has a salary of more than $293,000, almost five times the median for nurses nationally. The site also accuses her of turning the union into "an arm of the California Democratic Party" aligned with Whitman's opponent, Jerry Brown, whom the union endorsed in March. To which DeMoro replies gleefully: guilty as charged. "Everybody's supposed to believe that in order to be a reasonable person you have to believe that we're all in this together," she says. "I'm an advocate, I'm on a side."
DeMoro grew up working-class. Her Italian father ran a pizza parlor, her Irish mother operated a beauty salon. One of six siblings, she and a brother were the first in her family to go to college. DeMoro met her husband in high school, and after college at Southern Illinois University they moved to California in 1977, where DeMoro pursued a doctorate in sociology at the University of California at Santa Barbara. She was writing her dissertation on supermarket cashiers (titled "Checking Out Sexism") when she decided she'd rather organize than teach.
Her mission remains unabashedly grounded in women's empowerment. More than 90 percent of CNA members are women, and a wall in DeMoro's office bears a sign saying "Well Behaved Women Rarely Make History." "Nurses have been held down," DeMoro says, and part of her job has been to create a "culture of feminism" that helps them fight back.
DeMoro is pushing to expand the union's power at the precise moment her top priorities—increased salaries and benefits and more legally mandated jobs for nurses in hospitals—face unprecedented obstacles. The health-care reform bill passed in March is expected to cut federal spending and increase revenue by $1.1 trillion over the next 10 years, with approximately $300 billion extracted by lowering Medicare and Medicaid payments to hospitals. "In health care, everyone's looking for offset effects, or what politicians call win-win," says Jonathan Gruber, an economist at the Massachusetts Institute of Technology. "Is paying nurses more win-win? There's certainly no evidence."
DeMoro argues that low pay and understaffing don't bend the cost curve, they break it. Patients get sicker because of mistakes and inadequate monitoring, which lengthens hospital stays and pushes costs higher. Under such stressful conditions, nurses are less likely to want to stay in the job, which adds to turnover costs. "Every day and every shift there are people who fall through the cracks," DeMoro says. Her favored solution, modeled on a California law passed in 1999 and implemented in 2004, is the establishment of a fixed minimum nurse-to-patient ratio in hospitals nationwide.
A study led by Linda H. Aiken of the University of Pennsylvania published in the April issue of the journal Health Services Research provides some ammunition for this view. Aiken found that matching California's nurse-patient ratios would have reduced surgical deaths in hospitals in New Jersey and Pennsylvania by 13.9 percent and 10.6 percent, respectively. (The California ratios vary from 1 nurse to 2 patients in intensive-care units to 1 to 5 in general medical surgical units.) The study also discovered higher nurse job satisfaction when hospitals met the staffing levels set by California. Illinois, New York, and New Jersey are all considering legislation similar to California's, and Senator Barbara Boxer (D-Calif.) introduced a bill over a year ago that would make ratios a federal requirement.
If the health-care bill is a challenge to DeMoro's goals for the NNU, the demographics of the industry present an unprecedented chance to expand the union. The ranks of registered nurses will swell 22 percent in the 10 years to 2018, according to estimates by the Bureau of Labor Statistics. Union membership grew to 13.6 percent of health-care practitioners in 2009, from 12.9 percent in 2000, as the group, which includes doctors and nurses, grew to 7.1 million, from 5.3 million. "The health-care sector is definitely high on the list of areas of opportunity for unions," says Ken Jacobs, chair of the Center for Labor Research and Education at the University of California at Berkeley. Rising demand "gives nurses leverage. I think we can expect them to be aggressive in organizing and bargaining and expect some success."
DeMoro has cast Whitman as a natural adversary to the cause—and the former eBay (EBAY) CEO is the only subject that brings about a noticeable change in DeMoro's usually cheerful demeanor. Whitman is running for governor on a platform of tax breaks for businesses, the elimination of 40,000 state government jobs, and budget cuts of $15 billion that will be difficult to achieve without huge reductions in social programs, including health-care spending. DeMoro contrasts Whitman's campaign for governor—"consultant-run" and "off the shelf," she says—with what she describes as her own bottom-up management style. Whitman spokesman Tucker Bounds points out that his candidate supports the ratio law in California, and on a website aimed specifically at nurses, Whitman promises to plow savings from welfare reform into nursing education.
That Whitman broke the corporate glass ceiling and says she supports the biggest plank in the CNA platform earns her no quarter from DeMoro. The union leader says she even prefers Schwarzenegger to Whitman—which means DeMoro either really dislikes Whitman or is suffering from a remarkable case of political amnesia. In 2004, Schwarzenegger tried to suspend California's ratio law before it could take effect, arguing that it would cost hospitals too much money. CNA unleashed its trademark theatricality, putting the governor up for "auction" on eBay, distributing Schwarzenegger masks for Halloween (stamped as "property of" major corporations), and packing his public appearances as far afield as Boston with gangs of outraged nurses. CNA kept the heat on with more than 100 protests in 12 months, helping force the governor to implement the ratio law. "When Arnold Schwarzenegger was elected, his shadow covered the state," says Harvey Rosenfield, the founder of the Los Angeles-based nonprofit Consumer Watchdog. "DeMoro took him on when everybody else was terrified of him." Schwarzenegger spokesman Aaron McClear declined to comment on DeMoro or the union.
Rosenfield also credits DeMoro for helping universal health insurance bills pass the state legislature twice, only to be vetoed by Schwarzenegger. "Health care should not be a commodity," she says. "There's money there. They afford it in every other industrialized country. They can afford it in California and the nation."
When the California Nurses Assn. hired DeMoro away from the Teamsters in 1986, few nurses had retirement benefits or spoke to union representatives. CNA was mostly résumé padding for the nurses in hospital management positions who dominated the board, DeMoro says. She recalls an organizer receiving a letter of reprimand for using the word "strike."
DeMoro quickly aligned herself with bedside nurses who wanted more say in the organization and more focus on working conditions. California was a forerunner of the managed-care movement, which sought to cut costs and restructure hospitals, including cutting the number of nurses. DeMoro helped lead a campaign to replace the union's board with staff nurses and became executive director when staff nurses won control.
Under DeMoro, the union threw itself into the broader fight for patients' rights in the face of consolidation in hospital chains and insurers. The NNU simply takes that fight national, says DeMoro. In just eight months the group has already had an impact; in Texas, which has a unionization rate of only 5.1 percent, the NNU just concluded the state's first-ever union nurses' contract, winning a 10.5 percent raise over three years from Cypress Fairbanks Medical Center Hospital in Houston. DeMoro says the NNU aims to add nurses throughout the South and in Catholic hospital chains in the Midwest.
NNU has also supported two strikes in the last few months—a 1,500-member, month-long action to protect benefits at Temple University Hospital in Philadelphia and a 12,000-member, one-day strike against 14 hospitals in Minnesota. The strikers got much of what they wanted in Pennsylvania, including continued tuition remission for dependents at the university. Minnesota nurses stymied changes to pension contributions but settled for the employers' offer of a 3 percent salary increase over three years and achieved nothing on minimum staffing ratios.
A study co-authored by MIT's Gruber and published by the National Bureau of Economic Research in March found that hospital deaths rose 19 percent during walkouts, based on 20 years of data from New York State. "I don't think standing on a corner yelling and screaming shows a patient advocate," says Sherwood Cox, a critical-care nurse at California's Western Medical Center Santa Ana, who has helped defeat two CNA organizing drives and started a website called Stopunions.com.
DeMoro says she's "completely comfortable" using walkouts to make a negotiating point. (Private hospitals get 10 days legal notice of work action, warning time that allows them to reschedule elective procedures.) She expects more strikes because "employers are testing the nurses, they're trying to get ahead of the nurses' power."
Getting ahead of that power is DeMoro's job, and while she's had unprecedented success in uniting her constituents, it remains to be seen whether she can go beyond inspiration and taunts to achieve the change she's promised. Her attitude toward hospitals and insurers ("They think I'm radical, that basically it's unreasonable that I think that the nurses should win every battle, but I do.") doesn't suggest a demeanor amenable to shifting from agitator to stateswoman. Which means DeMoro's opponents should expect lots more pain in the years ahead.
Lawrence is a reporter for Bloomberg News.