News
Nurses Face More Violence From Hospital Patients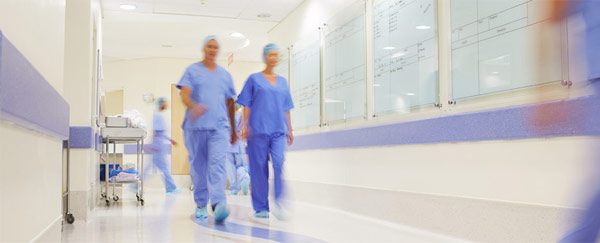 Nurses and other health care workers increasingly face verbal abuse, physical assaults and injuries, often from the patients they're trying to help, according to testimony at a Jan. 10 meeting held by the Labor Department's Occupational Safety and Health Administration on Capitol Hill. There, registered nurses called on OSHA to promptly pass regulations to prevent violence and protect employees in hospitals, nursing homes and other health care workplaces nationwide.
Joanne Ogaitis, a Maryland Nurses Association member who testified at the meeting, gets calls when violence-related complaints occur at the hospital where she's a clinical supervisor. Now back on the front lines after a recent stint in a hospital corporate office, Ogaitis, an RN for more than 20 years, is dismayed at the frequency of incidents. "It's very rough out there," she says, with verbal threats a nearly daily occurrence, and physical threats almost monthly.
Scratching, biting and pushing – by adult patients – take nurses away from their assignments as they may become patients themselves. "It's disruptive to care," Ogaitis says. "It's also hard on concentration because there's an emotional element when a nurse is distracted or hurt." Already-stretched hospital staffs are further strained when an incident erupts. "It takes a security team, the charge nurse, the supervisor and the primary nurse," she says. "Sometimes the physician is involved. The care team is basically pulled into the situation to evaluate and reevaluate."
The victim is referred to the employee health unit or the emergency room, Ogaitis says, while his or her patients are reassigned to remaining staff members. The emotional effect on the nurse involved and ability to return to work the next day varies.
"Some nurses that are very seasoned, particularly a psychiatric or emergency room nurse, are used to dealing with this," Ogaitis says. "The toll can be less on them. If it's a new nurse or graduate nurse, they could be very frightened. They might need time off and/or some emotional support."
Hospitals are extremely concerned about these incidents and are trying to come up with best practices in response, Ogaitis says. The rising violence within hospitals reflects what's going on in the surrounding community, she believes, such as increasing substance abuse, opioid addiction and serious, untreated mental illness.
Violent patients on drugs can disrupt an emergency room. "We have protocols in place to deal with it," Ogaitis says. "We're increasingly working with police out there in the community." Police help ER teams prepare by alerting them in advance, but these admissions are challenging. "Sometimes we don't know what drug they've used," she says. "There are so many synthetics, and it's just hard to know what we can do for this patient to stabilize them."
Training, awareness drills, protocols, de-escalation training and back-up to call would help nurses feel safer, Ogaitis says. "What's Plan A, Plan B, Plan C?" While nurses and doctors in ERs and psychiatric units already have a lot of training, she says, "It's to the point where it's beneficial to have some [training] across the board."
During testimony, Ogaitis says, OSHA representatives listened intently but made it clear that creating a nationwide standard and taking it though the federal regulatory process would be a lengthy undertaking. However, she says, "These incidents happen now. I would hope they keep it as a front issue."
 Not Just "Part of the Job"
Jean Ross is a registered nurse in Minnesota and co-president of National Nurses United, which in July 2016 presented a petition for a federal workplace violence prevention standard to protect health care workers to U.S. Secretary of Labor Thomas Perez and Assistant Secretary of Labor for OSHA David Michaels.
Part of the problem is cultural, Ross says: "It's long been looked at, when you get spat on or verbally abused, pinched, hit over that head with something … not just by the nurses and health care workers themselves, but by people in positions of authority, that this was just part of the job and it's something you know you accept when you decide to go, for example, into nursing."
The issue of assault by patients is complicated by the recognition that, in most instances, it's not deliberate, Ross says: "Most of these people are not trying to harm you." Patients whose thinking is clouded by drugs or dementia may believe they're protecting themselves, Ross says, when staff members attempt to start an IV line or prevent patients from putting themselves at risk by yanking out a urinary catheter.
Seeking Safety
A 2010 California tragedy galvanized the movement to reduce the threat of violence against health care workers, when nurse Cynthia Palomata, was killed by an inmate in a county detention facility. After faking a seizure, the inmate was taken to the jail's nursing station where he grabbed a lamp and struck Palomata in the head, according to multiple news reports. California has since enacted landmark safety legislation, sponsored by the California Nurses Association and scheduled to go into effect statewide in April.
Among statistics included in the National Nurses United petition was U.S. Department of Health and Human Services data on nonfatal injuries from workplace violence for health care workers. In 2014, the rate was 154 injuries for 10,000 workers in public hospitals, with an even higher rate of 228 violence-related injuries per 10,000 workers in nursing homes. In all, nearly 17,000 incidents were reported that year.
The petition calls for nationwide prevention standards for health care workplaces, including outpatient facilities like clinics. One element is identifying and addressing environmental risk factors such as isolated areas including patient rooms, poor illumination, blocked visibility, lack of effective escape routes and lack of physical barriers between health care workers and people who pose a risk for committing workplace violence.
Designing facilities to avoid loose furnishings that can be used as weapons is one safeguard, Ross says. Hands-on training is also needed on defensive techniques like breaking away from patients or others who become violent, she says – online programs aren't enough. Health care workers need the ability to practice with colleagues, talk to instructors, ask questions and get feedback.
Adequate staffing is the most important protective measure, Ross says, along with a nationally mandated prevention plan. "A standard that is useful at every facility, no matter how small or how large," she says. "The same things happen in rural areas that do at Level 1 trauma centers downtown."
Original Post: http://health.usnews.com/wellness/articles/2017-01-18/nurses-face-more-violence-from-hospital-patients