News
Newsom Vetoes Hospital Closure Notification Bill, a Major CNA Priority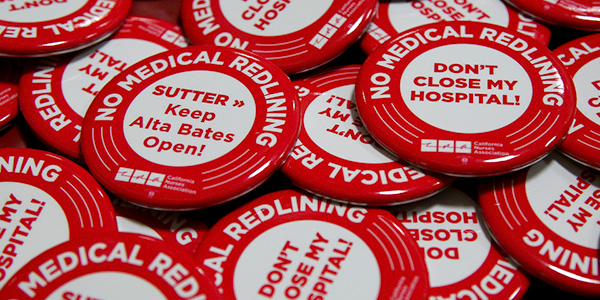 Dealing a major blow to some of his most forceful political supporters, Gov. Gavin Newsom Saturday vetoed legislation that would have increased the public notification period for proposed hospital closures or elimination of emergency services.
Existing law requires a 30 day notification for hospital closures and a 90 day public alert for reductions in services. The bill, CA AB1014 (19R) (paywalled) by Assemblyman Patrick O'Donnell (D-Long Beach), would have doubled the notification window for services and increased six-fold the notification period for hospital closures.
The measure was a major priority for the California Nurses Association, which sponsored the bill. It argued more time is needed to ensure health care workers can find new work and patients don't face disruptions in care. Nurses also said existing time frames "do not allow for proper community engagement."
Newsom rejected their argument.
"I agree that hospital closures have vast impacts on communities. However this bill would not change the fact that the state is not able to force a hospital to stay open when they are financially unable," Newsom wrote in a veto message. "I am concerned that this bill may exacerbate the financial and patient safety concerns that often lead to closures."
Newsom echoed concerns raised by the California Hospital Association and the state Department of Public Health, which is responsible for notifying the public about closures and service reductions."Hospitals may not be able to maintain staffing or other essential services once a closure has been made public, leading to a closure sooner than anticipated," the department wrote in its opposition letter.
The influential nurses union went after Newsom on Twitter late Saturday, saying his action was "shameful."
"The governor puts hospital CEOs first, abandoning patients when at their most vulnerable and putting entire communities at risk," CNA wrote.
The nurses union was an early and prominent supporter of Newsom during his gubernatorial campaign. Other backers of the legislation include the California Labor Federation, which also endorsed Newsom for governor.
It's another major loss for CNA this year after the group failed to muster political support for legislation to create a single-payer health care system earlier this year. The group instead focused its single-payer lobbying efforts on the governor's "Healthy California for All" commission, seeking to secure gubernatorial appointments.
Newsom has already failed to meet a statutory deadline (paywalled) for the commission to meet by Sept. 1 of this year. He has not publicly named any of his eight appointments, while Assembly Speaker Anthony Rendon has named one of his two commission appointees and Senate President Pro Tem Toni Atkins has named both.