News
McAllen denies drilling permit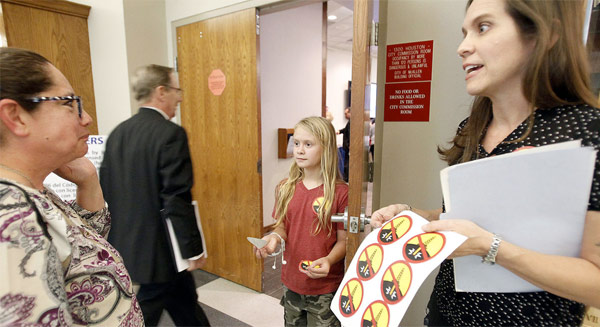 In front of packed chambers at city hall, with many sporting anti-drilling stickers, the commission denied a drilling permit to Texakoma, a gas and oil company from Plano. The application was for a drilling site near North 10th Street and Northgate Lane. The well would be drilled horizontally, underneath 10th Street, and would terminate near North Colonel Rowe.
But after a roughly one-minute explanation from City Attorney Kevin Pagan, citing why his office was recommending denial of the permit, the city commission followed through and unanimously denied the permit. A standing ovation, with some cheers and thank-you's sprinkled in, followed.
A small contingent of Texakoma employees shuffled out of the room, refusing comment. Their proposed drilling site did not meet the requirements of the city's drilling ordinance, Pagan said. It was within 400 feet of residents.
"I had to come and show some support to make sure this didn't happen," Martin Lopez said outside the commission chambers after the vote. He was one of more than 100 people on hand at Monday's commission meeting.
Mayor Jim Darling gave a few minutes for the large group on hand for this vote to exit the room or speak briefly with the commission. Many mingled outside the chambers afterwards, but left as the regularly scheduled meeting soon resumed. There were some meetings in neighborhoods over the last week regarding this permit, and the Sierra Club was spreading messages on social media to build drilling resistance.
According to Texakoma's application, the drillers were not seeking to do fracking, a technique to extract oil and gas from rock by injecting high-pressure mixtures of water, sand or gravel and chemicals.
McAllen has approved many drilling permits over the years, so long as they met the ordinance requirements. However, a 2015 measure signed into law by Gov. Greg Abbott preempts local municipalities from regulating drilling.
Pagan said he received questions about this, so he addressed it in his explanation.
"It is my opinion that that law does not preempt our ordinance," Pagan said. "We only regulate the service activity of the drilling of these wells within our city. That is allowed within the state law. It is my opinion that our ordinance meets the requirements of the state law and therefore does not preempt, and therefore I come back to my original statement, which is because the application component does not meet the requirements of the city ordinance, its my recommendation the permit be denied."
 Original Post: http://www.themonitor.com/news/local/article_188aab70-135e-11e7-806f-839d9424fa8a.html