Blog
On International Women's Day, Let's Honor the 'Caring Professions' for What They Are: Warriors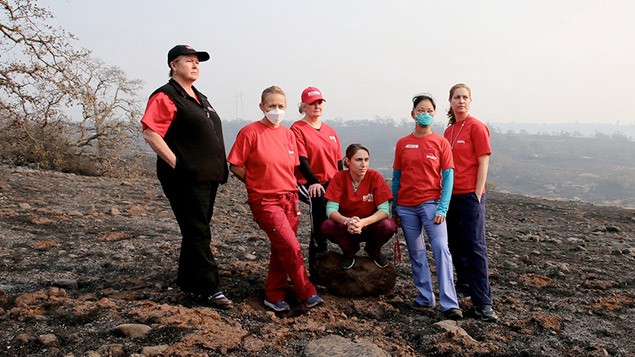 When the deadliest wildfire in California history wiped an entire city off the map last November, volunteer registered nurses cancelled their Thanksgiving plans, strapped on respirators, and headed straight into the heart of disaster.
This is what it looks like to care.
The "caring professions" require compassion and empathy — but effective advocacy is not hesitant or polite. Care is fierce. It stands up, gets dirty, shouts, and goes the distance. Carers protect; they do not back down.
So on International Women's Day, we're here to honor nurses — and other women-dominated caring professions — not just as a soothing presence, but as a mighty force. That's true in a disaster zone, in management's office, in the legislative arena, out in the community, and everywhere that "feminism with teeth," a term coined by Public Services International, makes a difference.
Here's a bit of what our women-dominated profession (shout out to our nurse brothers who fight by our side!) and our women worker allies have accomplished this year:
In the labor movement
This International Women's Day also aligns with the one-year anniversary of Bonnie Castillo, RN, taking the helm of National Nurses United (NNU), as Executive Director. Bonnie is the first rank and file registered nurse and woman of color to lead the union.
Today we recognize labor leader Bonnie Castillo. She's the first rank and file RN to be the executive director of @CalNurses & @NationalNurses. She is also the first WOC to lead both organizations! Bonnie is a force to be reckoned with 💪🏽🔥 @NNUBonnie #WomensHistoryMonth pic.twitter.com/WHK4nW4Zbu

— California Labor Federation (@CaliforniaLabor) March 7, 2019
This past year, workers suffered a major attack on their rights in the form of the Janus Supreme Court case. Under Bonnie's leadership, NNU RNs rose up and proved the union-busting case can never tear apart the mighty nurses. Thanks to NNU's powerful internal organizing campaigns, the union stood strong, recruiting and developing hundreds of new RN leaders, including huge numbers of young RN leaders. In an era where corporate forces are increasingly trying to destroy unions, NNU nurses are unified, unafraid, and only continuing to grow in numbers.
In the workplace
According to a 2018 survey, more than half of women in America are their household's primary breadwinner. So the fight for workplace justice is a fight for entire families, all across the U.S.
National Nurses United's day-to-day representation and strong contracts empower and protect women workers. We also fight in the legislative arena. In the past year, we've helped launch a federal bill to prevent workplace violence in health care and social service settings — and legislation at both the state and federal levels advancing safe staffing. Until our colleagues, patients, visitors and families are safe, we will continue to be the authoritative voice of advocacy.
In society
Nurses know that there can be no gender justice if we do not rise up and demand guaranteed health care as a human right. With health insurance in the United States often tied to a partner, women are forced to stay in bad marriages or abusive relationships, just to cover medical costs for themselves and their children.
That's why we are so proud that registered nurses have spent decades leading the way in growing the movement for Medicare for All. Grassroots activism has reached unprecedented levels, with volunteers in a nurse-led Medicare for All coalition knocking on over 13,000 doors and identifying over 16,000 supporters of Medicare for All from August 2017 through September 2018 alone. An early February "Medicare for All Week of Action" sponsored by NNU featured 150 Medicare for All community organizing events held across the country, attended by around 5,000 people and resulting in 1,300 canvasses.
All of this hard work helped to prep for the big moment in late February, when Rep. Pramila Jayapal introduced the new House Medicare for All bill, H.R. 1384, with strong backing from NNU. The bill is the most comprehensive Medicare for All bill to date, and NNU played a major role in helping define the content, which fully guarantees health care security for everyone. The bill was introduced with 106 cosponsors, many of whom were the direct result of NNU's Medicare for All field organizing.
 
 We will get Medicare for All across the finish line. And until we do, our nurses will be loud and proud, in the streets, at front doors, and in the halls of power, making a big noise for the big change necessary to transform a broken, for-profit system into a system that works for everyone.
Around the globe
NNU nurses also know that the fight for justice is global. So over the past year, as part of our worldwide network, Global Nurses United, we have stood up against an assault on union rights, around the planet. One major example involved RNs speaking out to the president of Guatemala, in a letter, after union leaders there were detained over an allegation concerning a collective bargaining agreement freely entered into by the government of Guatemala in 2013.
NNU nurses also shared with and learned from nurses around the world, in the process of the U.S. nurses fighting for Medicare for All. International study delegations forged nurse solidarity and imparted critical lessons on how to hone the Medicare for All fight in America. 
 
 Nurses from several countries also met to share common experiences and responses to the epidemic of workplace violence against nurses. Our solidarity helps to keep us safe.
We can't wait for change to happen incrementally. So on this day marking women's accomplishments and our connected struggle, a big fist up for our women worker warriors, because — to quote an old adage — "well-behaved women seldom make history." But fierce women often make the world a better place.
Happy International Women's Day!