Blog
RNs Skip Thanksgiving to Provide Aid and Relief to Camp Fire Victims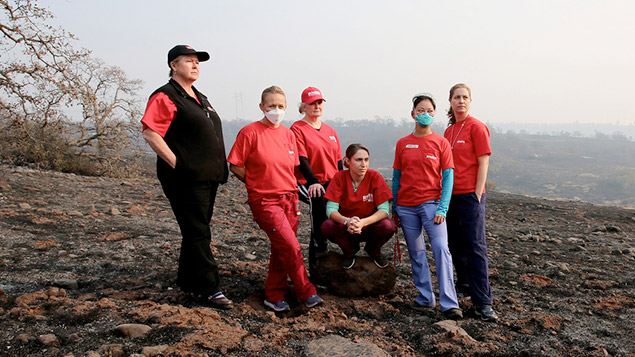 When Mary-Jane Perry's four children and husband sit down for Thanksgiving with the grandparents in Sacramento, the registered nurse won't be dishing up the turkey.
She will be 60 miles away providing medical care for those devastated by the wildfire that destroyed thousands of homes and killed more than six dozen people in Butte County, CA earlier this month.
When the call went out for nurses to join National Nurses United's RN Response Network (RNRN), a disaster relief program, Perry knew she had to go.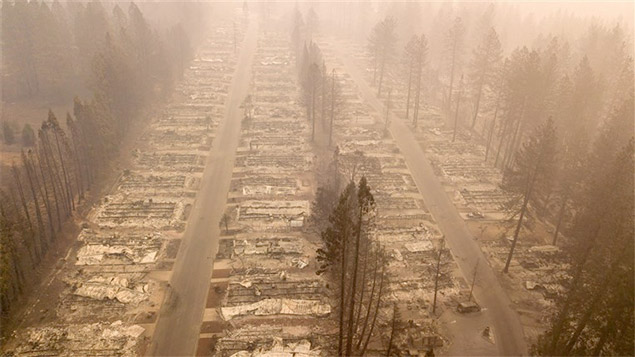 Stories of how people barely escaped dominated the news. Images of Paradise, the town turned to ash, seemed unimaginable. Perry felt like everyone she knew had someone close to them who had lost a home, or a loved one to the fire.
"These are like my brothers and sisters and I wanted to help out," said Perry, an RN at Kaiser in Sacramento.
Any doubt she had disappeared when her six-year-old daughter gave her the blessing to go.
"She said, 'Momma, it's okay, we have food, we have beds, help those people, who don't have that.' I was really touched and I knew it was the right decision to go," Perry explained.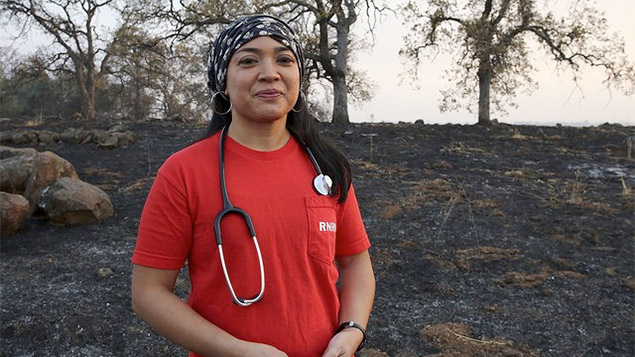 The emergency room RN is one of nearly a dozen registered nurses and a nurse practitioner who make up the RNRN deployment this week to the Camp Fire, the most destructive and deadly fire in California history. To date, some 151,000 acres have burned, more than 12,000 homes are destroyed, 81 people are confirmed dead, and more than 800 are still missing.
"I hear stories of people looking for their missing, and I see posters everywhere, and it is just heartbreaking," said Rebecca Blecker, an RNRN volunteer and registered nurse at Kaiser in South Sacramento.
A closer look at the missing, Blecker said, paints a dramatic picture of elderly people trapped by the flames.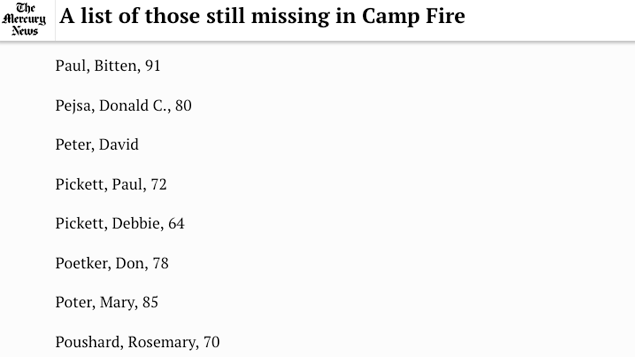 "The majority of them are 70, 80, 90-year olds people, who couldn't just get out," she said. "You can tell the fire moved so fast, the trees at the top still had green on them. Everything on the ground was just black"
Shelters from Nurses' Perspective
The volunteer nurses are working at three shelters, two of which are churches hastily turned into shelters to meet the immense need. Many of those seeking medical treatment are in search of medications they lost in the fire and those suffering from chronic diseases, such as diabetes, hypertension, depression and chronic obstructive pulmonary disease (COPD). The hazardous air quality is affecting patients with respiratory illnesses. The RNRN nurses provide critical care as part of a full medical team working around the clock at the shelters.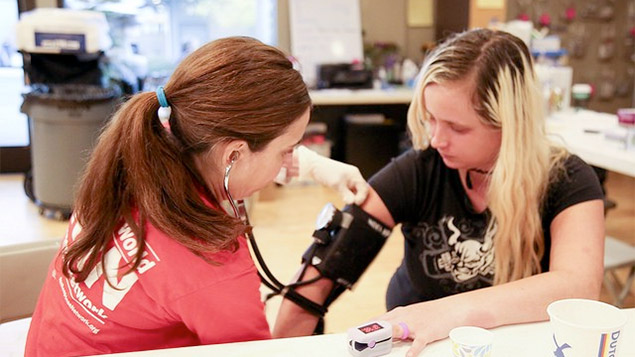 Olivia Lynch, a registered nurse at Mercy Medical Center in Merced, said 400 people showed up to the shelter where she is volunteering when it first opened up. Those deemed most fragile were given beds inside, while the others were given tents outside.
People forced to evacuate and live in shelters this week faced another health issue — a fast-spreading virus that causes nausea, vomiting and diarrhea.
Since the virus outbreak, Lynch said crews have been working diligently to keep the shelter clean by continuing to bleach the floors, walls and door handles.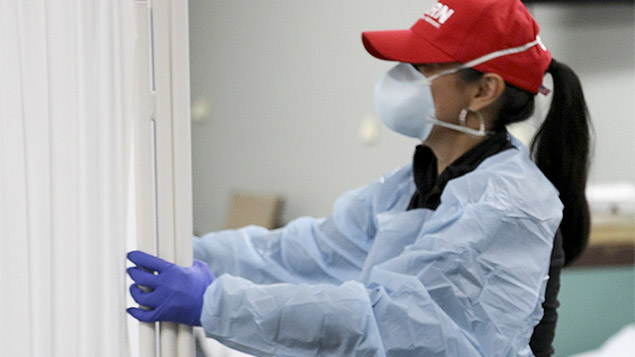 Patients were put into isolation to contain the virus and avoid others from being infected.
Lynch said the reality for those in the shelters is a tough one.
"All the hotels are used up, there is nowhere to rent an apartment," she said. "The people who are in the shelters are people who don't have family to stay with or are the people who don't have the money to get out of town and they are kind of stuck."
The nurse fears the rains, while a welcome for firefighters, will add another layer of misery.
"They already issued a flash flood warning, and what does that mean for all those who are sleeping in their camping tents outside?" Lynch asked.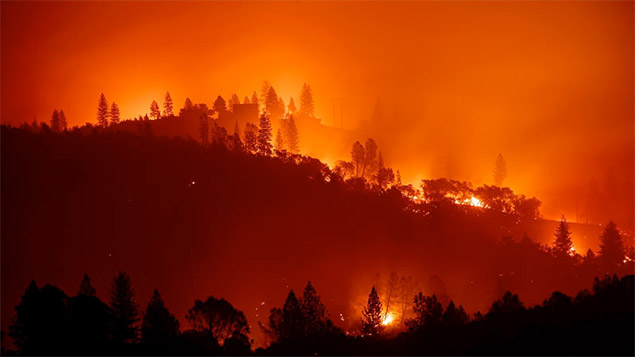 Can't Ignore Climate Crisis
Blecker believes the climate crisis played a decisive role in creating the "perfect storm" that propelled the Camp Fire. She said as a nurse, she knows the value of prevention and says it is imperative that our climate crisis be taken seriously and addressed by our leaders.
"Disasters like this are costing us more money and more peoples' lives than if we addressed climate change," said Blecker. "We need to start refocusing our state of mind on how we are going to save Mother Earth or we are not going to be here."
As Vox described it: "As climate change pushes temperatures up, vegetation like grasses and trees are dying out. This creates ample fuel to burn. Outside of Chico, where the Camp Fire began burning, the flames were then fanned by northern California's Diablo Winds with gusts topping 70 mph. The fire at one point gained about a football field in area per second.
Resilience of the People
The devastation in Butte County is hard to comprehend, and the losses are almost unfathomable, Perry said.
"They don't have a home to go back to, and home is such a part of who people are. When you don't have a home, you can lose your sense of self and hope. You have fear for the future," she said.
No matter how devastating the tragedy is she is inspired by the resilience of the people she met in the shelter.
"What I love seeing is how people are experiencing this crisis and coming together as a family, everyone is looking out for each other," Perry said.
The tragedy strips away all those things that are not important and makes stark what truly matters, she added.
"You hear all these stories when people were told to evacuate, they had to decide quickly what was the most important," Perry said. "People find out what is really important, they escaped with their lives. And they recognize how precious life is."