Press Release
Watch National Nurses United registered nurse weigh in on Covid-19 vaccines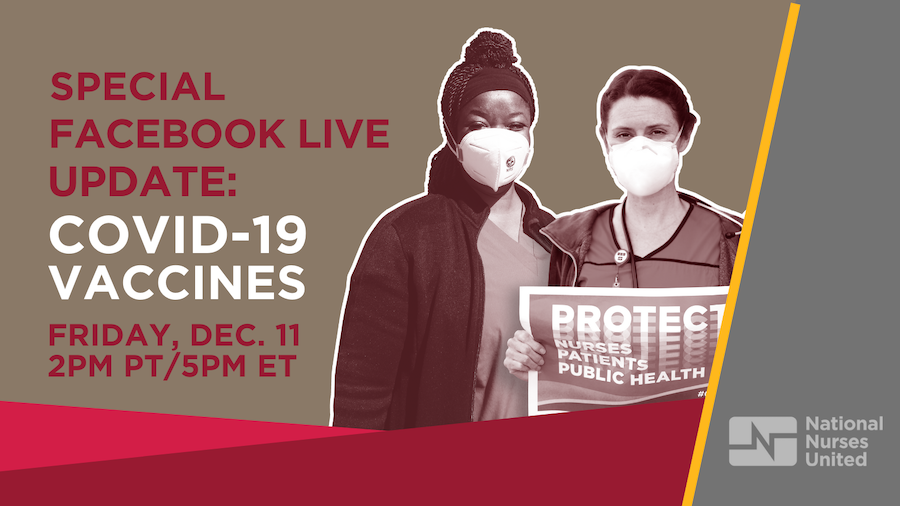 With the imminent public distribution of various Covid-19 vaccines and a Dec. 10 Food and Drug Administration advisory hearing on these vaccines, registered nurses and other health care workers, as well as the general public, have many questions about the safety and efficacy of Covid-19 inoculation.
A representative from the health and safety team of National Nurses United, the nation's largest and fastest-growing union and professional association of direct-care registered nurses with more than 170,000 nationwide, will host a Facebook Live discussion on Friday, Dec. 11 about these Covid-19 vaccines. She will cover what is known to date about these drugs, what is still unknown, surface concerns, and suggest what experts are still seeking to learn.
What: Facebook Live discussion on Covid-19 vaccines
When: Friday, Dec. 11, 2-2:30 p.m. PT/5-5:30 p.m. ET
Where: Facebook Live event
Who: Michelle Mahon, RN, assistant director of nursing practice
The Facebook Live broadcast will be recorded and can be played back at the same link. Media are encouraged to watch.