Press Release
With Virus Surging, Nurses to Voice Alarm on Conditions at HCA Pinellas County, FL Hospitals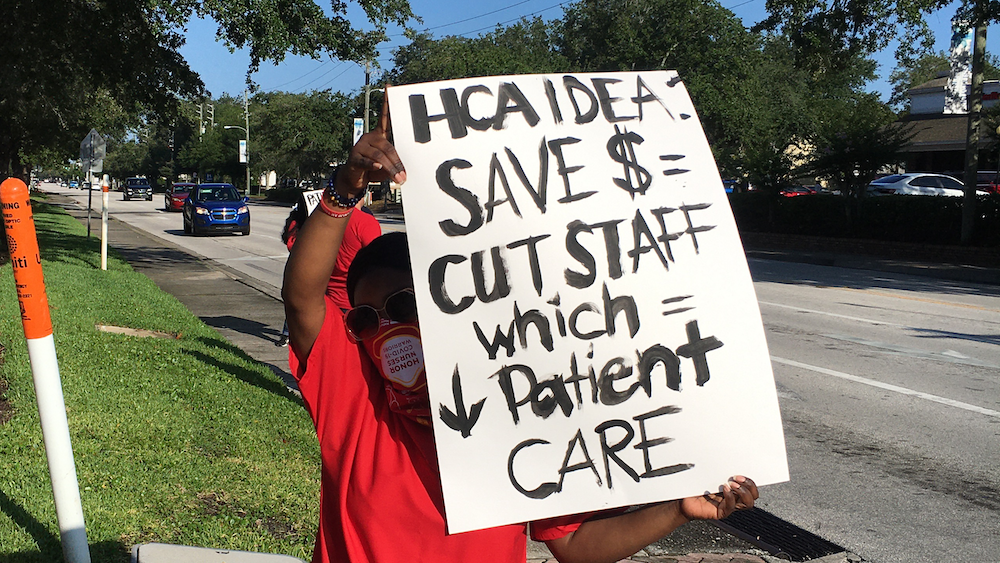 With record coronavirus cases rocking Florida, Registered Nurses from St. Petersburg General Hospital, Largo Medical Center, and Northside Hospital will come together Wednesday to alert the public to an explosion of unsafe conditions at their hospitals.

RNs from all three HCA facilities will gather in a social distancing action at St. Petersburg General to warn that conditions are rapidly deteriorating with multiple safety problems since Florida's premature "re-opening."

At all three hospitals, National Nurses Organizing Committee-Florida, an affiliate of National Nurses United which represents the RNs, has filed complaints with the Occupational Safety and Health Administration.

The nurses will also cite administration efforts to silence RNs from reporting unsafe conditions. St. Petersburg management has retaliated by firing one union activist for objecting to an unsafe assignment. Another leader was threatened for informing a colleague how to notify managers about an unsafe assignment.

What: Nurses Hold Public Action over Unsafe Conditions
When: Wednesday, July 15, 7:30 p.m.
Where: St. Petersburg General Hospital, 6500 38th Ave., (66th Street side of hospital)
              St. Petersburg, FL

"Protecting our patients is our priority. But rushing from patient to patient because of inadequate staffing is a recipe for disaster which doesn't allow us to properly monitor our patients when they are at their most vulnerable," said Barbara Murray, recently terminated RN and union nurse representative at St. Petersburg General Hospital. "It also increases the danger of mistakes, including the spread of virus to other patients."

"HCA is the wealthiest hospital system in the U.S., and just received an additional $1 billion in a federal pandemic bailout.  They have more than enough resources to guarantee the life-saving protective equipment for nurses while we put ourselves, our patients, and our families at risk every day," said Martin Peebles, union chief nurse representative at Largo Medical Center.

Key RN concerns include:
Extreme short staffing with nurses having to care for more patients than is safe to ensure all receive proper care. In the Northside Emergency Room, nurses have reported having to care for as many as 16 patients at a time with the pandemic raging through the hospital and county.

Inadequate personal protective equipment (PPE) for nurses and other frontline caregivers. RNs have been expected to unsafely re-use the same masks every day which increases the risk of exposure to the nurses and to spreading the virus to other staff and patients.

Improper isolation of patients who are confirmed or suspected of being infected with COVID-19. Patients have been placed in non-COVID units because of inadequate staffing throughout the hospital which puts other patients at risk.

Threatening nurses who report unsafe patient care practices. The firing of one RN leader and threat to another is intended to silence other nurses.

Failure to inform nurses who may have been exposed to positive infected patients, and to provide information to the union on infected cases.
"It is outrageous that HCA is punishing and seeking to silence nurses for objecting to dangerous conditions that put their patients and themselves in jeopardy. We will continue to speak out about this disgraceful conduct," said Malinda Markowitz, RN, NNOC President.

OSHA complaints filed by the union at each of the three hospitals charge that:

 "the Employer has failed to inform each employee how they are to report a work-related illness due to COVID-19; has failed to provide union representatives and RN-employees access to records of COVID-19 illnesses which require recording and reporting; failed to inform RN-employees exposed to COVID-19 of its procedure for reporting work-related injuries and illnesses; and failed to inform RN- employees exposed to COVID-19 that they have the right to report work-related injuries and illnesses."