Press Release
Veterans Health nurses hold action, deliver petition to demand needed leave policies to protect veteran patients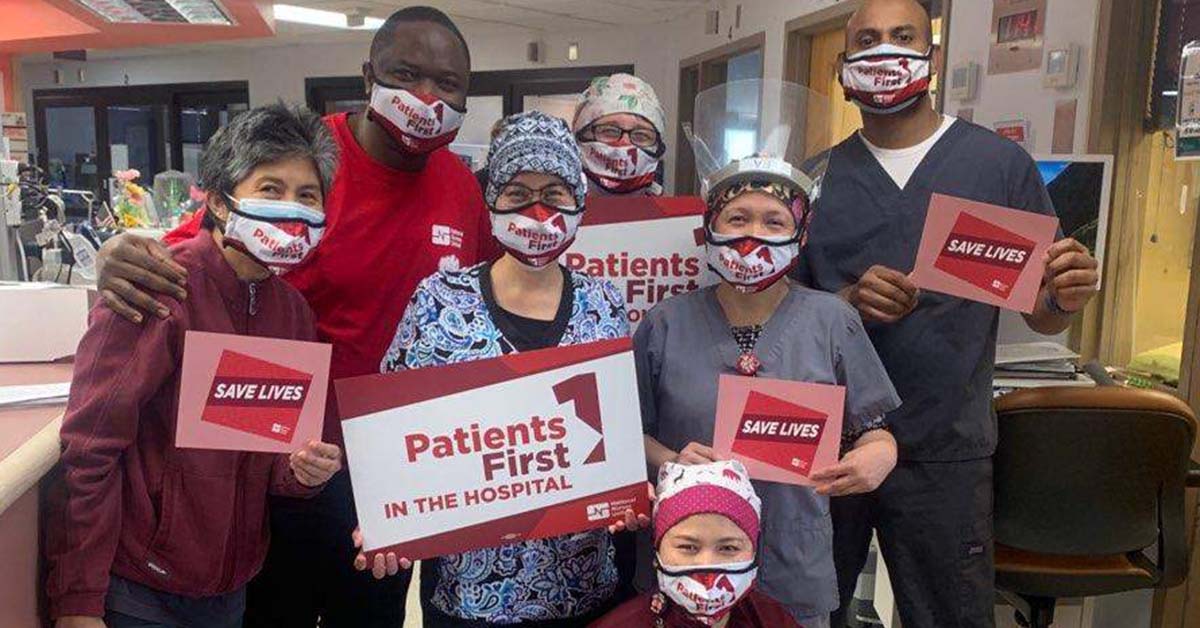 Chicago-area registered nurses working for the Veterans Health Administration will hold an action Monday, Feb. 14 to protest inadequate Covid leave policies that they say jeopardize their veteran patients by pushing or encouraging nurses to come to work sick. Since the expiration of emergency paid leave on Sept. 31, 2021, RNs have been forced to use their personal benefit time in many instances that previously were covered under the Families First Coronavirus Response Act. The VA nurses are represented by National Nurses Organizing Committee (NNOC), an affiliate of National Nurses United, the nation's largest nursing union.
What:

Action by nurses to deliver petition with 700 VA RN signatures to VA regional headquarters

When:

Monday, Feb. 14 at 3 p.m.

Where:

VA regional headquarters, 11301 W Cermak Rd Ste 810, Westchester, IL 60154

Who:

Union nurses represented by NNOC/NNU, Save Our VA veterans organization, and other labor allies
VA nurses say it is critical for RNs to have adequate leave to be able to properly quarantine and isolate if exposed to or positive for Covid. They blame a December 2021 Covid outbreak at the Jesse Brown VA Medical Center on deficient leave policies: Multiple patients and staff were exposed to and infected by a Covid-positive employee. Veterans who came to Jesse Brown acquired a life-threatening infection on top of their original condition, making them more vulnerable. One veteran patient had a scheduled surgery canceled.
"This is completely unacceptable as it threatens lives and impedes timely, necessary procedures and care," said Adelena Marshall, an RN who works at the Jesse Brown facility. "The outbreak at Jesse Brown shows us the unmitigated toll on veterans' care that can occur when RNs and other staff aren't given adequate paid leave to facilitate that the highest standards and policies are followed to protect our veterans."
"It is unconscionable to continuously put the financial burden of safety on RNs as we enter the third calendar year of this epidemic," said Beverly Miles, an RN who works at Hines VA Medical Center, in reference to nurses left with no choice but to take unpaid leave when following proper infection control protocols. "The policy, as is, punishes RNs who are following quarantine guidelines to protect the veterans whom they serve.  Unfortunately, no one knows how much longer we will be on the front lines of this unceasing battle against Covid."
"It is imperative that the VA expand its leave provisions to meet the needs of RNs more broadly, in order to retain qualified nurses to care for our veteran patients," said Carolene Hill, an RN working at the Hines facility. "Investing in RNs and ensuring our safety is a tool for retention and recruitment and beneficial to all stakeholders in our VA community."
National Nurses Organizing Committee is a national union and professional organization for registered nurses, advanced practice nurses, and RN organizations who want to pursue a more powerful agenda of advocacy, promoting the interests of patients, direct care nurses, and RN professional practice. NNOC is an affiliate of National Nurses United, the country's largest and fastest-growing union and professional association of registered nurses, with more than 175,000 members nationwide.