Press Release
Ventura County Nurses Vote Overwhelmingly to Ratify New Contract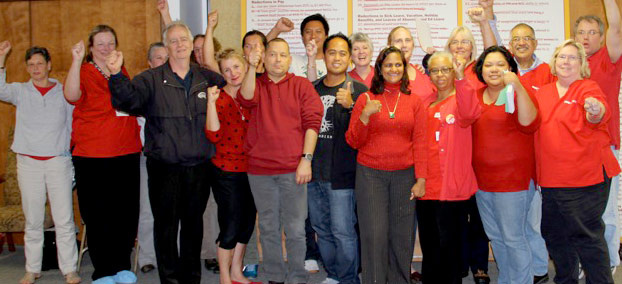 Ventura County nurses voted overwhelmingly Tuesday night to ratify new contracts for both 550 registered nurses and 150 per-diem nurses that will strengthen patient care conditions, the California Nurses Association announced today.

"We're so proud that nurses stood together to achieve such a strong contract to help us protect our patients, and to help protect nurses at work," said Monica Diaz, RN. "We know, especially in times like this, with the wildfires, how many people in Ventura County depend on us. We will always be there for our patients, and this contract really upholds our ability to advocate for them when they need us most."
The RN contract is a two-year agreement, and the per-diem nurse contract is a three-year agreement.
Contract highlights include:
Economic gains to help with recruitment and retention of the most experienced RNs and caregivers.

Improvements to healthcare benefits and no takeaways in retirement.

Educational opportunities for nurses, to help them obtain advanced degrees and education while having ability to work part time

Guaranteed meal breaks so nurses and caregivers can provide the focused care patients deserve.

Language preventing nurses from being assigned or "floated" outside their area of expertise.

Language allowing RNs to volunteer with the RN Response Network, to provide relief to victims of disasters.
"As nurses, it's our job to stand up for our patients. We can do that best when we can rely on the power of our collective voice," said Shelly Moore, RN. "The people of Ventura County deserve the best possible care, and our nurses came together, united, and won an agreement that really upholds our ability to provide it. Today is a big victory."
California Nurses Association represents nearly 100,000 registered nurses in the state of California.