Press Release
VA Nurses to Join With Other VA Caregivers to Condemn Trump Administration Attacks That Undermine Their Ability to Advocate for Veteran Care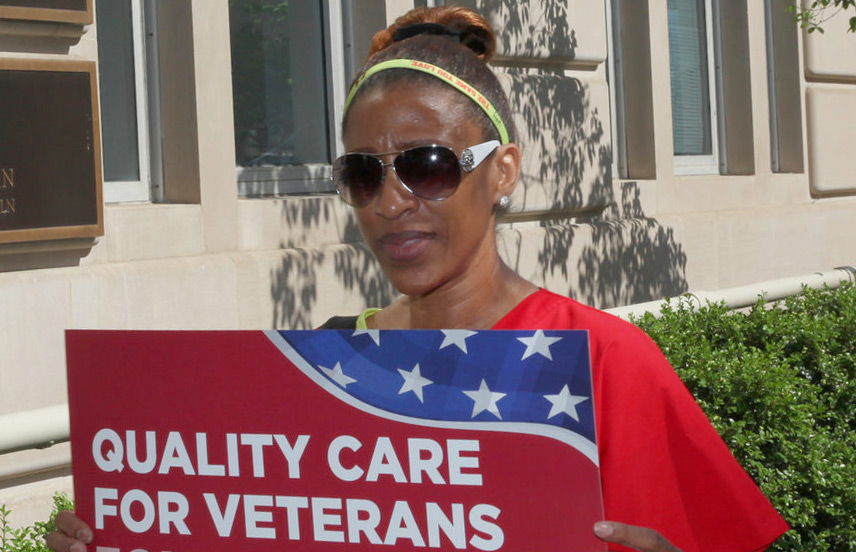 RedforFeds Event Date: Wednesday, July 25th
Time: 12:30-2PM
Location: John Marshall Park, 400 Constitution Avenue N.W., Washington DC
National Nurses United RNs will join with American Federation of Government Employees (AFGE) members as part of the #RedforFeds rally on Wednesday July 25th in Washington, D.C. to protest the latest Trump Administration attacks on VA RNs and other caregivers.
The #RedforFeds rally is part of a national day of action in response to three executives orders signed by President Trump on May 25th.  The orders are an attempt to gut long-standing collective bargaining, union representation and whistleblower protections for federal workers including VA nurses.
NNU strongly denounced the government attacks on unions as these attacks jeopardize the ability of nurses to advocate on behalf of their patients.
"When the Trump administration comes after the nurses, and their unions, they come after our vets, " said Bonnie Castillo, RN, executive director of NNU. "We cannot allow registered nurses to be stripped of their collective power, guaranteed through their union, which allows them to advocate fiercely for veterans."
RN Beejay Richardson Robin agrees with Castillo.
"We see veteran patients who suffer from multiple chronic illnesses such as diabetes, PTSD and heart disease. We demand the fullest union protections on the job, how else can we speak out for our patients without fear of retaliation?" said nurse Beejay Richardson Robin, Washington, D.C. "Nurses must have the protections to advocate in the strongest terms necessary on behalf of our patients. Our voices can mean the difference between life and death for our veterans."
More than 130 members of congress voiced their strong opposition to the executive orders in a July 9th letter to President Trump. In the letter, the members of congress called the orders "unfair" and said that revoking worker protections would make it harder to "attract and retain a qualified federal workforce."
According to AFGE, the rally organizers, the recent executive orders will eliminate federal workers' right to work with a union representative in the workplace to "address issues such as sexual harassment, racial discrimination, retaliation against whistleblowers, and improving workplace and health and safety issues."
NNU, whose affiliate National Nurses Organizing Committee, represents RNs at 23 VA facilities, also sharply opposes the executive orders as an attack on nurses and other caregivers rights.
NNU recognizes that when VA workers are undermined, so are veterans. In response to the attacks, Castillo added, "We will fight back against the illegal, heavy-handed union busting tactics employed by an administration determined to dismantle hard won workers' rights. We did not pick this fight, but we are morally obligated to fight it on behalf of the veterans who bravely fought and served for our country."
National Nurses United, the nation's largest nurses union with 150,000 members, represents nurses at 23 VA facilities throughout the United States. NNU has won landmark health and safety protections for nurses and patients in the areas of staffing, safe patient handling, infectious disease and workplace violence protection.