Press Release
VA nurses in Tuscaloosa join Augusta and Atlanta RNs to demand VA leadership address persistent patient-safety care concerns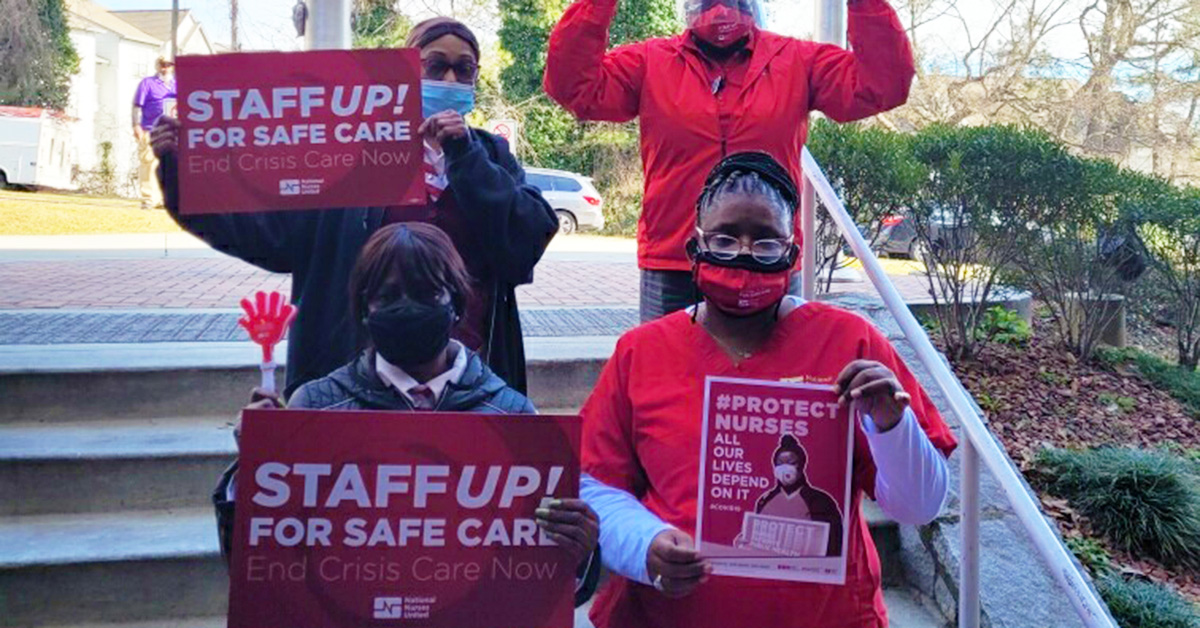 RNs say chronic short-staffing, years-long contract dispute, and retention problems hurt veterans
VA nurses at Tuscaloosa VA Medical Center (TVAMC) in Alabama will join with other VA nurses in Augusta and Atlanta, Ga., to hold same-day protests on Sept. 1, 2022, to demand the VA regional directors address long-standing patient-care concerns, announced National Nurses United (NNU) today.
"The regional leadership, both at TVAMC and in the Southeast with VISN 7, need to demonstrate they are wholly committed to the highest quality of care for the veterans we serve," said Jennifer Giles, a nurse practioner in the mental health unit. "That is not achieved when experienced nurses are leaving in record numbers because they are disillusioned by the leadership that is not making the necessary changes quickly enough so that nurses can provide the highest quality of care. We know that if we have better working conditions, including better staffing and flexible schedules, we will be better able to recruit and retain experienced nurses to care for our veterans."
Who:

  Nurses at Tuscaloosa VA Medical Center

What:

Protest over increasing patient safety concerns

When:

Sept. 1, 2022, pickets will be held at:

7:30 a.m. to 9 a.m.
11 a.m. to 1 p.m.
3:30 p.m. to 6 p.m.

Where:

Tuscaloosa VA Medical Center, 3701 Loop Rd., Tuscaloosa, Ala.   
"We need the VISN 7 leadership in charge of this region to address the chronic short-staffing and recruitment and retention problems by creating a more flexible scheduling system," said Giles. "Flexible scheduling is already the standard at many other hospitals in the area, and flexible scheduling will prevent more nurses from leaving and make our facility more competitive in attracting experienced nurses."
Nurses are also calling on the regional directors to encourage VA Secretary Denis R. McDonough to sign the long-stalled master contract with the NNU nurses. This contract was agreed upon in 2018 with the help of the Federal Service Impasse Panel, which had been brought in at the behest of the VA.
NNU represents more than 12,000 registered nurses at 23 VA facilities across the country, including 185 in Tuscaloosa, 560 in Augusta, and over 900 in Atlanta.
National Nurses Organizing Committee is an affiliate of National Nurses United, the largest and fastest-growing union and professional association of registered nurses in the United States with more than 175,000 members nationwide.