Press Release
Updated COVID-19 survey of registered nurses shows little improvement and worsening availability of personal protective equipment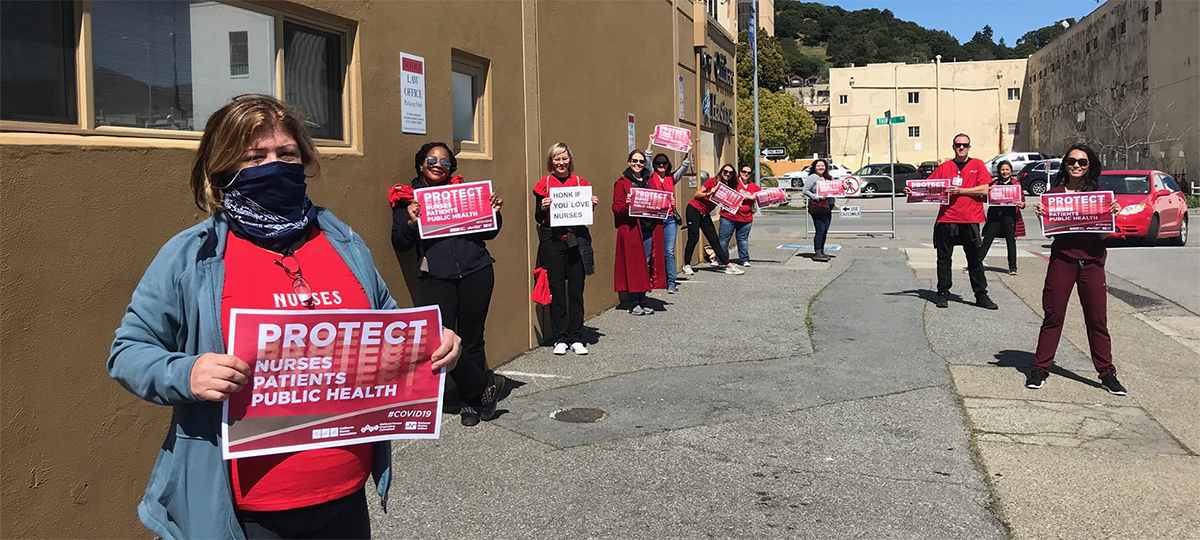 A nationwide survey National Nurses United (NNU) has been conducting of registered nurses, the country's frontline health care staff, continues to show that the vast majority of United States hospitals and health care facilities are still unprepared to handle and contain cases of COVID-19.
Preparation matters. NNU is alarmed by recent reports that about 1,700 health care workers in Italy have been infected with COVID-19. Health care workers' infections comprise 8 percent of confirmed COVID-19 cases in Italy. Hospitals and other health care facilities have not adequately prepared to protect health care workers who are responding to the outbreak.
Survey results released today that have been updated from the initial issuance on March 5 show that RNs report little improvement in many areas of preparedness and, notably, a worsening of conditions on questions determining the availability and supply of personal protection equipment (PPE) for a surge in patients -- exactly what the country is expecting will happen imminently.
"Clearly, the nation's health facilities are still not ready and are in even worse shape than before in some respects to handle COVID-19," said Bonnie Castillo, RN and executive director of National Nurses United. "We need to act now and act fast. Priority number one is to protect the health and safety of our nurses and health care workers so that they can continue to take care of patients and keep our communities as healthy as possible through this pandemic. If our health facilities no longer stay as centers of healing and instead turn into disease vectors, many more people will needlessly suffer from this terrible disease."
More than 8,200 nurses reporting through March 16, 2020 from all 50 states, plus the District of Columbia, Puerto Rico, Marshall Islands, and the Virgin Islands say that:
46% report that their employer has provided them information about COVID-19 and how to recognize and respond to possible cases.
31% report that there is a plan in place to isolate a patient with a possible COVID-19 infection. 23% report they don't know if there is a plan.
Only 55% of nurses report having access to N95 respirators on their units. 27% have access to powered air-purifying respirators (PAPRs). 
Only 24% report that their employer has sufficient PPE stock on hand to protect staff if there is a rapid sure in patients with possible coronavirus infections. 38% don't know.
Only 63% report having been trained on safely donning and doffing PPE in the previous year.
65% have been fit tested in the previous year; 34% have not been fit tested in the previous year.
Only 13% report that their employer has an overflow plan to place additional, trained staff to enable safe care provision to patients on isolation for possible novel coronavirus. 42% report they don't know.
Only 19% report that their employer has a policy to address employees with suspected or known exposure to novel coronavirus. 42% don't know.
58% report that their employer has instituted travel/exposure history screening for all patients with fever and/or respiratory symptoms.
Nurses are calling on all government agencies, public and private health employers, government officials, elected officials, and members of Congress to do everything in their power to expand capacity instead of weakening infection control and worker protection standards. The federal government should call on industry to immediately begin manufacturing the PPE health care workers need to do their jobs with adequate protection, manufacturing ventilators, reopening closed hospitals and increase bed capacity, build additional facilities, and more. "It's bad science to roll back standards and protections just because you claim that there's not enough PPE supply," said Zenei Cortez, RN and a president of NNU. "That's not how proper infection control works. You maintain those standards, and figure out a way to get the equipment you need."
Nurses are also calling for a coordinated effort to release and distribute PPE equipment from state and federal stockpiles to ensure that health care workers on the front lines are benefiting from them, because currently they are not seeing these supplies making it to their facilities.
Nurses also recently launched a national petition calling on public supporters to sign on in favor of protecting nurses, because all our lives depend on it. More than 150,000 people have already signed on in just a couple of days.