Press Release
University of Chicago Medical Center RNs to Hold One-Day Strike Over Patient Care and Safety Concerns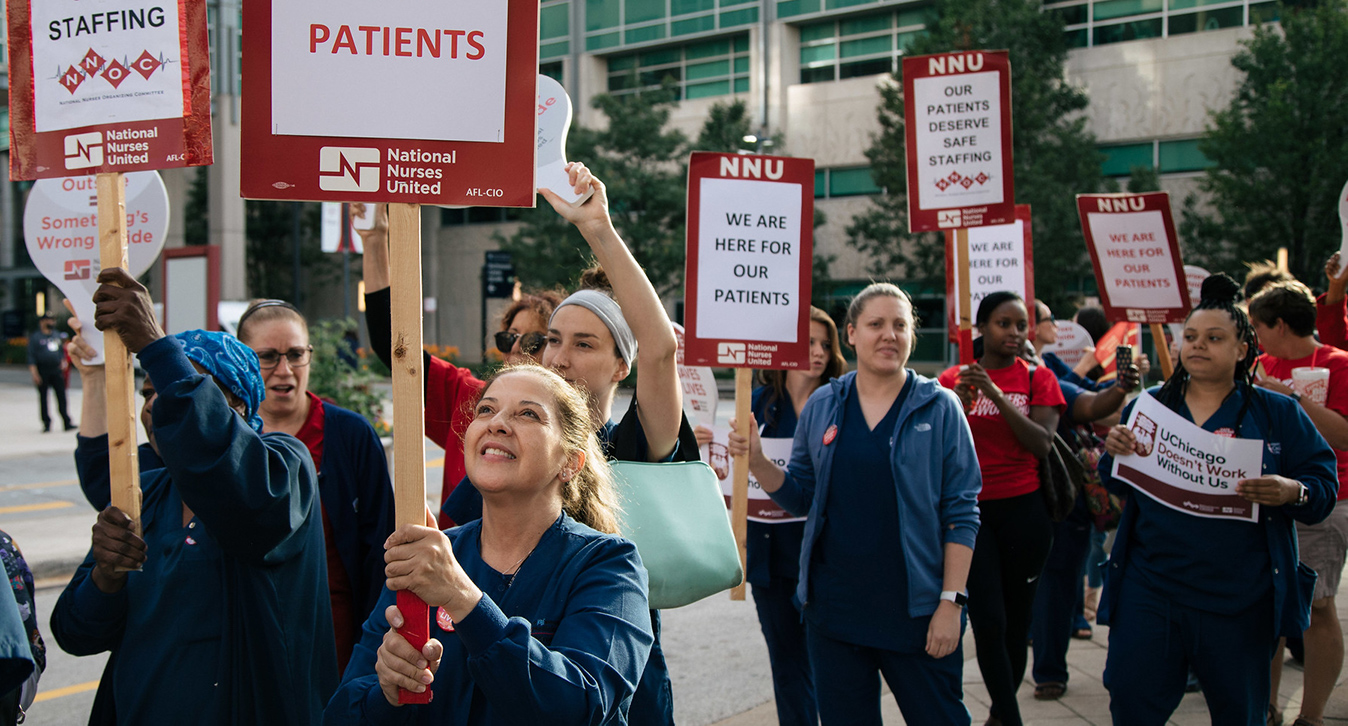 Registered nurses at the University of Chicago Medical Center (UCMC) will hold a one-day strike on Sept. 20, 2019 to highlight their concerns about patient care at the hospital, announced National Nurses United Organizing Committee/National Nurses United (NNOC/NNU) today. The nurses say chronic short staffing across the hospital, forced on-call hours, and nurses working outside of their areas of expertise puts patient safety at risk.
"We have offered the hospital a staffing proposal that would allow us to provide the highest quality of care to our patients, but management not only rejected our proposal, but failed to offer a counterproposal," said Johnny Webb, RN. "We hope this strike sends a clear message to UCMC: We are not backing down and we will continue to fight and advocate for our patients."
What: One-Day Strike and Rally 
When: Friday, Sept. 20 — Picket starts at 7 a.m., Rally at noon
Where: In front of Duchossois Center for Advanced Medicine - 5758 S Maryland Ave, Chicago, IL 60637
Registered nurses say short staffing is a chronic problem at UCMC. Since January 2017, UCMC nurses have filled out more than 1,500 reports detailing their concerns about how staffing levels might lead to adverse outcomes for their patients. The forms indicated delays in the administration of chemotherapy to cancer patients and an inability to provide adequate monitoring for patients in intensive care units. 
Nurses say due to management's failure to adequately staff the hospital, they are being forced to work overtime after they have already completed their 12-hour shifts. Nurses note that various studies show that when nurses are not adequately rested they are more apt to make errors in patient care.  
"Often we have patients who have come in for a procedure and the hospital does not have enough staff to treat the patients in a timely manner," said Talisa Hardin, RN. "Neither the hospital nor the patient wants to postpone the procedure, so the patient is forced into a long wait and the nurses are forced to work overtime, increasing the risk for an adverse outcome."
Nurses say instead of hiring nurses with pediatric trauma expertise, UCMC is demanding that nurses work outside their field of expertise to staff the unit. For those who do have the expertise, UCMC is requiring them to be on call for up to 24 hours a week.
"We are dealing with the some of the smallest, most injured and vulnerable patients, and it is critical that we have nurses who are experts in pediatrics care for these children," said Marjorie Feria, an operating room nurse. "But UCMC is not hiring enough nurses, and instead leaning on operating room nurses who do not have expertise operating on children and burning out the nurses who do. That is simply not fair to these young patients who are often fighting for their lives."
UCMC has a reputation as being one of the leaders in transplant surgeries, but nurses who help coordinate these complex surgeries say they are working without the resources they need.
"For a year and a half, instead of having three nurses take care of 500 patients in one transplant department, we had just two," said Lisa Sandoval, a registered nurse who works with transplant patients. "When a nurse can't get to patients in a timely manner, they may go without medication, or an appointment and that could lead to an emergency room visit or even worse, they may not be able to accept a life-saving organ when it becomes available to them."
Sandoval said the nurses have asked the hospital to form a task force to look at the possibility of building a pool of supplemental nurses who can be called on to fill in wherever the need is greatest in transplant and other ambulatory areas. She said the hospital rejected their proposal.
"The bottom line is when you overwork your nursing staff, the patients don't get the quality of care they deserve," said Sandoval.
National Nurses Organizing Committee is affiliated with National Nurses United, the largest organization of registered nurses in the United States with 150,000 members.