Press Release
University of California RNs Voting This Week on Possible Sympathy Strike with Other UC Employees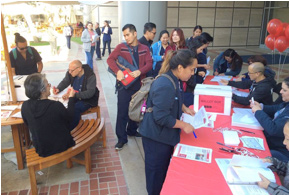 University of California registered nurses are voting this week on whether to authorize a "sympathy strike" in solidarity with another UC union if its members choose to go on strike over their collective bargaining contract dispute.
AFSCME Local 3299 announced last week that its UC members have voted to authorize a system-wide strike. No date has been set for a possible AFSCME strike. AFSCME is bargaining for its service and patient care members, many of whom work alongside RNs represented by the California Nurses Association/National Nurses United at the UC hospitals and student health facilities.
CNA represents 14,000 RNs at the five major UC medical centers, 10 student health centers, and the Lawrence Berkeley National Laboratory.
A sympathy strike happens when one union agrees to participate in a strike called by a union representing other workers who have a union contract with that same employer. Both AFSCME Local 3299 and CNA have expired UC contracts, under which a primary strike, for AFSCME, or a sympathy strike in the case of CNA, can occur. University Professional & Technical Employees/CWA members would also sympathy strike if AFSCME members strike.
"We are voting on whether to engage in a sympathy strike, if and when a strike is called by our co-workers, to show solidarity against a UC administration which has acted with arrogance, unacceptable bargaining demands and unequal treatment for its employees who keep their facilities running," said Maureen Dugan, a UC San Francisco RN.
"As one of the most famous university systems in the world, the UC administration should treat all of its workers with dignity and respect," said UC Irvine RN Maureen Berry. "We are asking our members to express their support for our co-workers who are fighting for improved patient care conditions and no erosions to their benefits or work standards."
AFSCME is reporting that UC officials are demanding cuts in retirement security and health benefits, contracting out of jobs, and unsafe working conditions, among other concerns. "It's time for the UC administration to stop trying to reduce standards and protections for its workers, and to provide them the fair contract they deserve," said UC Davis RN Shirley Toy.