Press Release
UCSF Medical Center nurses speak out against hiring freeze, following increase in workplace violence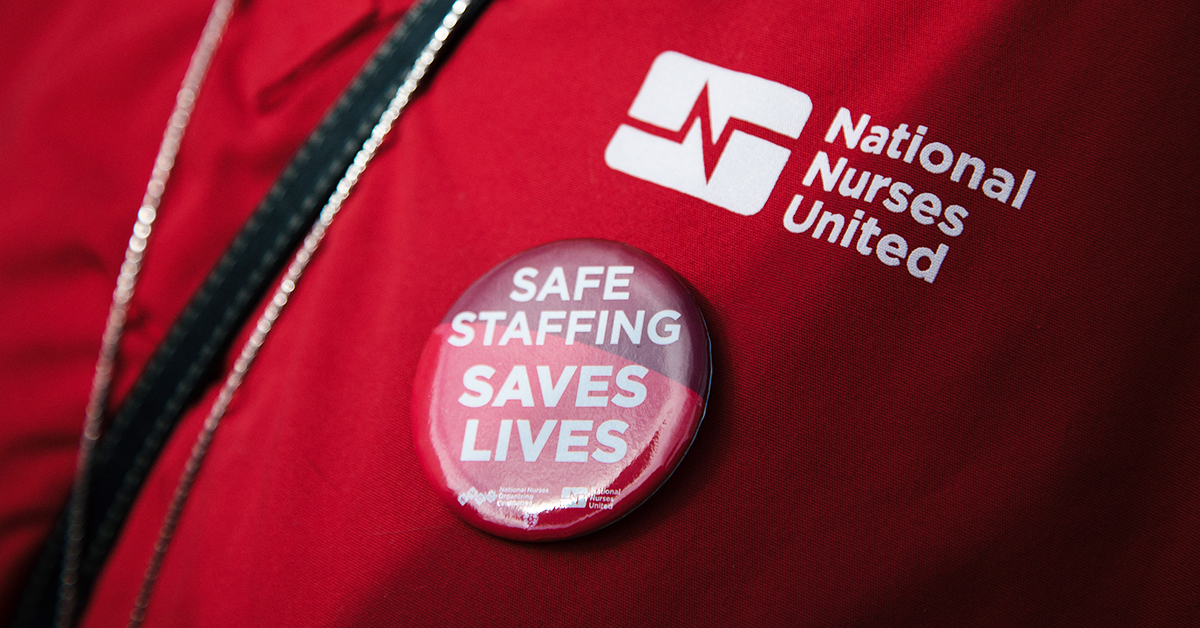 RNs to hold rally to demand UCSF address chronic short staffing and increased workplace violence due to ongoing hiring freeze
Registered nurses at the University of California, San Francisco Medical Center (UCSF) will hold a public rally on Tuesday, Sept. 26 to demand that UCSF address critical and persistent patient care and workplace safety issues, announced California Nurses Association/National Nurses United (CNA/NNU) today.
In May 2023, UCSF announced a months-long hiring freeze that has exacerbated chronic short staffing and led to an alarming increase in reported instances of workplace violence against nurses and other health care workers. At the Parnassus campus alone, nurses and workers have reported more than 30 incidents of workplace violence since May.
Nurses are calling on UCSF to drastically overhaul its priorities and immediately shift its focus to ensuring that patients receive the high standard of care the hospital itself touts. Nurses have filed hundreds of "Assignment Despite Objection" forms (ADOs) documenting unsafe staffing at all three UCSF campuses: Mission Bay, Mt. Zion, and Parnassus. RNs are also demanding safer conditions, so that nurses can deliver care without being subjected to violence. 
"For months, our attempts to warn management about the consequences of the hiring freeze and short staffing have gone unheeded, and now keeping patients safe too often means putting ourselves in harm's way," said CNA-UCSF Chief Nurse Representative Elizabeth Fenchel, RN. "The only way to keep patients nurses safe is to staff up our hospitals and clinics, not freeze hiring. We will continue to stand up and speak out until our employer lives up to the values it markets to our community – that means  putting the health and safety of our patients and workers before the bottom line."
What:    UCSF Press Conference to Demand Improved Staffing and
              Workplace Safety
When

:

   Sept. 26, 2023, 12:30 p.m to 1:00 p.m.
Where:  UCSF Medical Center at Mission Bay,
              1975 4th St, San Francisco, CA 94158
"Workplace violence happens more often when units are understaffed," said Phillip Santos, RN in the pediatric acute medical-surgical unit. "Short staffing leads to delays in care and this can lead to patients getting agitated, angry, or confused, which can lead to violence."
There is an epidemic of workplace violence against nurses, health care workers.
According to the U.S. Bureau of Labor Statistics, in 2020, RNs in private industry in the United States experienced a rate of 18.2 violence-related injuries per 10,000 full-time employees. This injury rate for RNs is more than four times higher than the violence-related injuries for workers overall in the same year.
Between 2011 and 2020, as reported in the U.S. Bureau of Labor Statistics Census of Fatal Occupational Injuries, at least 80 hospital workers died as a result of violence in their workplaces.
According to National Nurses United (NNU), 40.5 percent of hospital nurses surveyed in the fall of 2022, reported a small or significant increase in workplace violence incidents. Responses were gathered from 2,825 nurses, from both NNU union nurses and nonunion nurses in 46 states plus Washington, D.C. The results cover the period September 22 through November 28, 2022.
---
California Nurses Association represents more than 18,000 nurses in the University of California health system and is affiliated with National Nurses United, the nation's largest and fastest-growing union and professional association of nurses, with more than 225,000 members nationwide.