Press Release
UCSF nurses raise the alarm on unsafe patient care conditions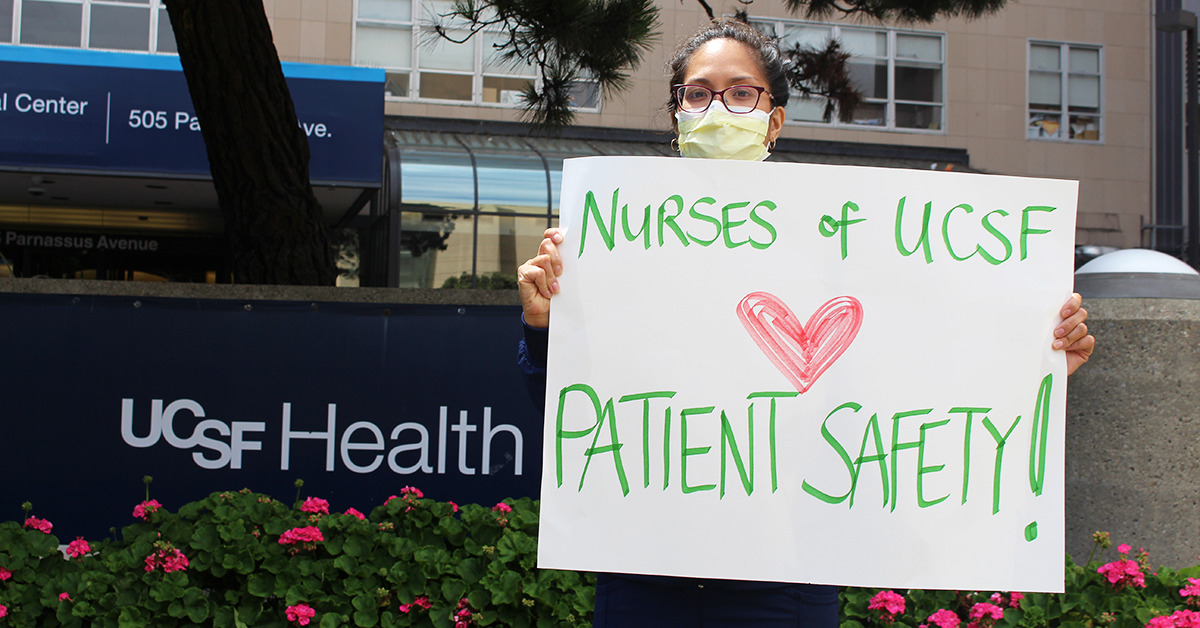 Nurses to hold Tuesday rally spotlighting crisis conditions – nurse-to-patient ratio violations, ER overcrowding – driven by management failure to plan and recruit and retain nurses
Registered nurses at UCSF, who are union members of California Nurses Association, will rally outside the hospital on Tuesday, Feb. 28, to raise the alarm on crisis conditions at the hospital. RNs are especially concerned about dozens of violations of California's nurse-to-patient ratio laws and consistent overcrowding.
"We have patients who have been boarded in the emergency department hallway for days, if not longer, leading to further harm for community members already experiencing one of the worst days of their lives," said emergency department RN and CNA Nurse Representative Jacob Roush. "The infuriating and demoralizing reality is that UCSF can no longer function as the primary provider of emergency medical care in our community. It is the inevitable result of management's failure to adequately plan for surges and address its staffing crisis."
Who:    Registered nurses at UCSF
What:   Rally to demand safe patient care conditions, end to CDPH space waivers
When:  Tuesday, Feb. 28, 12:00 p.m. to 12:30 p.m.
Where: UCSF Parnassus Medical Center, 505 Parnassus Ave, San Francisco, CA 94143 – meet at front entrance
In addition to their demands to address unsafe patient care conditions, UCSF nurses will call for an end to the hospital's practice of doubling-up patients in rooms, which eliminates patient privacy and creates issues in patient care and nurse safety. Space waivers, granted during the height of the Covid-19 pandemic by the California Department of Public Health, allowed the hospital to place two patients in a single-occupancy room without transparency or meaningful input from nurses on implementation. These waivers expire on Feb. 28 and nurses are demanding this practice be discontinued unless absolutely necessary.
"Putting two patients into a room meant for one makes our incredibly tough and demanding job even more stressful," said RN and CNA Nurse Representative Thuy Nguyen. "Not only do we have to navigate twice the number of visitors and equipment in a small room meant for just one patient, the cramped space also means patients lose their privacy and potentially expose each other to Covid-19. This should only be a practice when absolutely necessary, not a band-aid for deeper failures by management to plan for inevitable surges in patients."
Studies have shown that when nurses are assigned too many patients to safely care for at once, the patients are at an increased risk for preventable medical errors, avoidable complications, increased length of stay, readmissions, and even death. Studies have also shown that assigning nurses too many patients to safely care for at once also leads to ongoing moral distress and job dissatisfaction.
California Nurses Association represents more than 18,000 nurses at the University of California.
---
California Nurses Association/National Nurses United is the largest and fastest-growing union and professional association of registered nurses in the nation with 100,000 members in more than 200 facilities throughout California and nearly 225,000 RNs nationwide.