Press Release
UCSF nurses hold virtual rally to demand safe staffing, patient protection during ongoing Covid-19 pandemic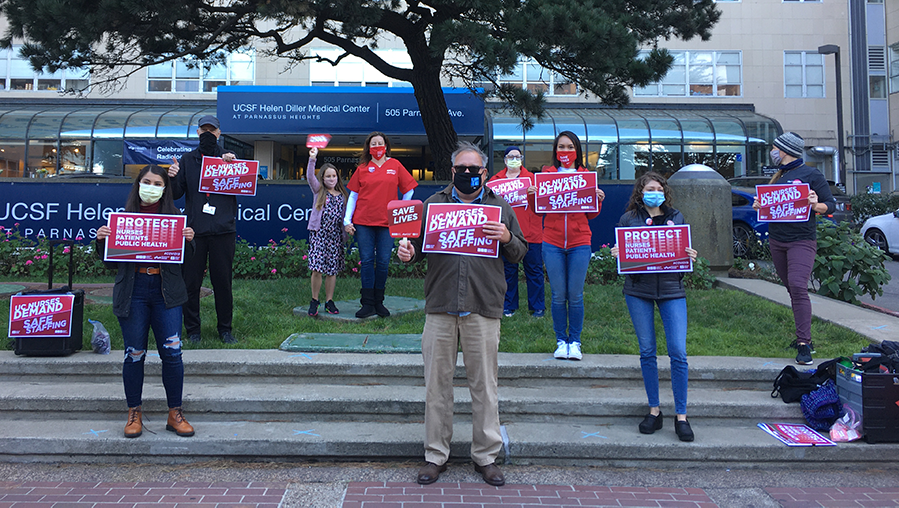 Nurses at University of California, San Francisco Medical Center (UCSF) will hold a virtual rally on Tuesday, Dec. 8 to demand safe staffing throughout the health system and to alert the public to their patient safety concerns during the ongoing Covid-19 pandemic, the California Nurses Association (CNA) announced today.
Nurses will also voice opposition to UCSF management's decision to impose an outrageous 25 percent increase in parking costs that imposes additional economic hardship on patients and essential workers during this crisis.
"Nurses have been demanding UCSF management prioritize patient care over profits by reinstating staff who have been cut during the COVID-19 pandemic. It is increasingly difficult to provide the care our patients deserve when the University does not provide the needed staff and resources for nurses to safely care for our patients. This is not a question about staff being available, but about the misplaced priorities of UCSF management. As a nurse at Langley Porter Psychiatric Institute, I see the impact short staffing causes to our patients firsthand," said Rachel Cohen-Cepeda, a UCSF registered nurse. "Our management has instituted a hiring freeze for nurses, reduced break relief and resource nurses for our ICU units and continues to demand nurses do more with less support and fewer resources. Nurses need more than kind words from management, we need real support and that starts with safe staffing."
Nurses note that during the pandemic, UCSF has instituted a hiring freeze, leaving many positions unfilled and failing to increase staffing when necessary. CNA nurses have engaged UCSF management in an effort to reverse the cuts to staffing and have filed charges with the Public Employee Relations Board (PERB) regarding UCSF's failure to bargain over the 25 percent increase in parking rates across the medical center.
"Nurses are fighting for safe staffing, PPE, and the necessary resources to provide the highest standards of care possible for our patients during this surge in COVID cases. For UCSF management to have raised the cost of parking by 25 percent for patients and frontline healthcare workers is shameful," says Rebecca Arnold, a UCSF registered nurse. "At a time of increasing economic insecurity for so many of our patients and when nurses and healthcare workers risk their safety daily at work to provide critical care during this ongoing pandemic, this outrageous increase in the cost of parking that disproportionately hurts UCSF frontline workers and our patients, many of whom are from the BIPOC community and are being disproportionately affected by COVID-19."