Press Release
UCSF Medical Center nurses to hold action on workplace violence prevention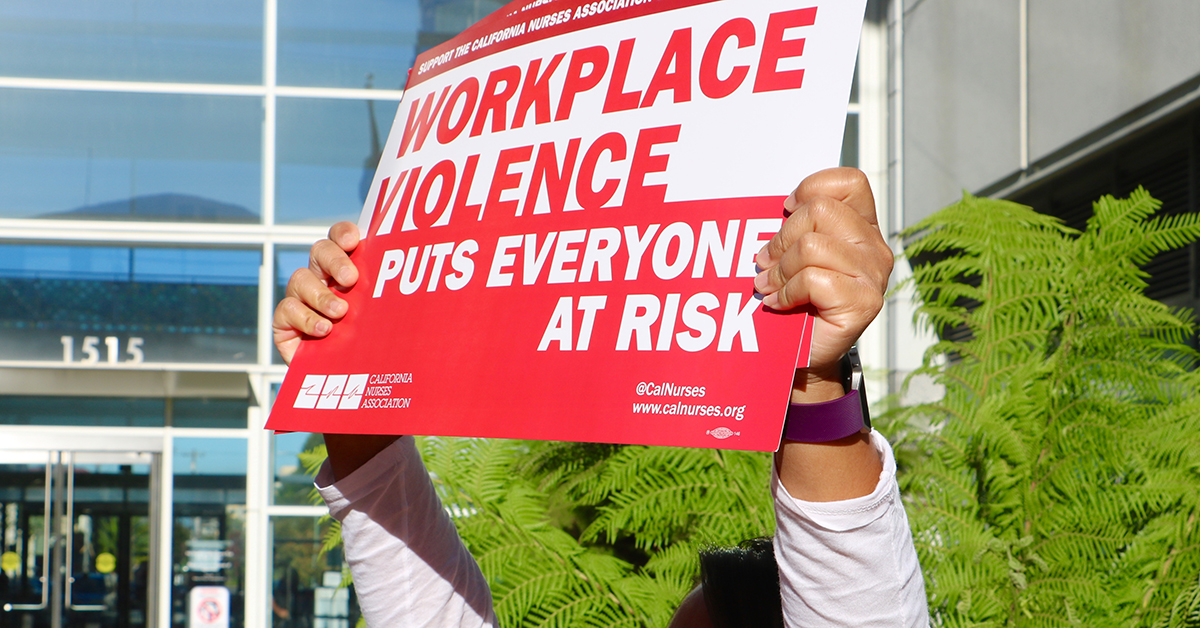 On Thursday, June 17, CNA nurses from UCSF Medical Center at Mission Bay will speak out against the hospital's failure to keep patients and staff safe, both inside and outside of the workplace. UCSF management has continuously refused to heed the calls of its registered nurses for enhanced safety measures, including reneging on a commitment to install metal detectors at emergency department entrances and failing to increase security despite a rise in violent incidents at our parking facilities and other areas on campus.
"We nurses are often the first line of defense when encountering violence in our workplace," said Anna Fernandez, who has worked as an RN in UCSF Medical Center's pediatric emergency department for six years. "In my department, we are subjected to potentially violent situations on every shift. Nurses must feel safe and secure in our environment in order to be able to provide the level of care our patients deserve. We call on UCSF management to stop cutting corners when it comes to keeping workers and patients safe. Follow through on your promise to install metal detectors at our ED entrances."
"At the height of the pandemic, UCSF saddled workers and patients with a 25 percent increase in parking fees. As the cost of driving to our jobs skyrocketed, so did break-ins, instances of theft, and violent crime in our parking areas," said Tia Mallette, a nurse in the Mission Bay Birth Center. "This is yet another example of UCSF prioritizing profits over the safety of the nurses and patients who give and receive care at our hospital."
What:

   UCSF Nurses Action to Demand Safe Working Conditions

When:

  Thursday, June 17, 6:15 p.m.

Where:

UCSF Medical Center at Mission Bay, 1825 4th St., San Francisco
Nurses will strictly adhere to our safety protocol for such events, including staying outdoors, staying masked, and social distancing, among other measures.
If you are interested in sending a camera crew to the action or in learning more about the situation at UCSF, registered nurses will be available at the event to speak to the press.
Media: Please observe masking and distancing practices when interacting with nurses.
Health care and social service workers are five times more likely to suffer injuries from workplace violence than workers in other settings, and violent incidents in these workplaces have increased by 80 percent in the last decade. Reports from nurses around the country indicate these numbers have continued to rise during the pandemic. The national nursing organization to which the California Nurses Association belongs, National Nurses United, is now sponsoring federal legislation to prevent workplace violence before it happens.
California Nurses Association represents more than 16,000 nurses in the University of California health system and is affiliated with National Nurses United, the nation's largest and fastest-growing union and professional association of nurses, with more than 175,000 members nationwide.