Press Release
UCSD nurses to protest unsafe overcrowding in emergency department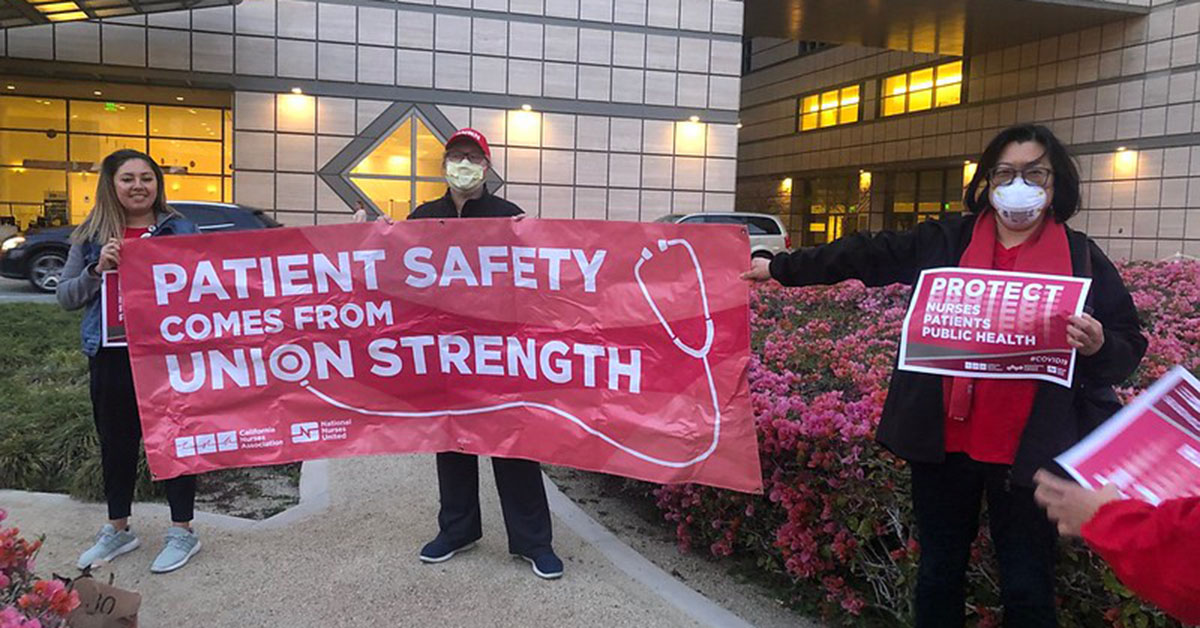 With Covid-19 and flu cases set to rise, management's practices risk patient and nurse safety
Registered nurses (RNs) at UCSD Health Jacobs Medical Center in La Jolla, Calif., will hold a rally on Wednesday, Sept. 27 to demand an end to UC management's unsafe practice of placing emergency room (ER) patients in hallways and areas that are not properly equipped or staffed. At times, there are as many as 75 patients who do not have a bed.
"Our patients are enduring prolonged waits without privacy or dignity, up to four days, leading to dire – and completely avoidable – situations," said Maria Tan, an ER RN. "For example, patients with stopped hearts are receiving CPR while random visitors walk by them in the hallways. To make matters worse, critical equipment and staffing shortages persist, forcing nurses and support staff to scramble for essentials like IV poles and heart monitors."
The nurses, who are members of California Nurses Association/National Nurses United (CAN/NNU), are sounding the alarm about eroding patient care conditions as they brace for an uptick in Covid-19 and flu numbers in the following months. Tan continued, "Management needs to make a plan to ensure all patients receive safe and compassionate patient care. Its inaction has left patients and exhausted staff in crisis."
Who: CNA registered nurses at UCSD Health
What: Rally and press conference to protest dangerous overcrowding
When: Wednesday, Sept. 27, 7:30 a.m.
Where: UCSD Jacobs Medical Center, 9300 Campus Point Dr., San Diego; on the sidewalk outside the emergency department
The crisis in UCSD Health's emergency rooms has been a persistent problem. Earlier this year, UCSD nurses held a press conference highlighting similar issues, like one environmental services staff member assigned to clean all the ER rooms and areas holding an additional 65 to 75 patients. Since then, UCSD nurses have communicated with management numerous times about steps it could take to improve the situation, such as adding additional staff, converting under-utilized spaces into patient care areas, and extending urgent care clinic hours, among other solutions. After months of complaints, UCSD Health management has not taken the initiative to improve the conditions.
CNA/NNU represents 4,000 nurses at UCSD and over 18,000 nurses across the UC system.
---
California Nurses Association/National Nurses United is the largest and fastest-growing union and professional association of registered nurses in the nation with 100,000 members in more than 200 facilities throughout California and nearly 225,000 RNs nationwide.