Press Release
UCMC Nurses Ratify Four-year Contract Strengthening Patient Care Protections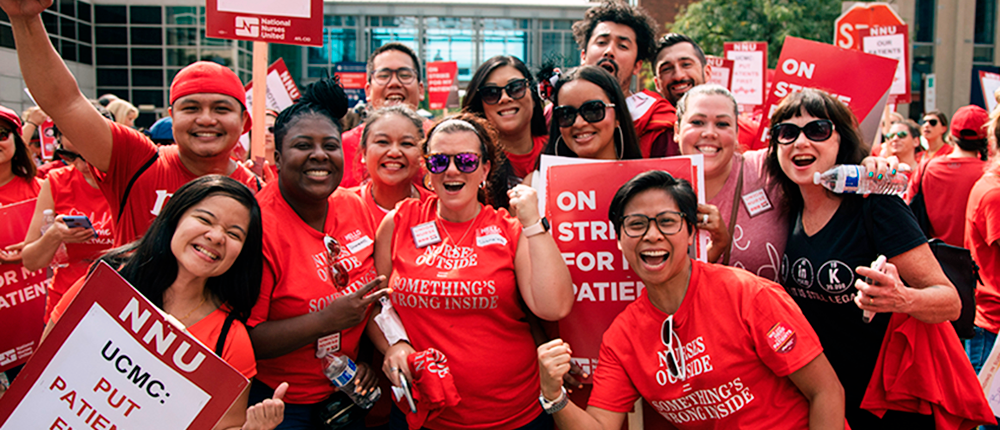 Registered nurses at University of Chicago Medical Center (UCMC) voted overwhelmingly this evening to ratify a four-year contract that addresses patient safety concerns, provides additional security measures, and promotes the recruitment and retention of experienced nurses, announced National Nurses Organizing Committee/National Nurses United (NNOC/NNU).
"We are so pleased that we were able to reach an agreement that strengthens patient care at UCMC," said Terri Collins, a registered nurse who works in the neonatal intensive care unit. "Management agreed to retain all 24 patient care support nurses who provide vital medical care throughout the hospital, to improve staffing in numerous intensive care units, and to add supplemental float team nurses to provide additional staffing assistance in clinics and procedural areas. These important staffing changes will help nurses provide the highest quality of patient care at UCMC."
The nurses want to express their deep appreciation to their patients, community members, and labor groups who offered support during the difficult eight months of negotiations, including a one-day strike in September.
"This contract represents a major victory for the patients of Chicago and would not have been possible without the nurses' commitment to fight for safe patient care and nurses' rights," said Pam Valentine, a registered nurse who works in the post anesthesia recovery unit. "Our one-day strike was critical to achieving this breakthrough contract and we thank everyone who supported nurses as we used our most powerful tool for our patients. This contract is a testament to the importance of nurses taking unified action for our patients and refusing to back down when the stakes are so high. Just like the teachers, nurses have shown all of Chicago that our voices must be heard."
Highlights of the new contract include:
Increases in nursing staff: The new contract ensures that charge nurses in more than 20 units, including the neonatal intensive care unit and the pediatric intensive care unit, will not be assigned patients. This allows the charge nurse to serve in a support position in any emergent situation, as the position was originally intended. The contract includes a provision stating the hospital will add float nurses in clinic areas. In addition, the nurses were able to preserve the entire 24-person nurse patient care support team. These three provisions will help alleviate short staffing issues that can lead to delays in care and nurse exhaustion, which in turn can contribute to medical errors and high turnover rates.
Pay parity to help retain and recruit experienced nurses: Thwarting efforts on the part of the hospital to create a two-tier wage system, the nurses were able to negotiate one single pay grid for all nurses, with a common base hourly rate for all nurses, including new hires, and no pay cuts for any nurses. Nurses will receive pay increases from 11 percent to 22 percent over the four-year life of the contract. With this equitable and competitive wage system, UCMC will be able to both recruit and retain experienced nurses to provide high-quality patient care.
Increased nurse participation in professional practice committees:  Nurses from the clinics will now be eligible to participate in professional practice committee (PPC) monthly meetings. The PPCs allow nurses to raise patient safety concerns with management in order to resolve unsafe patient care practices.
NNOC/NNU represents 2,200 nurses at UCMC. The union is also, by far, the largest union of RNs in Chicago and in the state, representing nurses at numerous other Chicago-area facilities including University of Chicago Ingalls Memorial Hospital, Ambulatory and Community Health Network of Cook County, Cermak Health Services of Cook County, Cook County Department of Public Health, Cook County Health and Hospital Systems, Stroger Hospital of Cook County, Oak Forest Health Center, Provident Hospital of Cook County, Ruth M. Rothstein CORE Center, Jackson Park Hospital, Jesse Brown Veterans Affairs Medical Center, and Edward Hines Jr. Veterans Administration Hospital.