Press Release
UCLA nurses to protest overcrowding in hospitals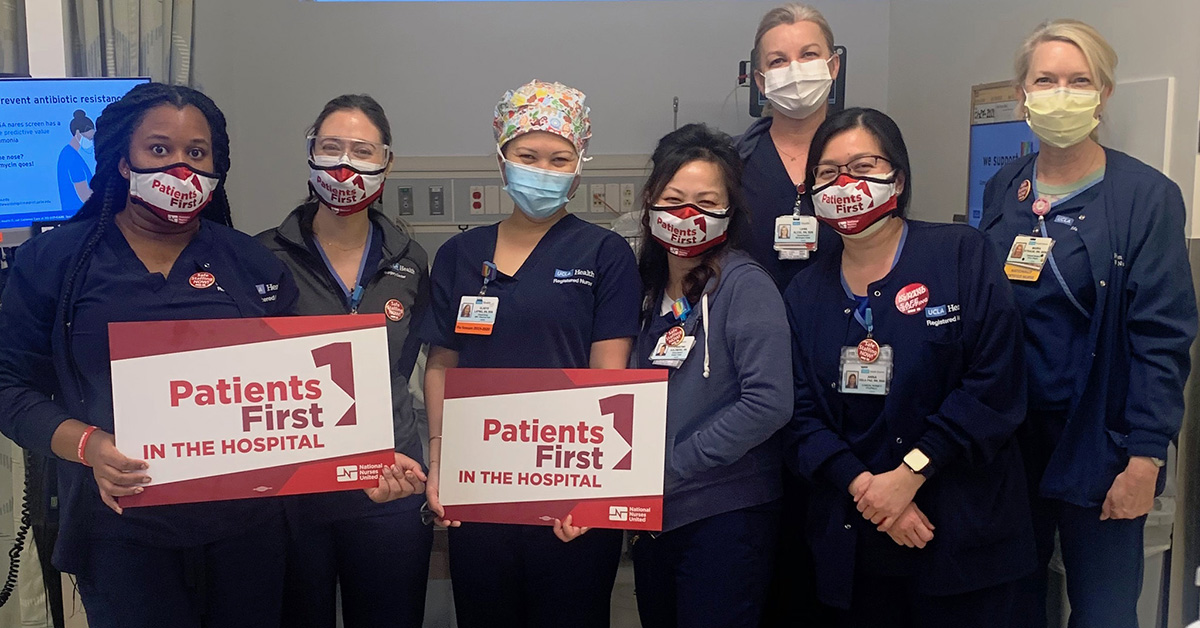 Management practice of placing ER patients in hallways beds and doubling up patients in single-occupancy rooms violates patient privacy and risks patient and nurse safety
Registered nurses at UCLA will rally on Wednesday, March 1, outside Ronald Reagan UCLA Medical to demand that management end the unsafe practice of placing ER patients in hallway beds and squeezing two patients into single-occupancy rooms, announced California Nurses Association/National Nurses United (CNA/NNU). The union nurses are deeply concerned about eroding patient care conditions and the lack of patient privacy and dignity due to the ongoing use of shared rooms and hallway beds.
For months, UCLA nurses have urged the hospital to end the unsafe practice of doubling patients in rooms designed for one patient, and ensure appropriate accommodations for the safety and privacy of their patients. UCLA has refused to consider nurses' demands or to provide CNA with information on its plans to discontinue this practice at Ronald Reagan UCLA Medical Center and UCLA Santa Monica Medical Center.
"We have patients waiting more than six hours to be seen," said Dianne Sposito, RN in the Emergency Department unit. "Hospital beds are spilling out into hallways and outside of the emergency department. Patients are being placed into beds where proper equipment does not exist."
Hallway beds and beds in shared rooms provide little privacy or dignity for patients. Also, some beds do not have the proper equipment or call lights so patients cannot always alert staff when they need attention. Nurses also say the continued practice of doubling patients in rooms intended for one patient has undeniably compromised patient care and safe working conditions. For example, patients in hallway beds face greater risk when they are placed alongside Covid-19 positive patients.
Who:

CNA registered nurses at UCLA

What:

Rally to protest overcrowding at UCLA medical centers

When:

Wednesday, March 1, 1:00 p.m.

Where:

Ronald Reagan UCLA Medical Center, on sidewalk outside emergency room, Charles E. Young Dr. S., 757 Westwood Plaza, Los Angeles, CA 90095
Shared rooms are crowded with equipment, wiring, and makeshift dividers, making it difficult for RNs and other staff to safely provide patient care. UCLA also refuses to install the necessary equipment for patients placed in shared rooms and routinely ignores the professional judgment of charge RNs regarding patient placement.
"We have tried to warn UCLA about the existing patient safety issues with shared rooms," said Mary Gay Dacquel, RN in a medical-surgical specialty unit. "UCLA has ignored our recommendations and refused to tell us their plan after the CDPH waiver expires."
As a Level I Trauma Center, UCLA often cannot divert patients. However, instead of reducing the number of elective surgeries to free up more beds, UCLA continues to add a second bed to small rooms that were only designed for one patient.
As patient care advocates, UCLA nurses vigorously object to the hospital's unsafe placement of patients in single occupancy rooms and emergency department hallway beds, willfully jeopardizing patient care in the name of profit.
CNA/NNU represents more than 18,000 nurses at the University of California.
---
California Nurses Association/National Nurses United is the largest and fastest-growing union and professional association of registered nurses in the nation with 100,000 members in more than 200 facilities throughout California and nearly 225,000 RNs nationwide.