Press Release
UCLA Nurses Hold Vigil to Alert Public of Patient Safety Concerns During Covid-19 Pandemic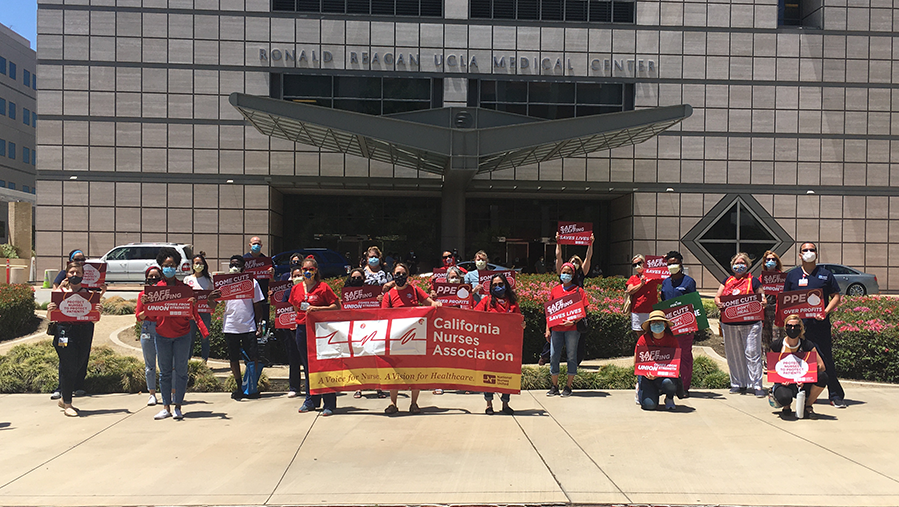 RNs raise alarm about short staffing, lack of Covid-19 testing, exposure notification; and call on the public to stay home for the holidays to prevent surge of Covid cases
Registered nurses at University of California, Los Angeles will hold a vigil on Monday, Nov. 23 to alert the public to their patient safety concerns as hospitalizations spike in the county, announced California Nurses Association (CNA) today.
"Nurses at UCLA are deeply worried about our ability to provide the highest quality of patient care as we see start to see another large increase in Covid cases throughout our community" said Marcia Santini, an emergency room RN at UCLA. "As the holiday season approaches, we are urging the public to stay home and socially distance in order to prevent a dangerous level of Covid admissions in our hospital. Without action from the public and UCLA to provide the resources and staffing we need, nurses fear that we will not be able to provide safe patient care with any surge of admissions."
What: Nurses hold vigil to alert public to patient safety concerns during Covid-19 pandemic
When: Monday Nov. 23, 2020 at 7:30pm
Where: UCLA Medical Center, 757 Westwood Plaza, Los Angeles, CA 90095 (meet in front of hospital valet)
Nurses note that during the pandemic, UCLA has instituted a hiring freeze, leaving many positions unfilled and failing to increase staffing when necessary. Additionally, nurses are alarmed at the lack of testing and contact tracing for healthcare workers at UCLA.
"Since the start of this pandemic, we have been struggling to provide the highest quality of patient care without enough nurses on the floor to do the work properly and safely," said Emily Carrera, an RN in the hospital's Labor and Delivery unit. "In my unit, four nurses have quit since the summer and UCLA has left every one of those positions unfilled, which has led to unsafe staffing levels. At the same time, I have witnessed an outbreak of Covid-19 exposures among staff, with minimal contact tracing from the University and no access to testing unless the nurses have symptoms. All of these issues are leading to nurse burnout, anxiety, and exhaustion which can put our ability to provide safe patient care at risk. During a pandemic we need more nurses and healthcare workers, access to testing, and contact tracing to protect our patients and our communities!"