Press Release
UChicago Medicine Ingalls Memorial Hospital to hold informational picket over safety concerns related to COVID-19 exposure and infection rates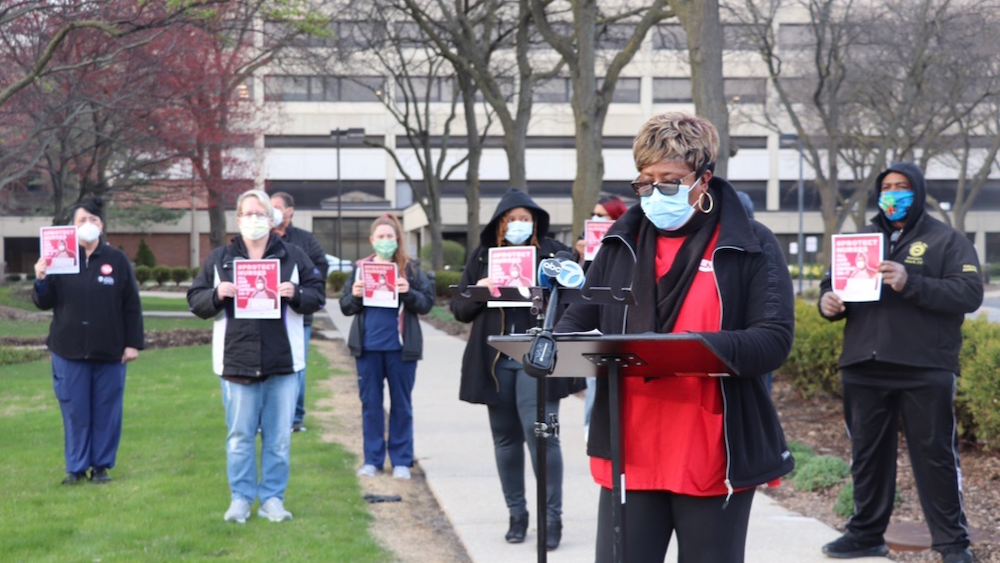 Registered nurses at UChicago Medicine Ingalls Memorial Hospital will hold an informational picket to demand management address infection control deficiencies that put patients and nurses at risk for exposure and infection from COVID-19, National Nurses Organizing Committee/National Nurses United (NNOC/NNU) announced today. Nurses say that Ingalls Memorial Hospital has had inadequate and inconsistent screening protocols, infection control policies, and PPE supplies.
Due to these failures, RNs at Ingalls Memorial Hospital are getting sick at greater rates with COVID-19 compared to other area hospitals.
"COVID-19 is like no other illness I've had before," said Anita Phillips, a registered nurse who tested positive for COVID-19 after she was exposed at Ingalls Memorial Hospital. "I am committed to returning to work once I recover so I can be there for my patients, but I must be protected. Ingalls needs to clean up its act."
According to information supplied by hospital management, RNs working at UChicago Medicine Ingalls Memorial Hospital have a COVID-19 infection rate of 6.0%
That is more than double the infection rate at UChicago Medical Center in Hyde Park where the COVID-19 infection rate is 2.2%.
What: Informational picket and rally over patient safety concerns related to COVID-19 exposure and infection
When: Thursday, June 25, 2020 — Picket 5:00 – 7:00 pm. Rally at 6:00 pm
Where: 1 Ingalls Drive, Harvey, Ill. 60426
Nurses are demanding that Ingalls implement optimal screening protocols to promptly identify patients with symptoms and/or exposure history; ensure prompt isolation of patients with possible or suspected cases of COVID-19 in all units of the hospital; and provide optimal personal protective equipment (PPE) to health care workers providing care to patients with possible and confirmed COVID-19 infections.
Due in part to the high infection rates and poor protocols at the hospital, Ingalls is seeing many of its experienced nurses leave the hospital. Retention of experienced nurses is critical to ensure the highest quality of patient care as more experienced nurses serve as mentors to younger nurses. In the last six months, 78 nurses have left Ingalls.
Rally Speakers include:
Pastor Jeffrey L. Smith

:

Reverend Jeffrey Smith is the pastor at Bethlehem Missionary Baptist Church in Harvey, Ill

.

He currently serves as a board member of the National Give Back for Kids Campaign and is the second Vice President for the Progressive Baptist State Convention in Illinois.

 

Andrew Holmes

:

Andrew Holmes is a community activist and a village Trustee of Dolton, Ill. He was a member of Operation Restoring Innocence. After the death of his daughter, Mr. Holmes founded Andrew Holmes Foundation which works to stop human trafficking and gun violence. He is also an outspoken advocate for PPE for nurses. Mr. Holmes has numerous awards for his community leadership.

Carla Lipsey, RN:

Carla Lipsey is a

wife and

mother of two daughters and has worked at Ingalls ICU since 2017. She is a staunch advocate for her patients and coworkers.