Press Release
UC San Francisco Medical Center and California Pacific Medical Center cancel applications for waivers of safe staffing standards amid fierce challenges by union RNs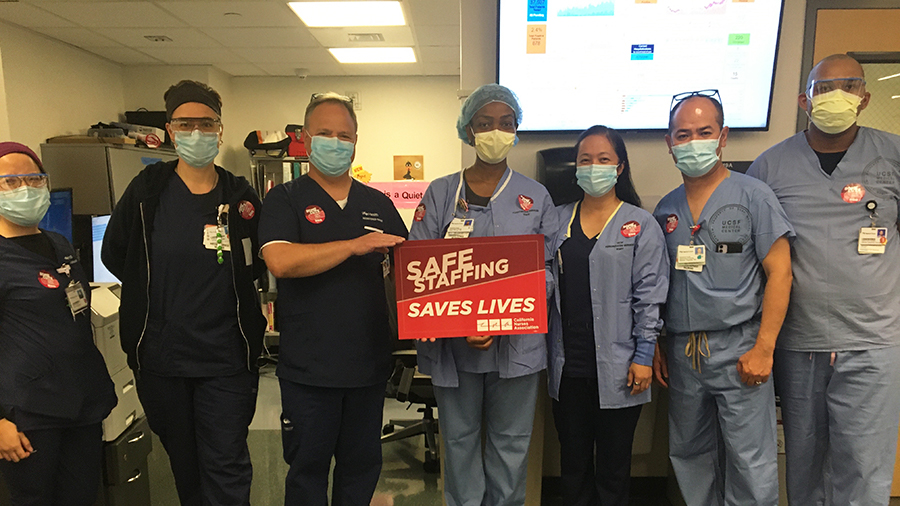 In a positive development for San Francisco patients, nurses, and frontline health care workers, administrators at UC San Francisco Medical Center (UCSF) and Sutter Health Network's California Pacific Medical Center (CPMC) Van Ness and Mission Bernal campuses announced they were rescinding their applications for waivers of state-mandated nurse-to-patient staffing ratios, the California Nurses Association (CNA) announced today.
CNA was alerted late Tuesday, Dec. 22, that administrators of the two medical centers cancelled requests for California's Department of Public Health (CDPH) to roll back the state's law on the maximum number of patients that can be assigned to nurses until at least March 2021 and potentially longer, a decision that nurses say puts Covid-19 patients in severe jeopardy.
The decision followed protests by CNA members, including a planned Dec. 23 press conference and rally at UCSF. That day's action has now been cancelled.
"Nurses understand that safe staffing and safe working conditions are critical to providing the highest standards of patient care, especially during the surging Covid-19 pandemic," said UCSF RN Maureen Dugan, a board member of CNA. "The timely response by UCSF management to the demands of nurses to maintain nurse-to-patient ratios is a positive step toward addressing the challenges we face at this unprecedented moment."
The CNA has coordinated a series of protests in recent days to urge reversal of the Dec. 11 state letter allowing hospitals to submit "expedited waivers" that would allow them to dramatically increase nurses' workloads.
The actions included Dec. 16 protests at CPMC Van Ness and CPMC Mission Bernal. Nurses at the medical campus joined other RNs across the state who protested outside hospitals seeking the state ratio waivers. The cancelled waiver for CPMC also follows a wave of RNs coordinating actions both inside and outside the hospital, including confronting hospital board members.
"We are asking for a safe number of nurses to help make sure patients are treated in the safest possible manner without making the crisis worse. This shouldn't be a tough decision, and we will keep speaking up to make sure it happens," said Amy Erb, an ICU nurse at CPMC.
The CNA has adamantly opposed hospitals circumventing the state's ratios law. The union has said such waivers are exploiting the Covid-19 pandemic to undermine California's landmark safe staffing standards -- which require minimum RN staffing levels for various hospital units.
Hospitals largely manufactured any current staffing problems through their own profit-driven bad behavior, such as laying off nurses, failing to fill regular vacancies, canceling traveling nurse contracts, canceling nurses who normally pick up shifts, and more.