Press Release
Nurses at Tri-City Medical Center Vote Overwhelmingly to Authorize a One-day Strike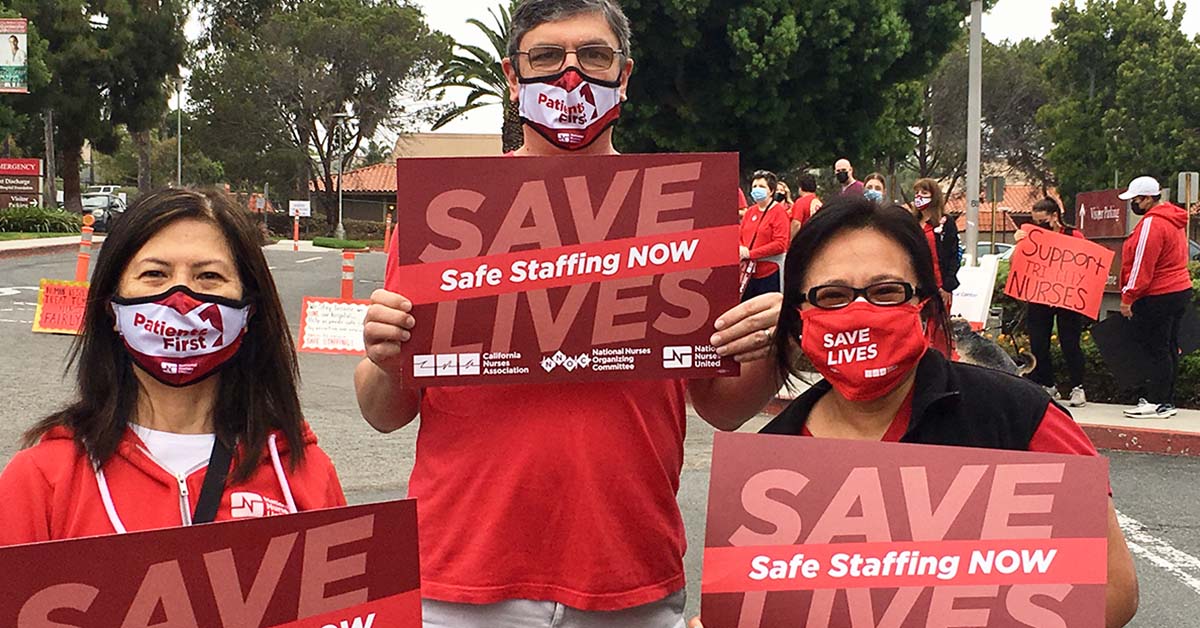 Registered nurses at Tri-City Medical Center (TCMC) voted by an overwhelming majority to authorize their nurse negotiators to call a one-day strike if the issues RNs raised in ongoing contract negotiations to protect their patients and improve patient care remain unresolved, the California Nurses Association/National Nurses United (CNA/NNU) announced today.
"We don't take going on strike lightly at all. We take pride in the safe care we give our community, especially during Covid times, but if we have to leave the bedside to walk the strike line, then we are prepared to do just that to address the chronic patient care issues that keep us from providing the highest quality of care to our patients. TCMC left us no choice but to strike," said Tamara Million, a registered nurse who works in the emergency department.
The nurses say chronic short staffing, inadequate security protocols, and lack of breaks at the hospital make it difficult for nurses to provide optimal care to their patients.
"We have tried repeatedly to address the chronic and widespread problem of short staffing that causes delays in care and potentially puts patients at risk, but hospital administrators and the TCMC board president have turned a deaf ear to us," said Alyce Budde, a post-anesthesia care unit RN. "We have a moral and legal obligation to advocate on behalf of our patients. We advocate for them at the bedside, at the bargaining table, and if we have to, on the strike line."
Short Staffing and RN Moral Distress  
Throughout this current contract, nurses have documented that more than 300 RNs have left TCMC, averaging a loss of three RNs per week in the last two years alone. Registered nurses have left TCMC primarily due to the deplorable working conditions. In early January 2020, TCMC employed 663 registered nurses, and as of January 2022, TCMC has only been able to retain 525 RNs. As a stopgap to this staffing crisis, the National Guard was deployed to the hospital in early January to assist in RN roles and more than 100 travel agency RNs have been hired. The main areas of concern remain the hospital's failure to recruit and retain permanent RNs, safe staffing, and putting additional burdens on registered nurses who are overworked, suffering from moral distress because they are prevented from providing the quality of care they know patients deserve, and often work an entire 12-hour shift without breaks.
Security Concerns
Nurses are also concerned that staffing levels create an environment that makes all patients, visitors, and staff vulnerable to violence. In the last few weeks, nurses have reported increasing violent incidents in the facility.
Over the last 12 months, nurses have approached hospital management with several proposals to address safe staffing, health and safety, and the recruitment and retention of registered RNs.
No strike date has been set at this time, but should the bargaining team decide to move forward with a strike, nurses will provide hospital management 10 days' advance notice so that TCMC can make appropriate preparations, including postponing elective procedures and making necessary patient transfers. CNA and TCMC recently concluded mediation without any resolution, and no bargaining dates are confirmed.
California Nurses Association represents more than 500 nurses at Tri-City Medical Center and is affiliated with National Nurses United, the nation's largest and fastest-growing union and professional association of nurses, with more than 175,000 members nationwide.