Press Release
Transformative NNU Leader RoseAnn DeMoro Retiring, Piloted Nurses Union to Historic Growth and Influence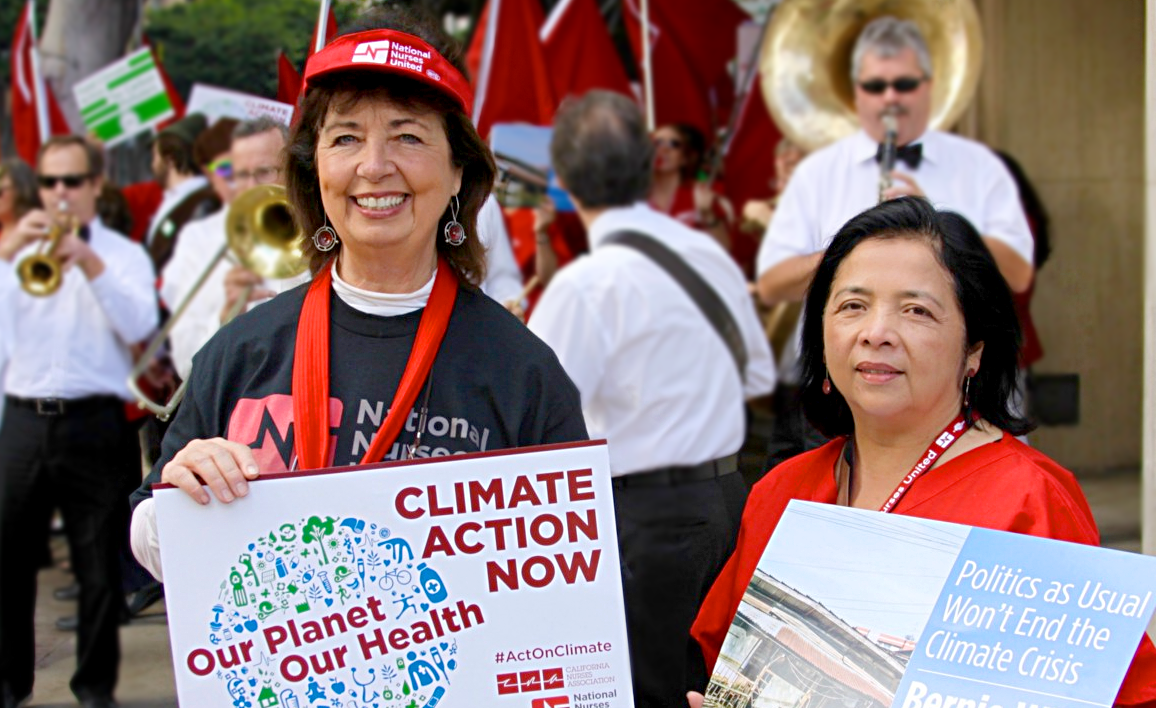 Nurses Name Bonnie Castillo, RN as Next Executive Director
RoseAnn DeMoro, who transformed the California Nurses Association and National Nurses United into one of the most influential and fastest growing unions in the U.S., officially retired this week from shepherding an organization that has made an enormous impact in achieving unprecedented gains for nurses, patients, and has become a key figure in progressive social change movements.
Bonnie Castillo, RN, who has led in every phase of the organization's work after a career as a nurse activist, succeeds DeMoro as executive director of both NNU and the CNA and its affiliate National Nurses Organizing Committee in what the two, who have worked together for years, emphasizes will be a seamless transition.
"The organization is kind of set in stone in terms of (how) we're going to fight for social justice as an organization," DeMoro told the San Francisco Chronicle this week, and she praised Castillo as "a passionate advocate for RNs, patients and human rights."
Accolades for DeMoro and her work from across the U.S. and globally poured in this week. In the Chronicle, Sen. Bernie Sanders termed her "very tough" and "an invaluable ally." Consumer legend Ralph Nader called her "the greatest labor organizer of her time." AFL-CIO President Richard Trumka heralded her "iron will." And California Gov. Jerry Brown praised her as a "fighting labor leader from the old school. She gets things done."
https://www.sfchronicle.com/politics/article/California-nurses-union-leader-RoseAnn-DeMoro-12725860.php
Social media was also filled with tributes, including:
DeMoro devoted 32 years to the nurses' movement, working with working nurse activists, and reshaping the union from an association governed and dominated by nurse executives to one that won landmark improvements for nurses in economic standards and working conditions, unprecedented protections for patients, such as the nation's first minimum safe staffing law, and growing the organization from 17,000 CNA members in 1992, when she became executive director, to 150,000 in NNU today.
"What I love about what I do is we are building power for working women and patients," DeMoro would say.
Along the way, DeMoro guided CNA and NNU to make connections between health care and societal ills that affect health and the quality of life, becoming a prominent force in a broad array of social movements, among them environmental justice and the climate crisis, holding Wall Street accountable, and most notably driving the national campaign for guaranteed healthcare for all through an improved and expanded Medicare for all single payer system.
DeMoro and NNU's "relentless advocacy," the Chronicle noted, dramatically pushed forward the single payer movement to now becoming a central issue in the national debate. "When the country adopts a single-payer system,  Sanders has predicted, 'people will look back and say RoseAnn DeMoro and the national nurses union helped do that'."
Nurse leaders who worked closely with her noted her impact.
"The issues she cares about, including patient advocacy and social advocacy, are exactly what nurses care about," says Deborah Burger, RN, NNU co-president. "Nurses, like patients, need an aggressive advocate, and her name is RoseAnn DeMoro."
"It was never about her," says CNA co-president Malinda Markowitz, RN. "You always knew that it was about the movement, about the nurse, and about the patients and really about the community and family."
Bonnie Castillo, RN, debuts as NNU and CNA/NNOC executive director
Castillo said she is "proud and excited to continue the great work of our union," writing on Twitter: "Together we will advance our agenda to win healthcare and workplace justice for all."
Before starting at CNA, Castillo worked many years as an intensive care RN at a large Sacramento hospital where, in the face of a sweeping corporate push to erode nurses' role and ability to advocate for patients, she was a leader in unionizing the hospitals noting, "we had to unite to protect our patients."
At CNA she worked as legislative director, overseeing passage of significant legislative and regulatory reforms, including stronger protections for the spread of infectious disease, as well as helping bring the benefits of union representation to other RNs.
Most recently, Castillo has directed NNU's nursing practice and health and safety programs, winning, for example, new requirements for workplace violence protection in hospitals. She also has directed NNU's internationally renowned disaster relief program, the Registered Nurse Response Network, which has sent volunteer nurses in the face of disaster to the Gulf Coast, following Hurricane Katrina, the Philippines, Haiti, and most recently Puerto Rico.
"Everywhere public health is at risk, the nurses will be there," says Castillo. "And I will be with them. And we will continue to fight."