Press Release
Sutter Tracy RNs to Hold 1-Day Strike August 14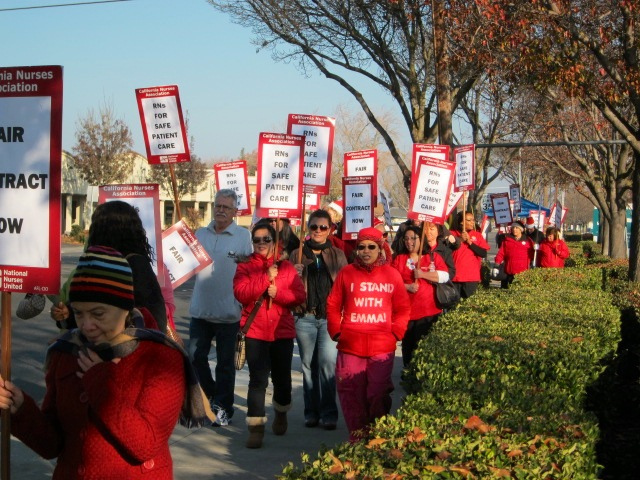 Registered nurses at Sutter Tracy Community Hospital will hold a one-day walkout Thursday, August 14 to protest the hard line taken by hospital executives on nurses' concerns over safe staffing, other patient care issues, and fair standards on health coverage, the California Nurses Association/National Nurses United announced today.
 
CNA represents the 160 RNs at Sutter Tracy who voted in 2012 to join the state's largest organization of RNs, but have been met with what they view as management intransigence and a refusal to take seriously RN concerns over quality of care during talks on their first collective bargaining agreement.
 
The Sutter Tracy strike coincides with walkouts also occurring on August 14 by RNs at Watsonville Community Hospital and Queen of the Valley Medical Center in Napa.
 
CNA represents RNs at 16 Sutter hospitals across Northern California, but has regularly faced what they see as corporate directives to put budget priorities and profits over safe care delivery.
 
 "We want safe staffing, adequate resources and, above all, a voice in the care we deliver," said nurse negotiator and RN activist Dotty Nygard.
 
"We need standards that lead to recruitment and retention of nurses, so that this community doesn't have to rely on temporary contracted nurse staffing which is a revolving door, a practice that's existed for years in some units. The community deserves better, with safe, competent and committed staff. We are sending a clear message that we are standing together and we are serious," said Nygard.
 
Setting nursing standards with strong patient safety and staffing language is a particularly important goal for the RNs noting a high turnover of the nursing workforce at Sutter Tracy and the continued use of out-of-town traveler nurses.
 
The RNs cite the refusal of hospital negotiators to address their concerns about safe staffing language to protect patients and to support provisions to protect RNs from on the job injuries due to unsafe patient lifting policies.  The RNs are also at odds with the hospital over agreement on an RN-elected professional practice committee to meet with management on patient care issues.
 
Also important are fair standards for health benefits. Sutter Tracy RNs pay the highest monthly premium rates throughout the Sutter system, with nurses required to pay as much as over $1,100 a month for coverage for themselves and their family, while Sutter management pays a fraction of what the nurses are mandated to pay.
 
The RNs and Sutter Tracy officials have been bargaining for more than two years now, without a resolution, during which time hospital officials unilaterally implemented changes to the health plan. A National Labor Relations Board administrative law judge ruled that Sutter Tracy had violated federal law with that unilateral change. Sutter has appealed that decision to the NLRB in Washington.
 
In addition, CNA has filed NLRB charges over the firing of a nurse activist, which was carried out without negotiating with the union as required by federal law.