Press Release
Statement by NNU on the Minnesota Nurses Strike at the Twin Cities Allina Health Hospitals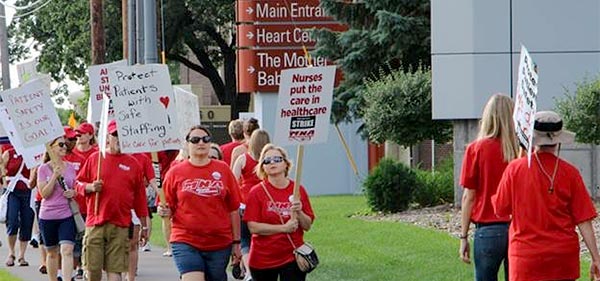 National Nurses United stands proudly with the 5,000 registered nurses, members of the Minnesota Nurses Association/NNU who are on strike this week to secure safer care for patients at five Allina Health hospitals in metropolitan Minneapolis-St. Paul.
The courageous Minnesota nurses are confronting many of the concerns faced by nurses across the U.S., including safe patient care staffing, inadequate planning by the hospitals to ensure a safe environment to reduce workplace violence, and hospital demands for cuts in health coverage for nurses and their families.
When the Minnesota RNs take on these issues, they are speaking and striking for nurses everywhere.
Behind this strike is a problem that symbolizes the degradation of our health care system – the dominance of large corporate hospital chains whose priorities are too often far removed from the hospital bedside and assuring high quality care, even when the system, like Allina, carries the label of a not-for-profit organization.
Of the 19 members of the Allina Health Board of Directors, MNA has noted, seven are investment bankers or associated financial professionals, along with several corporate CEOs and other business representatives. It is not surprising that this board, like so many similar systems in our increasingly corporate healthcare industry, has focused on budget goals and expanding revenue too often at the expense of patients and the front line caregivers who those patients count on.
NNU calls on the Allina executives and Board of Directors to respect their RN professionals and patients. That starts with ending the Allina administration's unfair labor practices, such as failure to meet their legal obligation to engage in good faith bargaining, including responding to RNs' contract proposals, and cease efforts to erode the RNs' own health protections.
NNU pledges to give its full support for MNA and the Allina nurses. Our solidarity is unshakeable.