Press Release
Stanford ValleyCare, Pleasanton RNs Vote by 62 Percent to Join California Nurses Association/NNU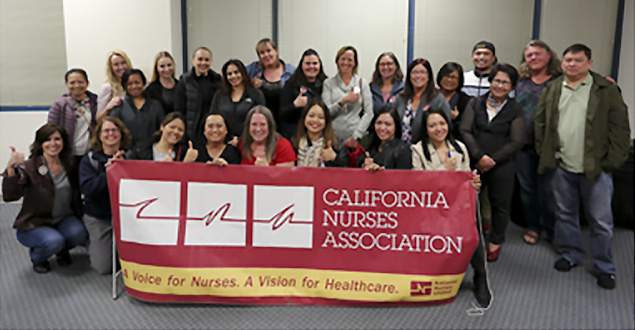 Citing the desire for improved patient care conditions, registered nurses at Stanford Health Care's ValleyCare Medical Center in Pleasanton, CA voted by 62 percent Wednesday night to join the state's largest RN union, the California Nurses Association/National Nurses United.
Overcoming a heavy-handed management pressure campaign, in which the hospital employed two separate national anti-union consulting firms IRI Consultants and H&H Consulting, the RNs voted 188 to 114, 62 percent for CNA, which will now represent 400 RNs at the Bay Area hospital.
The National Labor Relations Board, which oversees private sector labor relations, conducted the secret ballot vote.
ValleyCare RNs celebrate their vote Wednesday night to join CNA
"With this vote, ValleyCare RNs have taken a strong stand for a workplace that is healthy for us and our patients," said ValleyCare RN Denise Mavrogianis. "We couldn't be happier about the opportunity to create a climate that will enhance patient care conditions and standards for our colleagues and our community."
"We, the ValleyCare RNs, are the union," said Cynthia Arambulo, RN. "This vote is about being pro-nurse and having a place at the table to make decisions that affect patient care and our practice at ValleyCare – and having a collective voice with CNA."
"Congratulations to the ValleyCare RNs," said CNA Executive Director Bonnie Castillo, RN. "Your vote to join with your CNA colleagues across the Bay Area and throughout California will have an enormous impact on your patients, your neighbors, and your colleagues. We are proud of your decision."
Key issue for the RNs in voting for CNA were the desire for a stronger collective voice on patient care issues, especially in improving safe staffing based on the state's minimum nurse to patient ratios law and the severity of illness of individual patients.
They are also seeking an end to unsafe assignment of RNs to clinical areas for which they do not have clinical expertise or experience (floating), an end to mandatory overtime which can leave nurses dangerously fatigued, and competitive pay with other CNA-represented hospitals.
Stanford acquired formerly independent ValleyCare in 2015. This will be the first union for the ValleyCare RNs, who next will move to elect colleagues to represent them for negotiations with management on their first collective bargaining agreement.
The California Nurses Association has 100,000 members throughout the state. CNA is affiliated with National Nurses United, the largest and fastest growing union of registered nurses in the US with more than 150,000 members nationwide. CNA/NNU plays a leadership role in safeguarding the health and safety of RNs and their patients and has won landmark legislation in the areas of staffing, safe patient handling, infectious disease and workplace violence prevention.