Press Release
St. Rose, Hayward RNs Vote by 91% to Join CNA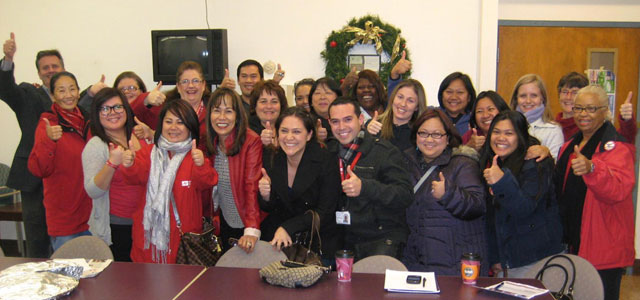 Registered nurses at St. Rose Hospital in Hayward -- one of the last remaining non-union hospitals for RNs in the immediate Bay Area -- voted by 91 percent Tuesday night to join the California Nurses Association/National Nurses United.
"After our landslide victory in joining the California Nurses Association, we will be more united to advocate for continuing and improving patient care and providing quality and safe services to our patients," said Nena Bengal, an intensive care RN at St. Rose.
In a secret ballot election conducted by the National Labor Relations Board, the RNs voted 205 to 21 for CNA, which will now represent 300 RNs at the hospital. Many are local residents who have spent many years at the hospital.
As an independent hospital, St. Rose is also one of the last of a dying breed in an industry where most hospitals have now been merged into large corporate chains. It has faced questions about its future in providing patient care, especially for many of the low income community residents who depend on St. Rose, which provides care for up to 15 percent of the most indigent residents of Alameda County.
"We wanted to send a strong message to the St. Rose management, the Board of Directors, local elected officials and all involved in the future of St. Rose that we also must be included in this discussion," said Mayra Romero, a medical surgical and telemetry RN at St. Rose.
"We are proud professionals who have been at St. Rose for years and many of us also live and vote in this community. We serve more of the indigent patient community than other hospitals yet receive less support," Romero said.
The nurses have been facing reductions in pensions. Management recently froze pensions for all employees and is pursuing cuts in a variety of patient services.
These were among the leading factors in the RNs' overwhelming desire to join CNA, California's premiere organization of RNs. The nurses say the hospital priorities on spending must be on patient care as well as promoting the security of their experienced RNs. They also hope to improve staffing and address other patient care issues as they take the next step in working to achieve their first collective bargaining agreement.
"The nurses and healthcare workers at St. Rose have sacrificed pay increases, had our pension frozen, and faced constant job insecurity while we continue to serve our patients. It's time our voices are heard," Bengal said. 
NNU, of which CNA is a founding member, is also the nation's largest organization of nurses, with 185,000 members across the U.S., and also one of the fastest growing unions in the country. Over the past three years, NNU has won representation elections for more than 14,000 RNs at 39 hospitals in 11 states.
###