Press Release
St. Mary's nurses charge unsafe staffing is jeopardizing patient care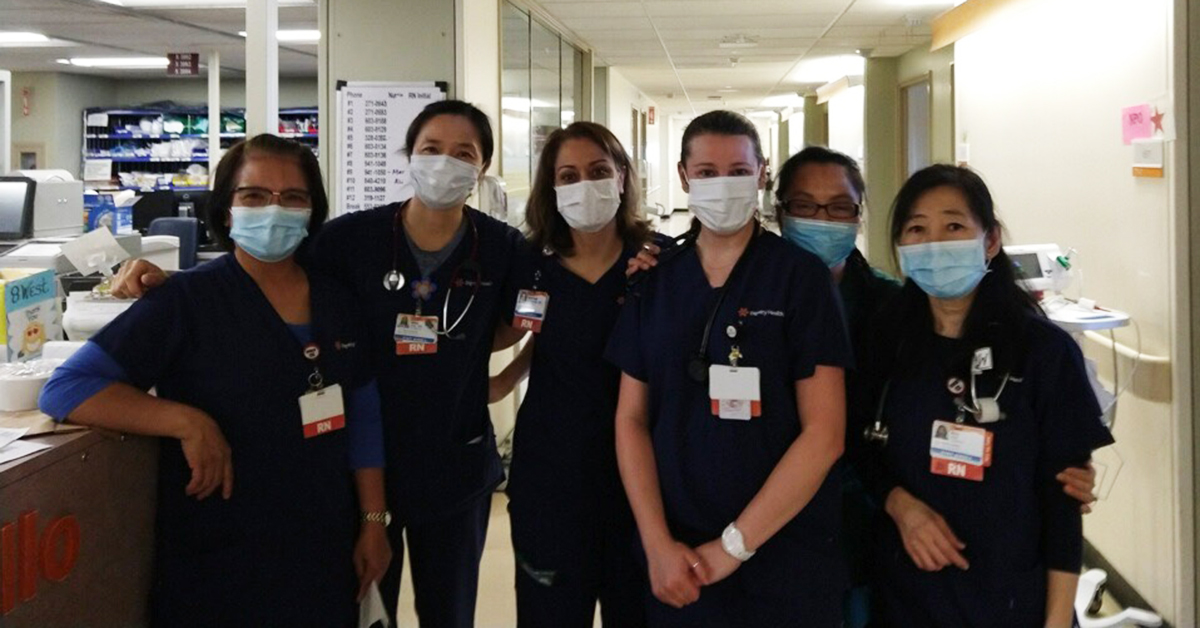 RNs demand CommonSpirit management improve conditions to recruit and retain nurses
Registered nurses at St. Mary's Medical Center in San Francisco, Calif., will hold an informational picket on Monday, Aug. 15, to alert the public to chronic short staffing across the hospital which jeopardizes patient safety, announced California Nurses Association/National Nurses United (CNA/NNU today).
"Nurses at St. Mary's are determined and committed to providing their patients with the highest quality of care, but we consistently do not get the support we need from CommonSpirit management to safely staff our units" said Amy Preble, a registered nurse in the Intensive Care Unit. "This chronic understaffing means patients may not get care in a timely manner, which profoundly affects the overall safety of the unit. CommonSpirit, which owns St. Mary's, has a legal and ethical responsibility to nurses and patients to ensure nurses have the resources we need to provide the highest quality of care to each and every patient who seeks care in our hospital."
Who:     Registered Nurses at St. Mary's Medical Center
What:    Informational picket for patient safety  
When:   Monday, Aug. 15, 1:00 p.m. to 2:30 p.m., rally at 1:30 p.m.
Where:  St. Mary's Medical Center 450 Stanyan St, San Francisco
Longtime nurses at St. Mary's say that since the hospital ownership merged with another entity in 2019 to become CommonSpirit, they have seen a dramatic decline in staffing. Since the merger, the nurses report they have often worked without a unit secretary (who answers calls from doctors and family and provides assistance with transfer procedures and other non-medical tasks), certified nursing assistants (who can assist by bathing, toileting, and feeding patients, and more), and sitters (who provide compassionate supervision and companionship care) for patients who are in vulnerable states.
"As we lose the support staff that are so critical in providing assistance to our patients, nurses are expected to take on these tasks in addition to the vital medical care we are providing," said Julie Tuiasosopo, a registered nurse in a medical surgical unit. "This means that nurses are not only doing their nursing duties, but taking on the duties of many other caregivers. Our patients are the ones who are losing in this equation which is designed to boost profits but which degrades patient care."
As support staff has dwindled, nurses are seeing an increase in the number of patients they are required to care for during their shifts. In addition, nurses are working without charge nurses, the RNs who are responsible for assigning patients and providing assistance to bedside nurses. Often there are no nurses available to provide relief or lunch breaks, which means nurses are working an entire shift without an opportunity to eat or rest for even a few minutes.
Furthermore, the lack of nursing staff means that nurses are being pressured to work overtime and double shifts.  
"Nursing is physically and emotionally demanding and requires attention to detail and critical thinking at all times," said Tuiasosopo. "If a nurse is running from patient to patient without a chance to eat or recuperate throughout the day, that fatigue may compromise care. Nurses are loath to stay at a hospital where their license and the health of their patients are put in jeopardy because they have no breaks and no support staff. So we are seeing newly hired nurses leave within months."
Tuiasosopo says in the last month she has seen at least six nurses leave her medical surgical unit.
CommonSpirit is the largest nonprofit health care system in the U.S. In the fiscal year ending June 2021, CommonSpirit posted a net income of $5.5 billion.  
"We know that if CommonSpirit chooses to improve conditions at St. Mary's, we will be able to attract and retain experienced nurses," said Preble. "I have worked at this hospital for 15 years and see daily the commitment, compassion, and caring of my fellow nurses. We are determined to make improvements at St. Mary's so all our patients receive the care they deserve."
The California Nurses Association/National Nurses United is the largest and fastest-growing union and professional association of registered nurses in the nation with 100,000 members in more than 200 facilities throughout California and more than 175,000 RNs nationwide.