Press Release
St. Joseph's Medical Center and St. Joseph's Behavioral Health Center Nurses to hold informational picket for patient safety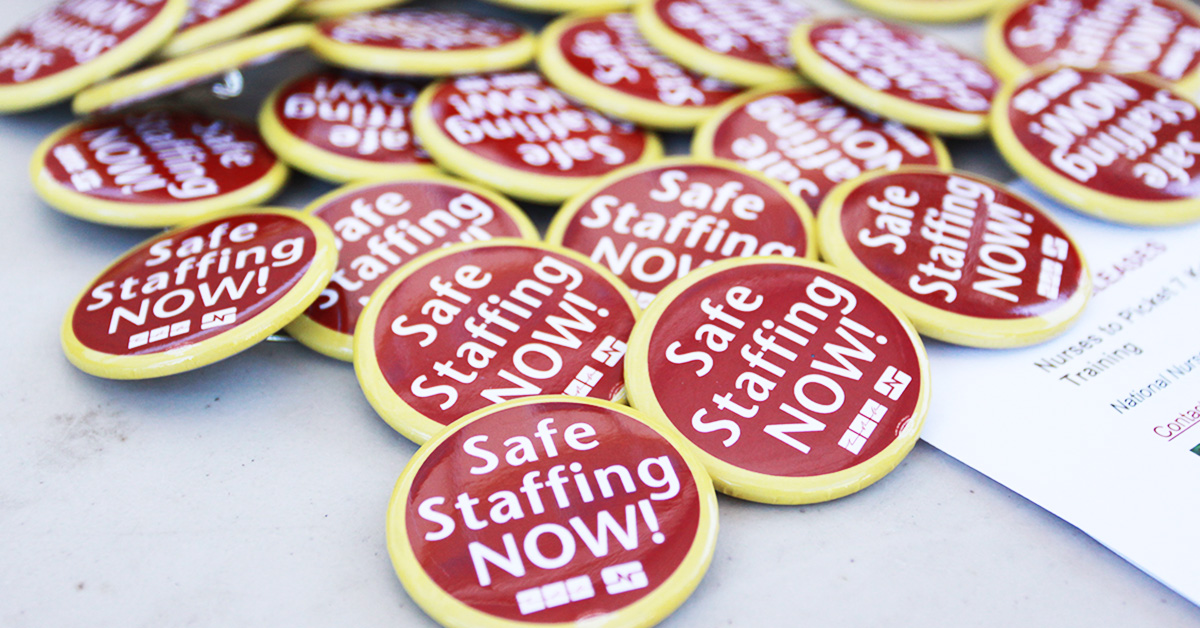 Registered nurses at St. Joseph's Medical Center and St. Joseph's Behavioral Health Center in Stockton, Calif. will hold an informational picket on Wednesday, May 26 to alert the community of staffing concerns that put patient safety in jeopardy, announced California Nurses Association (CNA) today.
Nurses say the short staffing is particularly acute in the emergency room where California's safe staffing law requires a minimum of one nurse to four patients.
"Throughout the hospital, management is failing to follow California's safe staffing laws, and requiring nurses to provide care to more patients than is allowed by the law," said Marci Waller, an emergency room nurse. "In the patient treatment areas of our emergency room, one nurse can be required to care for as many as 20 patients at a time. That means one nurse who is responsible for giving these patients IV medications, shots, or any kind of care and treatment they may need before they get into a room or get discharged. This is simply unacceptable and unfair to our patients."
WHAT:

Informational picket and RN media availability to confront the hospital's efforts to undermine safe staffing and patient care standards set by California law

WHEN:

Wednesday, May 26, 11:00 a.m. – 1:00 p.m.

WHERE:

  St. Joseph's Medical Center, 1800 N. California St., Stockton, CA 95204;
St. Joseph's Behavioral Health Center, 2510 N. California St., Stockton, CA 95204
St. Joseph's nurses say the lack of appropriate staffing means that charge nurses are being assigned patients, although this is forbidden by California's safe staffing laws. When a charge nurse is assigned patients, that nurse is taken away from their primary responsibilities of overseeing the unit and may be unavailable to help when emergencies arise.
Nurses throughout the hospital are working without rest or meal breaks for shifts that are often 12 hours long. Nurses say the hospital has seen a mass exodus over the last year because of the poor working conditions. Additionally, they say that the hospital's staffing issue makes it difficult to retain and recruit experienced nurses who are critical to mentoring newer nurses and to providing optimal patient care.
If you are interested in sending a camera crew to the press conference or in learning more about the situation at St. Joseph's Medical Center in Stockton, registered nurses will be available to speak to the press.
CNA represents more than 1,100 registered nurses at St. Joseph's Medical Center and St. Joseph's Behavioral Health Center.
The California Nurses Association has 100,000 members and is a founding member of National Nurses United, the largest and fastest-growing union and professional association of registered nurses in the United States with more than 170,000 members nationwide. CNA/NNU plays a leadership role in safeguarding the health and safety of RNs and their patients and has won landmark legislation in the areas of staffing, safe patient handling, infectious disease, and workplace violence prevention.