Press Release
Seton RNs vote no confidence in hospital administrator and call for investigation before releasing millions to administration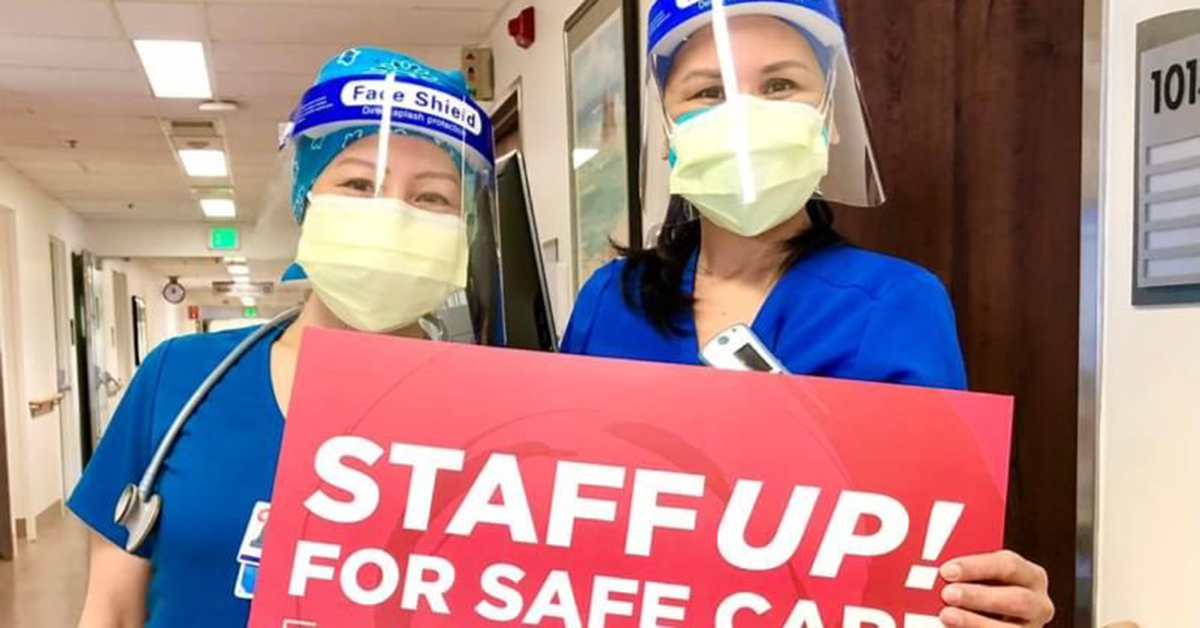 Daly City City Council to hold special town hall meeting Tuesday, Aug. 16
Just days after registered nurses at AHMC Seton Medical Center voted unanimously to pass a vote of no confidence in the hospital's administrator, the Daly City City Council will hold a town hall to discuss the failures of AHMC to address chronic understaffing, closing of service lines, and other problems at Seton Medical Center. Nurses are now joining San Mateo County Supervisor David Canepa in calling for an investigation into AHMC's revenue and expenditures before releasing millions more in taxpayer funds.
"We are witnessing the degradation of our community hospital through the closing of service lines, the willful understaffing of units, and the inexcusable lack of supplies and working equipment," said Osha Atogwe, a registered nurse in the surgical recovery unit. "We have fought for years to keep Seton open for our patients. We are thankful to the taxpayers and elected officials in San Mateo County who have committed millions of dollars to the hospital. But we have grave concerns about handing more money over to AHMC as they have failed to prove themselves good stewards of this vital community resource."  
"Before San Mateo County cuts a multimillion dollar check to AHMC, we need to fully understand its financial stability," said Canepa. "I understand the value and vital importance of Seton Medical Center to our community. It is one of the largest employers in Daly City and provides medical care to our most vulnerable citizens. That is why I have worked so hard to ensure it remained a full-service, acute-care hospital. I was instrumental in ensuring funds would be made available to do the seismic upgrades demanded by the state. However, we must ensure that taxpayer money is spent responsibly, with integrity, and transparently. For that reason, I feel a closer look into AHMC's revenue and expenditures is fully warranted."
What:    Daly City Special Town Hall on state of Seton Medical Center
When:   Tuesday, Aug. 16, 2022, 5:00 p.m.
Where:  Daly City City Council Chambers: 333 90th Street, Daly City, Calif.
On Wednesday, Aug. 10, 2022, Seton nurses passed a vote of no confidence in their current hospital administrator, Sarkis Vartanian. There was not one vote cast in support of Vartanian.
Nurses were compelled to call this vote as under the current administration, AHMC has continually failed to staff units appropriately, which has led to an increase in falls and patient care delays. Under the purview of AHMC, Seton has suffered a critical loss of nurses and of ancillary and support staff, and charge nurses (nurses meant to facilitate workflow and be a resource for other nurses) have been forced to take on patient loads. This has left nurses performing the work of the ancillary staff on top of providing medical care.
"We are seeing nurses leave our hospital because the conditions are such that they feel their licenses are in jeopardy and they cannot provide the highest quality of care to their patients," said Cathy Evans, a registered nurse in the subacute unit, noting that more than 100 nurses have left Seton in the last two years. "On a regular basis, we are seeing patients being held in the emergency department overnight because we don't have an adequate number of nurses to staff our units. The emergency department is not able to provide optimal care for our patients who need to be on a medical-surgical or intensive care unit. We must be able to do better."
In March, AHMC permanently closed the skilled nursing facility on the Daly City site that provided essential care to elderly and other patients who were unable to be sent home, because they needed ongoing nursing care. Many of these patients were transferred to another unit (also operated by AHMC) 30 miles away, which placed an additional burden on family and friends who visit and support their loved ones.
Since those patients were transferred, the Centers for Medicare and Medicaid Services (CMS) have raised concerns about AHMC's compliance with CMS requirements. Earlier this month, CMS threatened to pull funding for patients at the facility, raising concerns about infection control, quality of care, and other issues. While CMS has since dropped the threat, registered nurses say the stated concerns mirror the chronic problems they are confronting at AHMC Seton Medical Center.
San Mateo County is scheduled to provide AHMC with an additional $10 million in funds for seismic upgrades to Seton Medical Center. But nurses are deeply concerned that because AHMC is mismanaging the operation of the hospital on a daily basis, it may be unable to properly manage millions in taxpayer money to ensure the retrofit is carried out in a timely and economical manner.
"For more than two decades, I have worked at Seton and devoted myself to the health and well-being of this community and my patients," said Michelle Kubota, a registered nurse in the medical-surgical unit. "I want to see our hospital improve and I understand that seismic upgrades are of the utmost importance. But I am very concerned that AHMC and Mr. Vartanian do not appear up to the task. Nothing in their actions so far have given me faith that they have what it takes to be guardians of millions in taxpayer funds."
The California Nurses Association/National Nurses United is the largest and fastest-growing union and professional association of registered nurses in the nation with 100,000 members in more than 200 facilities throughout California and more than 175,000 RNs nationwide.