Press Release
San Mateo County Supervisors Call for a Study Session on Seton Medical Center Closure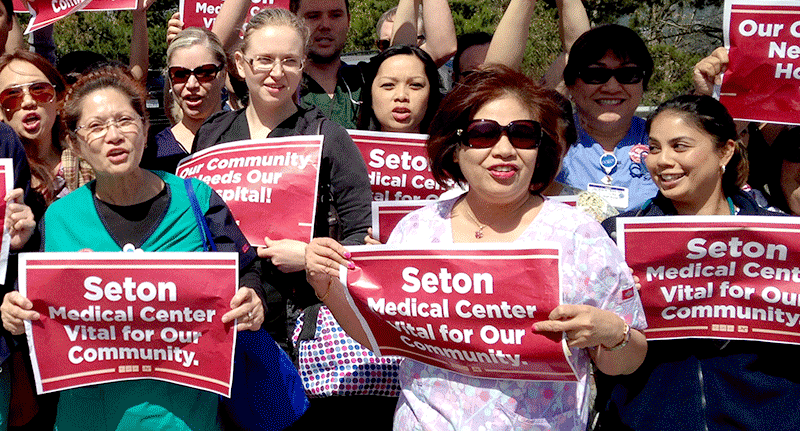 Registered nurses have asked the San Mateo Board of Supervisors to call a study session on March 4th to discuss potential health impacts if Verity Health System closes Seton Medical Center.
Nurses hope to stop the closure.
"Seton Medical Center provides vital services to an underserved community here in San Mateo County," said Debra Amour, a registered nurse who works in the ICU. "We know that if Seton closes, public health will suffer, and patients' lives will be at risk."
Nurses witnessed Verity's abrupt and catastrophic closure of St. Vincent Medical Center in Los Angeles earlier this year. St. Vincent was one of the oldest hospitals in Los Angeles. The closure shocked the community. According to the California Office of Statewide Health Planning and Development, St. Vincent provided care to more than 80 patients a day in its emergency room. St. Vincent nurses recognized that extended travel time to a hospital outside the community could mean the difference between life and death for patients in critical condition.
"We are very concerned that what happened at St. Vincent could happen here at Seton," Amour said. "We need the San Mateo County Board of Supervisors to recognize the vital services provided here, and to let the public know what this loss will mean to the community. A Seton closure cannot happen."
What: San Mateo County Study Session
When: Wednesday, March 4th, at 7pm
Where: Daly City Hall Chambers, 333 90th St, Daly City
Last year, a bankruptcy judge cleared the way for KPC Group to purchase both Seton and St. Vincent Medical Centers. Court documents indicate that Verity learned in November that the sale of St. Vincent Medical Center was falling apart, yet Verity failed to share that information with the public. Instead, Verity announced on January 6 that it intended to close the St. Vincent hospital immediately.
But nurses insist that Seton Medical Center must remain open. "We are patient advocates. We cannot stand by while Verity devastates another community," Amour said.