Press Release
San Mateo County Nurses Reach Tentative Contract Agreement to Strengthen Safe Patient Care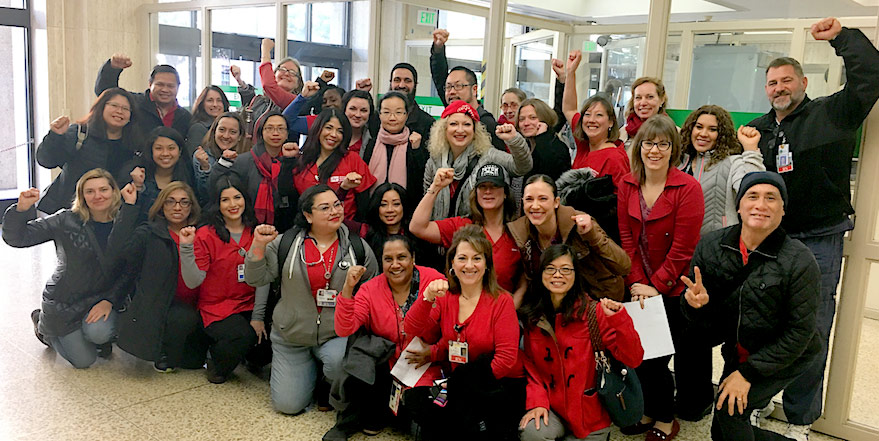 San Mateo County registered nurses have reached a tentative new contract agreement, which RNs say will allow them to continue providing high quality care to County patients, through the retention of experienced RNs and recruitment of new nurses, the California Nurses Association/National Nurses United announced today.
County RNs are voting today on whether to ratify the proposed settlement, which also provides for a safer workplace for patients, community members, and staff, while also protecting the existing health coverage and retirement plans of the nurses.
CNA represents 400 RNs and Nurse Practitioners who work throughout the County healthcare system, including at San Mateo Medical Center, county clinics, and the Public Health and Correctional Health Departments.
"This is a significant achievement for San Mateo County patients as well as county RNs," said San Mateo Public Health Nurse, Laarni San Juan.  
"Too often the county facilities, and therefore, the taxpayers, end up footing the bill to train nurses who then move to the private sector, which offer better wages and benefits.  This new contract addresses this problem, by ensuring better benefits for nurses who work hard at the bedside everyday," said San Juan.
Nurses say a loss of experienced nurses, who leave for better working conditions and economic standards, has created a situation —especially in the San Mateo Medical Center—where temporary nurses from outside the county sometimes outnumber fulltime, community-based RNs, who better understand the needs of patients, some of whom they have provided care for a number of years. The nurses say the new contract will help stem this loss.
The County RNs will earn pay increases of up to 16 percent over the life of the four-year contract that runs through December,2021. Most of the nurses will receive an 8 percent pay increase upon ratification of the agreement, which still must also be approved by San Mateo County Supervisors.
"We work with patients who often have nowhere else to go," said Chief Nurse representative Margarita Harrington. "They may beuninsured or low income, or may have mental health problems, and they count on us for the care they need. We want nurses who understand and know our communities to work with these patients to ensure they are getting the treatment and support they deserve," says Harrington. 
Contract highlights include:
Increase in Union Protections for Nurses who Work with Sexual Assault and Domestic Violence Survivors: Nurses who work with the Keller Center for Family Violence Intervention will now be recognized as part of the CNA/NNU bargaining unit.  These highly-trained RNs and NPs treat survivors of sexual assault, rape and domestic violence, and are tasked with collecting valuable evidence for police.
"We are so proud to have won protections for these critically important nurses, which in turn is a protection for their patients, who are suffering from traumatic experiences, and deserve the highest quality of care at a fragile time in their lives," said Chief Nurse Representative Margarita Harrington.
Safe Workplace for Patients, Community Residents, Nurses and Other Employees:  All San Mateo County RNs will now have access to training to help protect nurses, patients and families, from workplace violence – with an emphasis on violence prevention and de-escalation of conflict. Nurses and other healthcare workers face extremely high rates of workplace violence, and this critical training was formerly not available to nurses in the clinics and correctional health facilities.  
Greater RN Voice on Medical Equipment Safety: Nurses will now have an ongoing role in a committee that evaluates new medical devices, to ensure the equipment is safe for patients.

Designation of Additional RNs to Work with Management to Assure RNs are Able to Take Meal and Rest Breaks without Reducing Safe Staffing for Patients.

No Reduction in Health Coverage or Other Contract Standards for RNs.