Press Release
San Mateo County Nurses Overwhelmingly Approve New Contract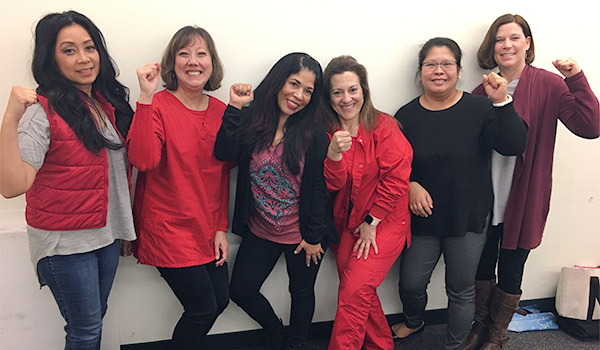 San Mateo County registered nurses overwhelming approved a new four-year contract that RNs say includes significant improvements that will allow them to continue providing high-quality care to county patients, the California Nurses Association/National Nurses United (CNA/NNU) announced today. 
The new contract, covering 400 RNs and Nurse Practitioners who work throughout the county healthcare system, features protected healthcare coverage and retirement benefits and significant economic gains. In combination, these gains will help to retain the most experienced nurses who too often move to the private sector.
Key elements of the contract include wage increases of up to 16 percent over the life of the contract that runs through December, 2021. Most of the nurses will receive an eight percent pay increase upon ratification of the agreement, which still must also be approved by San Mateo County Supervisors.
Under the new contract, all San Mateo County RNs will have access to training to help protect nurses, patients and families from workplace violence – with an emphasis on violence prevention, and de-escalation of conflict.  This critical training was formerly not available to nurses in the clinics and correctional health facilities.  
For the first time, RNs who work with the Keller Center for Family Violence Intervention were recognized as part of the CNA/NNU bargaining unit.  These highly-trained RNs and NPs treat survivors of sexual assault, rape and domestic violence, and are tasked with collecting valuable evidence for police.
"This contract takes a major step by including them, as an important addition to our union. Their inclusion helps to create strong nurse teams and a continuity of care that best serves our patients," said Charge Nurse and Chief Nurse Representative Margarita Harrington. "We feel this is a win for the health, welfare and safety of our patients and the community."
CNA represents 100,000 RNs throughout California, and is the largest affiliate of NNU, with more than 150,000 members nationwide. CNA/NNU plays a leadership role in safeguarding the health and safety of RNs and their patients and has won landmark legislation in the areas of staffing, safe patient handling, infectious disease and workplace violence prevention.