Press Release
San Leandro Hospital Nurses Speak Out on Unsafe Staffing, Patient Care Issues RNs to Hold Press Conference: Thursday, October 11, 4 p.m.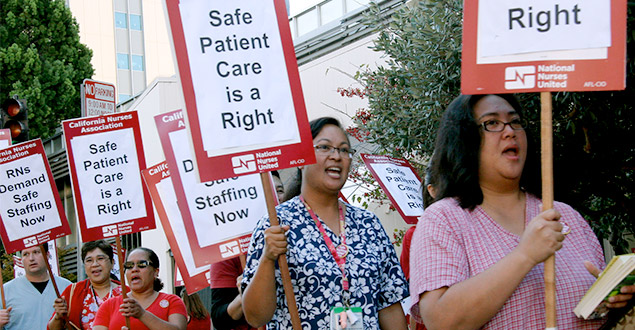 San Leandro Hospital Nurses will be holding a press conference on Thursday to highlight what nurses say are unsafe working conditions, unacceptable staffing levels, and an inadequate level of care for the community, the California Nurses Association announced today. 
"We don't feel that it is fair to the patients of our community to come to the hospital at their weakest moment and end up leaving due to a lack of adequate staff available to take care of them," said RN Mawata Kamara.
WHAT: Press Conference for Safe Patient Care
WHEN: Thursday, October 11 at 4pm
WHERE: San Leandro Hospital – 13855 E 14th St., San Leandro, CA 94578
Over the last year and a half, management has been chipping away at staffing levels throughout the hospital, say nurses, to the point where they fear for the safety of their patients. As a result, patients in the Emergency Room are waiting for hours before they can be seen, sometimes leaving even before they are treated. This is due to the lack of beds available throughout the hospital, say nurses, because the hospital is not staffing nurses at levels that would make more beds available. 
Alameda Health System's primary responsibility to the community is to ensure that patients receive the care they need.  With management's failure to address nurses' serious concerns, RNs say they have no other choice but to unite and speak out against unsafe working and patient care conditions, on behalf of patients, especially because San Leandro Hospital was threatened with closure for many years when it was owned by Sutter Health.
"We fought to keep San Leandro Hospital open, and succeeded in that fight. But now, as a public hospital, it is painful to watch our community hospital take away resources from patient care. We are part of a few safety-net hospitals in the East Bay and the vulnerable members of the community rely on our services," said Lisa LaFave, RN.
California Nurses Association represents 100,000 registered nurses statewide, as part of National Nurses United, the largest union of registered nurses in the U.S.