Press Release
San Jose RNs to Raise Concerns Over COVID-19 Testing Failures to County Supervisors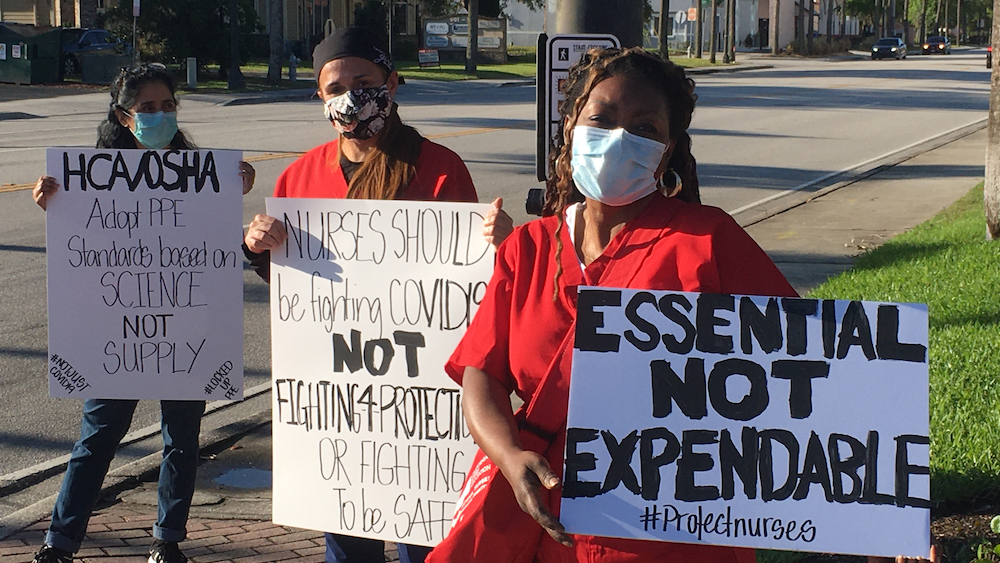 Registered Nurses from HCA and Kaiser Permanente hospitals in San Jose will address the virtual Santa Clara County Board of Supervisors meeting Tuesday morning to voice their alarm over failure by their hospital administrations to prioritize COVID-19 testing for frontline caregivers exposed to the virus that they warn is exacerbating the pandemic crisis.

The nurses are expected to talk at about 10 a.m. during the public comment session. Online streaming is available via the County Agenda Portal,YouTube Channel, and Live Audio Stream http://sccgov.iqm2.com/citizens/FileOpen.aspx?Type=14&ID=11549&Inline=True

In June, Santa Clara's Health Officer issued a health order requiring all large healthcare systems in Santa Clara County "to offer COVID-19 testing to patients within their systems who need to be tested right away because they have COVID-19 symptoms or have been exposed to COVID-19, or who need to be tested frequently because they are at higher risk of exposure."  https://www.sccgov.org/sites/covid19/Pages/press-release-06-10-2020-access-testing.aspx

Kaiser has failed to meet its promise to test all patients arriving for elective surgical procedures, claiming tests are "backlogged." As a result, just last weekend at Kaiser San Jose, reports the California Nurses Association, five CNA members were exposed to a surgical patient who ended up being confirmed positive for COVID-19.  

"Employers must be held to safe practices," said Monte Wright, Kaiser San Jose RN. "'Backlogged,' is not an excuse for allowing nurses to get exposed to this dangerous virus. Kaiser frequently denies tests to nurses who have been exposed and has mandated the nurse should first show symptoms before being approved for a test. That's a price we, other health care workers, and our families should not be required to pay."

HCA RNs say that administrators at HCA's Good Samaritan Hospital and Regional Medical Center of San Jose have not provided sufficient testing for registered nurses and other health care workers, a "dangerous lapse that is putting nurses, and other health care workers at serious risk of becoming infected and spreading the coronavirus to others, including patients and their own families," said Amy Schaar, Emergency Department RN at Good Samaritan.

In a public action last week at Good Samaritan, RNs warned that the hospital is not using airborne precautions for all COVID-19 patients, and even told nurses, including those exposed to the virus, that they don't need a test and if they want one have to go outside to get a test.

Despite the county health order, testing for patients has also been inadequate, HCA nurses say.

"Nurses are not expendable. Their co-workers are not expendable. Their patients are not expendable. Our community is not expendable. It is unconscionable that these hospitals are not ensuring the safety of our frontline caregivers who are putting their lives at risk, and their patients when they are at their most vulnerable," said California Nurses Association President Malinda Markowitz, RN, a San Jose resident.

Despite the county health order, testing for patients has also been inadequate, HCA nurses say.

Unsafe staffing has increased the risk of exposure to COVID-19, nurses say. At Good Samaritan, staffing in the emergency room has been so short there has been mixing of infected patients with other patients while nurses have to use the same personal protective equipment for all of them.

At Regional, since the closure of the maternal child services, laboring women have come to the ER for delivery where they also risk exposure to infected patients.

"HCA and Kaiser have the resources, and the obligation to guarantee the highest standard of safety precautions, especially as the pandemic continues to rage in California and Santa Clara County," Markowitz added.