Press Release
San Jose RNs to Protest HCA Thursday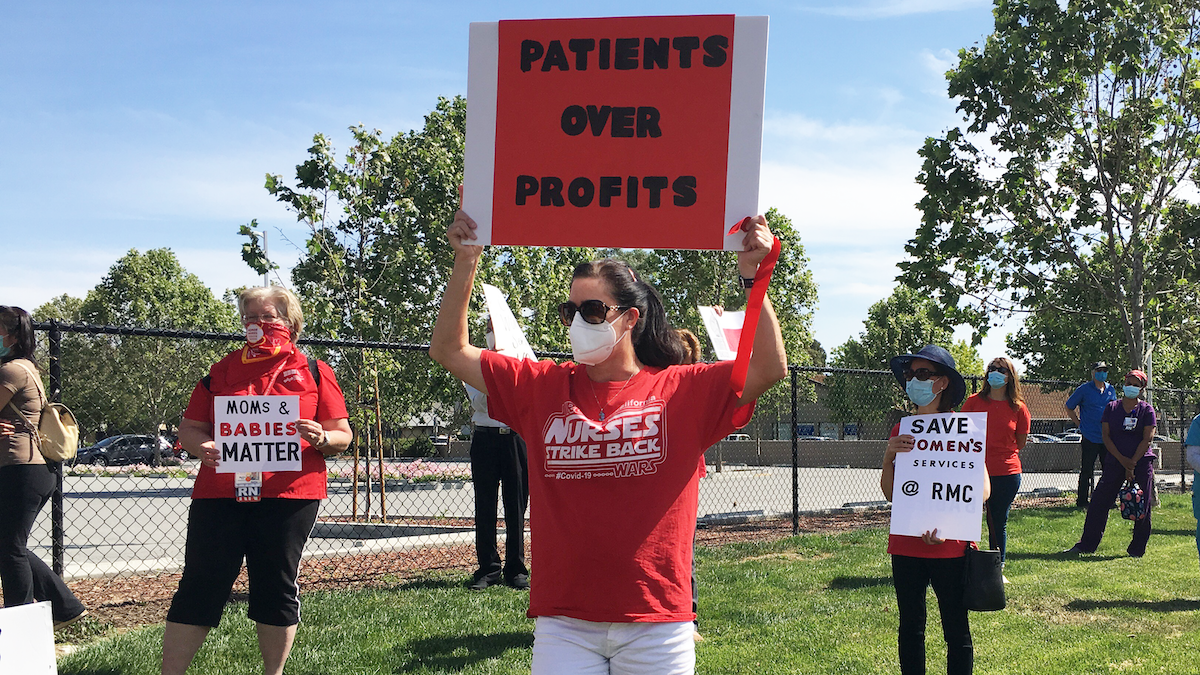 Hospital Giant Seeks Layoffs, Retirement, Pay Cuts

And Planned Closure of Maternal-Child Services 
San Jose registered nurses at HCA's Good Samaritan and Regional hospitals will hold social distance rallies Thursday, May 21, to protest demands by the nation's largest hospital giant for sweeping layoffs and cuts in nurses' retirement and economic security.

At Regional, the RNs will also continue to protest the planned closure of the hospital's maternal-child health program, now just one week away, that they say would have a devasting impact on East San Jose women and families.

What: San Jose Social distancing protests
When: Thursday, May 21, 3:45 p.m.
Where: Good Samaritan Hospital, 2425 Samaritan Dr., near entrance to ER
             Regional Medical Center, 225 N Jackson Ave, corner, Jackson and McKee 
 
"At a time when nurses have put their lives on the line to protect HCA patients amid the most dangerous global pandemic in a century, it defies belief that HCA, which has repeatedly failed to provide the protection nurses need, now wants to further punish them with punitive layoffs and other cuts," said Malinda Markowitz, RN, California Nurses Association/National Nurses United President and a San Jose resident.

HCA, has made more than $25 billion in profits the past decade, and just received an additional $700 million bailout from the federal government's Coronavirus Aid, Relief and Economic Security Act, plus an additional $4 billion in Medicare loans.

Yet, late last week, the Tennessee-based hospital giant insisted NNU which represents 10,000 RNs in 19 hospitals across the U.S., choose between what Markowitz called an "insulting"  series of widespread job losses, and sharp reductions in retirement and pay.

"It is outrageous for HCA to use the cover of the pandemic to swell its massive profits at the expense of its dedicated caregivers, and the patients who will also be harmed by cuts in nursing staff," Markowitz said.

The demands include a unilateral, undetermined number of layoffs, elimination of employer contributions to nurses 401k retirement plans, wage freezes, and pay cuts for nurses who work weekends and evenings.

"It is hard to imagine a more unconscionable disrespect for the sacrifice nurses have made, struggling for weeks to save gravely ill patients and keep ourselves safe, without the support we need for our patients and ourselves," said Lindy Herrera a neonatal intensive care unit RN at Good Samaritan. "We will not stand for these disgraceful demands."

"Instead of threatening us with the loss of our jobs, reductions in our retirement, and cuts in our livelihood in a growing economic disaster, HCA should be assuring we have the personal protections and safe staffing we need to care for our patients, and a future our families can count on," said Marti Marrerro an emergency department RN at Regional Medical Center.

San Jose has already been in the forefront of HCA's profit-focused agenda with its plan to shut down its Women's Services at Regional, which provides prenatal, postpartum and birthing care, for thousands of East San Jose women, and neonatal intensive care for newborns.

HCA views women's health services as not profitable enough, despite the fact that births, C-Sections, and maternal health patient discharges at Regional in 2019 were the highest in five years.

Regional RNs, joined by community supporters and elected leaders, have protested the closure, scheduled for May 30, for weeks.

Last week CNA called on Santa Clara County to review if HCA and Regional can meet its commitment under its Level II Trauma designation to safely care for laboring women and their newborns when many will come to the hospital's ER to deliver their babies well after the closure.

CNA warned that "not all trauma patients who are sent to Regional because of its Trauma II designation will be able to safely access the care that they need" under the threatened closure.