Press Release
San Jose HCA RNs to Protest Friday May 1 As Supervisor Calls on County to Block Closure Of Women's Services at Regional Medical Center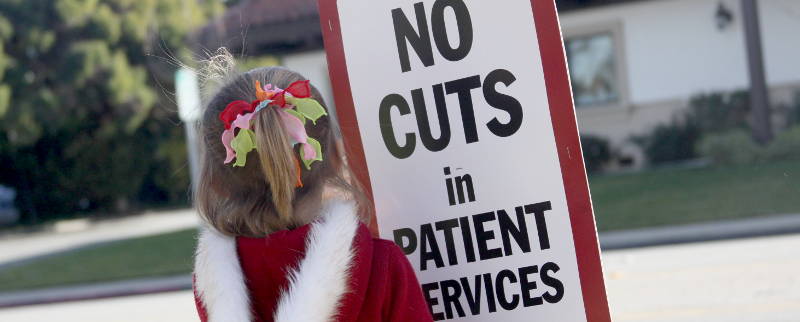 Registered nurses at HCA's Regional Medical Center will renew protests Friday, May 1 as Santa Clara County Supervisor Dave Cortese Wednesday called on the County's public officials to block the HCA's planned closure of maternal health services at the hospital.
On Friday, Regional RNs will be joined by community leaders of the South Bay Labor Council (AFL-CIO), South Bay Progressive Alliance, and Assemblymember Ash Kalra, in a social distancing protest, as public demands escalate for stopping the closure. 
"It is disgraceful to see this corporation putting mothers and infants at risk with a closure of vital maternal health services. We will continue to speak out in protest," said Malinda Markowitz, RN, California Nurses Association/NNU President, and a San Jose resident who will also be at the protest Friday.
Across town, RNs at HCA's Good Samaritan Hospital will also hold a protest Friday on their ongoing alarm over unsafe staffing in the midst of the coronavirus pandemic.
Both actions are part of national protests sponsored by National Nurses United at 139 U.S. hospitals, where NNU affiliates represent more than 95,000 RNs who have been speaking out for months about safety concerns, especially the lack of proper personal protective equipment for nurses, and other conditions they say jeopardize patients as well. 
What: Social distancing protests
When: Friday, May 1, 2020
Where: Good Samaritan Hospital, 2425 Samaritan Dr., San Jose, 7:45 a.m.
             Regional Medical Center, 225 N Jackson Ave, San Jose, 3:45 p.m.
In a letter to Santa Clara County Public Health Director Dr. Sara Cody and County Executive Officer Jeff Smith April 29, Supervisor Cortese urges them to "use your authority to enact an immediate moratorium on the closure of any hospital within Santa Clara County as well as the closure of any vital services within those hospitals."
HCA and Regional are pushing to terminate Regional's birthing services, including maternal child health and neonatal intensive care by May 26, even though the number of births, C-Sections, and maternal health patient discharges in 2019 was the highest in five years.
"Many of the patients that visit this maternity ward are lower-income and from communities of color. A closure of this program would, in essence, create a medical desert in East San Jose, further exacerbating the discrepancies in our healthcare system that already exist," Cortese wrote. "Potential closures in our County could leave those in need of critical services scrambling to find new healthcare services in the midst of a pandemic or without the access to the essential health services they need."
"This irresponsible closure could not come at a worse time for the thousands of our community residents who depend on this critical care," said Maureen Zeman, a labor and deliver RN at Regional.
Further, many of those patients would likely end up giving birth in the hospital's emergency room risking exposure to patients infected with the coronavirus, notes NNU.
South Bay Labor Council (AFL-CIO) Executive Officer Ben Field, in a letter to Regional Chief Executive Officer Tomi Ryba, April 28, also objected to the closure, writing, "East San Jose is already an underserved community, largely composed of poor people of color. The closure will exacerbate the socio-economic problems there by leaving East San Jose residents without sufficient access to comprehensive reproductive health services."
Good Samaritan RNs: HCA failing to adhere to state safe staffing law
                       
RNs at Good Samaritan Hospital, are concerned that HCA and the hospital administration is violating California's law requiring minimum safe nurse staffing in its emergency room, especially after canceling per diem and registry RNs, which they say puts patients at risk.
They are also protesting a lack of N95 respirator masks and gowns, for nurses who are exposed to confirmed or suspected COVIS-19 patients.
"Our patients deserve the highest quality of care. But it is increasingly difficult to provide appropriate care when we do not have proper staffing in our ER, and when the hospital is not assuring we have the protective equipment we need in the midst of this pandemic," said Good Samaritan ER RN Amy Schaar.
Through Wednesday more than 5,000 health care workers in California have tested positive for the coronavirus, 11 percent of all infections, and at least 28 have died, according to the California Department of Public Health.
"It's long past time for HCA to step up and guarantee all of its frontline caregivers are fully, and properly protected to care for our patients and our communities," said Markowitz.