Press Release
San Jose HCA RNs to Mark Mother's Day With Call to Keep Open Women's Services In Friday Action at Regional Medical Center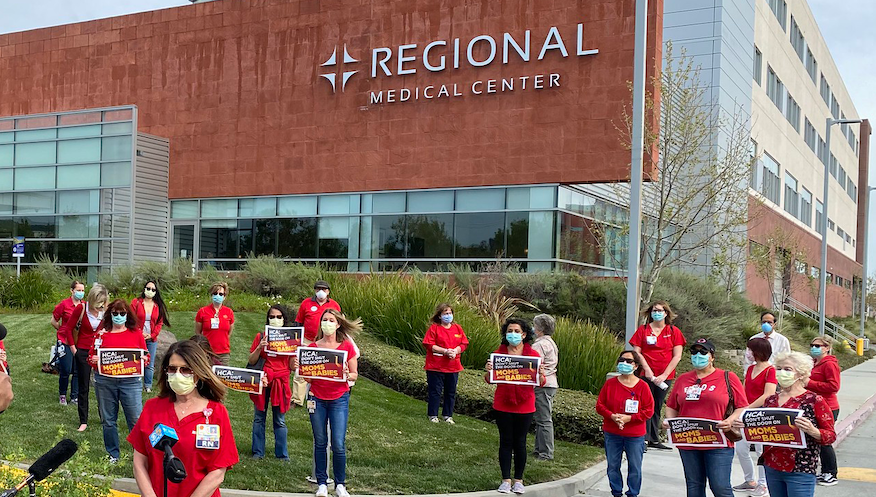 With Mother's Day near, registered nurses at HCA's Regional Medical Center will rally Friday to voice their concern for the safety of future mothers of East San Jose as the giant HCA corporation pushes ahead with its plans to shut down maternal health services at the hospital.
"The loss of prenatal, labor and delivery, postpartum, and neonatal intensive care at Regional poses a risk for thousands of future mothers and their families," said Janine Berkeland, a Regional Labor and Delivery RN.
 
What: Social distancing protest
When: Friday, May 8, 2020, 3:45 p.m.
Where: Regional Medical Center, 225 N Jackson Ave, San Jose
By ignoring the concerns of community leaders, elected officials, and families affected by the closure, HCA "is sending a clear message that its business goals matter more than the health and safety of the mothers and all East San Jose residents," said California Nurses Association/National Nurses United President Malinda Markowitz, RN, a San Jose resident. HCA intends to terminate the services by May 26.
Friday's action comes during National Nurses Week. Regional nurses have also warned of the impact on nurses and staff, as well as mothers in Regional's emergency room where many of the moms who would have utilized the hospital's Women's Services will go for birthing care.
The ER staff, says CNA, do not have the clinical labor and delivery expertise to safely assure proper care, especially in the event of complications for the mother or her newborn. Further, with the coronavirus pandemic still raging, and the ER the site of entry for most COVID-19 patients, the risk of infection for the mothers, newborns, and staff is also a significant concern, nurses say.
In a statement to the Santa Clara Board of Supervisors meeting Tuesday, Markowitz, who worked for 39 years at HCA's Good Samaritan Hospital across town in San Jose, noted, "I know the HCA system very well, and I certainly know they have ample resources to keep open maternal services for our East San Jose community."
HCA is the wealthiest hospital chain in the country. It made 25 billion dollars in profits the past decade and is getting 835 million more from the COVID-19 stimulus bill.